Canada has always been a land of diversity, but perhaps nowhere is that clearer these days than in the wild differences between the country's regional housing markets.
Vancouver saw the developed world's fastest house price growth in the third quarter of 2016, while four Canadian cities ranked among the worst-performing housing markets, according to research from global real estate agency Knight Frank.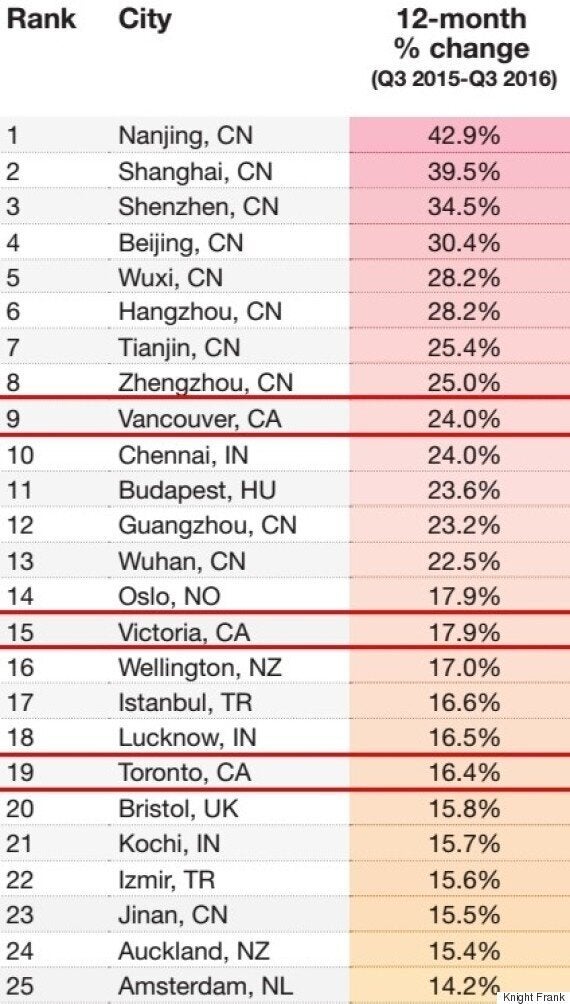 Only cities in China saw stronger house price growth than Vancouver, the Global Residential Cities Index found. It came in ninth overall, with price growth of 24 per cent in a year. Victoria, B.C., (up 17.9 per cent) and Toronto (up 16.4 per cent) also ranked in the top 20.
But many of Canada's cities appeared at the other end of the ranking, with Calgary's 4.9-per-cent price drop making it the seventh-worst performing housing market in the world.
Quebec City (down 2 per cent), Halifax (down 0.9 per cent) and Edmonton (down 0.7 per cent) also ranked among the 26 worst-performing markets.
Vancouver average house price drops 26%
But Vancouver's days near the top of that list look like they may be numbered. According to data from brokerage Zolo, the average price for all housing types has dropped a precipitous 26 per cent since its peak last March.
That doesn't mean all housing types are falling in price. The top end of the housing market in Vancouver has collapsed, removing some 40 per cent of the money flowing through the city's housing market. This means the mix of houses sold has shifted to lower-priced homes, resulting in a lower average price. Condo prices in Vancouver, for the most part, continue to rise. Still, with the average price down so much, we will likely soon see Vancouver near the bottom of Knight Frank's list.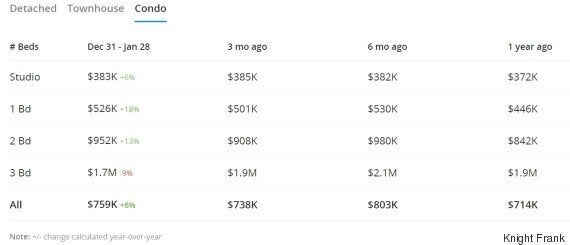 Toronto realtors predict another huge house price spike
Greater Toronto's housing may already be more expensive than the New York metro area, but the city's realtors are forecasting another year of rapid house price growth.
The Toronto Real Estate Board predicted on Tuesday that house prices in the area will see another year of rapid price growth, with the average price reaching between $800,000 and $850,000. It was at $730,000 in December, 2016.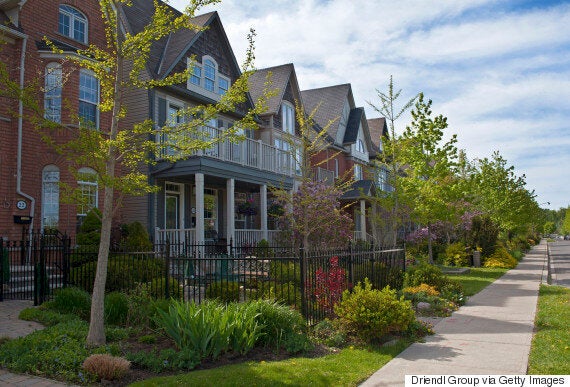 Alberta real estate still suffering from oil downturn
The slump in oil prices is entering its third year, and the damage is being seen throughout the Calgary and Edmonton housing markets.
Calgary home sales came in 17 per cent lower than the long-run average in December, and the price of a detached home fell to $498,000, the lowest average price since November, 2014.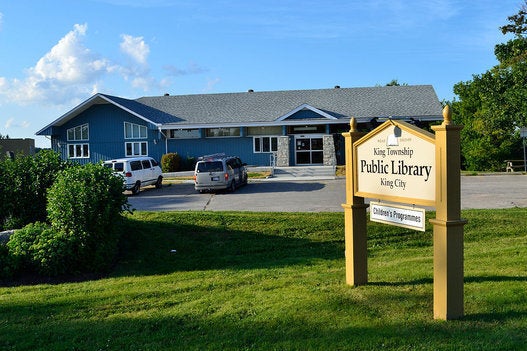 Greater Toronto's Craziest House Price Jumps