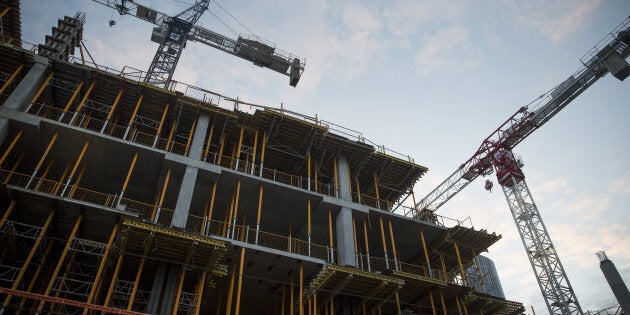 Things sure are changing quickly in Canada's housing markets.
After years of growth, the country will see falling house prices and sales this year, led by Toronto and Vancouver, and only a modest rebound next year, according to a new forecast from the country's leading real estate group.
The Canadian Real Estate Association (CREA) has revised downwards predictions it made just a few months ago for Canada's housing market, and now sees home sales falling 7.1 per cent this year compared to last year. It sees sales dropping 12 per cent in Ontario and 11 per cent in B.C.
Watch: What the Bank of Canada's interest rate hikes mean for you
CREA also expects house prices to fall by 2.3 per cent nationwide, to an average of $498,100.
"The decline in the national average price reflects fewer transactions in B.C. and Ontario; by the same token, price declines in these provinces reflect fewer sales of higher-priced homes in Vancouver and Toronto," CREA said in its forecast.
For 2019, the group sees a modest rebound in home sales, but not enough to bring the market back to levels seen in 2015 or 2016. Prices are expected to rebound modestly, by an average of 3.1 per cent, thanks to a pick-up in activity in the latter half of 2018.
The gloomier forecast comes as CREA released its latest data on home resales in Canada, showing sales fell 16.9 per cent, year over year, in February. That brings total home sales to their lowest level in nearly five years, CREA noted.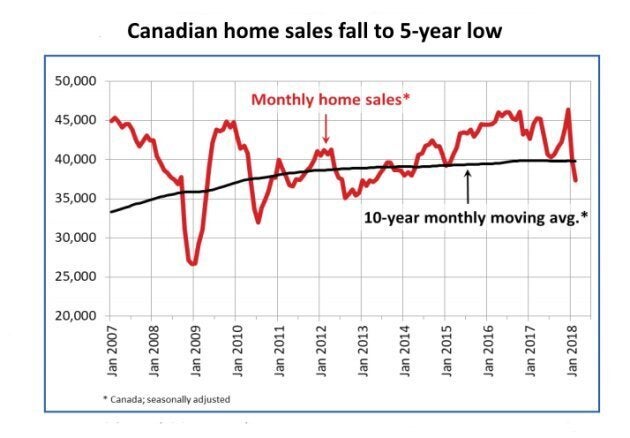 The average house price fell 5 per cent, year over year to $494,000 — already below the level CREA forecast for this year.
Sales were down from the previous month in three-quarters of all markets, "with large monthly declines in and around Greater Vancouver and Greater Toronto," CREA said.
"The drop off in sales activity following the record-breaking peak late last year confirms that many homebuyers moved purchase decisions forward late last year before tighter mortgage rules took effect in January," CREA's chief economist, Gregory Klump, said in a statement.
Those new mortgage rules, combined with rising mortgage rates and a raft of new policies in British Columbia aimed at improving affordability, are part of the reason CREA is lowering its outlook for the market.
"Some homebuyers will likely stay on the sidelines amid heightened housing market uncertainty and continue saving a larger down payment before purchasing," CREA said.
That will result in lower sales in the first half of 2018, with sales starting to pick up in the second half of the year as confidence returns to the market, CREA predicted.
Popular in the Community