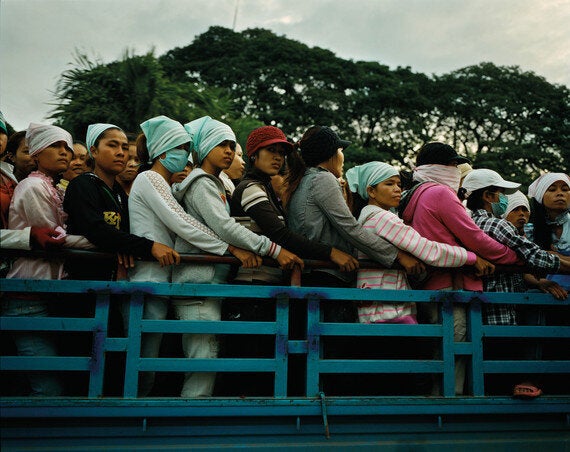 Women workers being transported to a factory in Cambodia. (Photo: Oxfam Canada)
A UN-appointed human rights expert on an official visit to Canada can expect to receive a warmer welcome from the Trudeau government than from its predecessor.
The UN is in vogue again, and the government is making efforts to restore Canada's place on the world stage.
What hasn't changed yet is how the federal government is handling one of our most pressing human rights issues: holding Canadian companies accountable, both here at home and when they operate overseas.
The problem is not a small one. Mining companies headquartered in Canada have been implicated in human rights violations around the world, some involving egregious abuses like sexual violence, forced displacement and extrajudicial killings.
The study also found disturbing trends with 709 cases of "criminalization" of citizens who stand up for their rights in the struggles related to mining development, and 363 injuries at community protests or confrontations related to Canadian mining.
In Canada, women are paid less than men in 469 out of 500 occupations monitored by Statistics Canada. The wage gap is even more accentuated for racialized, Indigenous and immigrant women. Internationally, women workers in the supply chains of some Canadian companies face precarious work arrangements and unsafe working conditions.Three years after the tragic factory collapse in Bangladesh killed hundreds of women workers, Canadian retailers are laggards in improving worker health and safety in contract factories or publicly disclosing their suppliers.
Two experts from the UN Working Group on Business and Human Rights are now completing an official mission to Canada. They are here to assess Canada's implementation of the UN Guiding Principles on Business and Human Rights, a new global norm that was adopted unanimously by the UN Human Rights Council in 2011 following extensive consultations with governments, business and civil society.
The UN Guiding Principles clearly lay out the human rights obligations for government, the human rights responsibilities of companies, and the need to provide access to remedy when companies do harm and infringe human rights.
So, what will the UN Working Group members find during their mission to Canada?
Unfortunately, government exhortations for business to do "corporate social responsibility" have largely run their course. Voluntary approaches and industry self-regulation can only go so far and have failed to address the worst abuses.
When Oxfam Canada met with the UN Working Group members last week, we highlighted five actions that the Canadian government can take to demonstrate leadership on business and human rights:
Provide access to justice to those who believe they have been harmed by the international operations of Canadian companies, by removing barriers to accessing Canadian courts and by appointing an extractive-sector Ombudsperson to investigate the numerous allegations against mining companies..
Protect human rights defenders who are threatened or harmed for their work investigating and denouncing human rights violations involving the corporate sector
Ensure all Canadian businesses respect the rights of Indigenous Peoples, including the obligation to obtain the free, prior and informed consent of Indigenous Peoples for all major resource development projects in their territories.
Fight women's economic inequality by enacting pro-active pay equity legislation and becoming a living wage employer, and encouraging Canadian companies to do the same..
Negotiate strong human rights protections - including a gender chapter - into Canada's trade agreements and foreign investor protection agreements.
The government must not leave out our international trade relationships when it promises to apply a feminist approach to Canadian foreign policy.
Women's rights will not be realized without the private sector playing its role as a creator of good jobs, a partner in reconciliation with Indigenous Peoples, and a responsible actor willing to be held accountable for its human rights record.
Ian Thomson is a policy specialist at Oxfam Canada. Follow him on twitter @IFThomson
Follow HuffPost Canada Blogs on Facebook