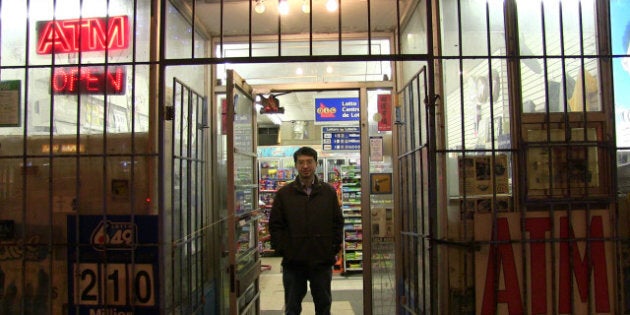 William Lin sits on a stool behind the counter reading about hope. It's early Saturday evening in April 2011, and he has printed a copy of Barack Obama's 2009 inaugural address. The white papers with alternating paragraphs of English words and Chinese characters are splayed out in front of him between a container of 10-cent caramels and box of pepperoni sticks. Lin's Toronto convenience store is quiet around dinnertime, save for the fridges in the back that buzz like an empty stomach. He reads under the fluorescent light through wire-framed glasses atop his freckled nose:
In the face of our common dangers, in this winter of our hardship, let us remember these timeless words. With hope and virtue, let us brave once more the icy currents, and endure what storms may come.
Lin wasn't able to watch the president's speech at that historic January event because he was working, giving people their smokes to get through the night and eggs for the morning. At the time, the prospect of sweeping change to America greatly inspired him. Lin had always meant to study the president's message, though now, two years later, he does so skeptically. Obama's refrain of "hope and change" worked better as a rallying cry than a means of influencing policy.
When Lin moved to Canada in 1999 from Gutian county, in the southeastern Chinese province of Fujian, he was full of hope. He had almost 10 years of experience as a mechanical engineer and a bachelor's degree from one of the most prestigious schools in China. He had a master's degree from a university in Japan and had worked in the country, a place more racist toward other Asians than he thought Canada could ever be. Lin estimated it would take him a few months to find professional work. Instead, after sending out 150 résumés over the course of six months, he didn't receive one call.
A group of three young people interrupt the silence in his store, permeating it with the faint smell of liquor. One sits down on the stool in front of the bright-blue lottery kiosk on the back wall that faces Lin's counter. The man, wearing an army-patterned hood over his head, slumps over a brown paper bag from the liquor store on his lap.
"Porno!" he says loudly, pointing to a small collection of titles such as "Underground Asian Girls" and "Plastic in his Ass" on a shelf beside Lin. The man laughs uncontrollably. His two friends, who walk through the fluorescent-lit aisles filled with junk food, dusty canned goods, and random products such as Chinese insecticide, try to stifle their laughter, like kids in a classroom.
Lin shakes his head and says nothing.
"You have a lot of porno!" the guy says with wide eyes, looking past Lin at the DVDs. "You have no other movies! Just porno!" Lin shakes his head again and looks down, avoiding eye contact. Humiliated.
Once flush with hope, Lin is now filled mostly with regret. What career would he now have had he stayed in Asia? Why did he uproot his family for this life in Canada?
Lin is one of many skilled immigrants asking themselves the same questions.
In January, the government will overhaul Canada's economic immigration system, making changes that will have a drastic effect on future skilled workers. On Dec. 12, the government announced a new stream for skilled immigrants who work in trades, and there will be significant changes to which criteria are most valued during the selection process under the Federal Skilled Workers program. While the new system will likely help curb the overeducated and under- or unemployed phenomenon that currently plagues immigrants such as Lin, they also carry a serious consequence: Canada, a nation that prides itself on its multiculturalism, is turning its back on desperately needed diversity. Just as the economy is becoming more global, our government will make it harder for ethnically diverse immigrants to enter.
Canada is known internationally as the poster country for multiculturalism. We have the highest level of immigration per capita of any country, about 250,000 immigrants a year. Almost 20 per cent of our residents are foreign-born.
In about 20 years, Statistics Canada predicts that about a quarter of our population will be foreign-born. While many Canadians enjoy being able to choose between samosas and spring rolls, they conveniently ignore a dark reality: Though this country excels at adopting immigrants, it too often fails at integrating them into the Canadian workforce.
Economic immigrants — those who are supposed to strengthen our labour force — account for about 60 per cent of all newcomers. The most significant stream is the Federal Skilled Workers (FSW) program, designed to attract professionals who, based on their human capital, will succeed in the Canadian workplace. A 2008 parliamentary report revealed that 60 per cent of skilled immigrants work at a lower occupational level than they did before moving to this country
Story Continues Below Slideshow..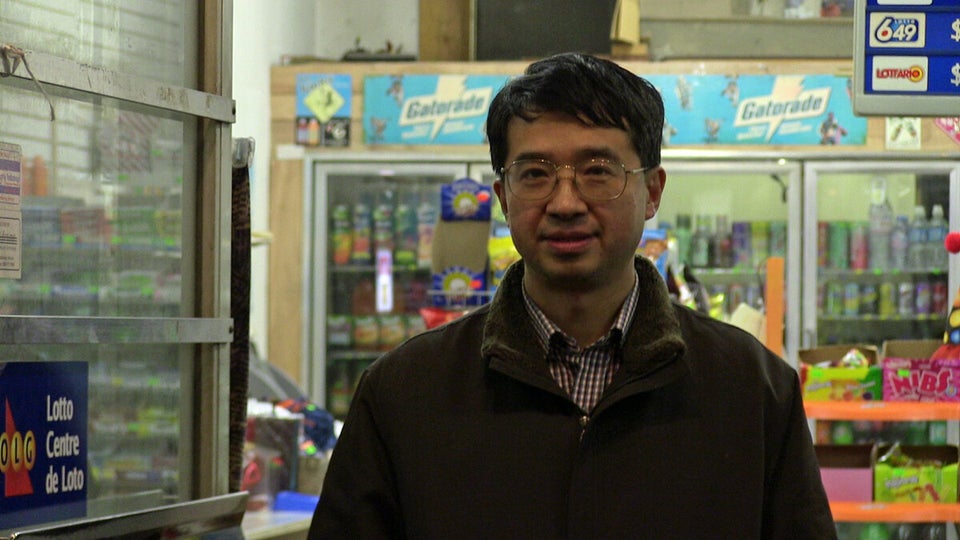 An Immigrant's Story
Although recent immigrants are more educated than their Canadian-born counterparts — three times as many have undergraduate degrees, according to Statistics Canada — only 24 per cent work in their fields, less than half the rate for those native to Canada.
Immigrants also earn less. In 2007, the unemployment rate for newcomers with a university degree was four times that of their Canadian-born counterparts. And the problem has only worsened with time.
Canada is sitting on an underused gold mine of diverse talent. As Western nations look to do business with prospering countries such as Brazil, Russia, India and China, employees from these nations could be invaluable assets.
"My concern is that exactly at a time where we need more natural ambassadors to China and Brazil, we'll get less immigrants from there," said Ratna Omidvar, president of the Maytree Foundation, an organization that develops immigrant-related policy ideas. "And I worry about the implications for multiculturalism."
Our main sources of newcomers are China (14 per cent), India (12 per cent) and the Philippines (7 per cent). Employers who embrace hiring diverse candidates will have access to an additional 1.6 million Canadians, says a recent study from RBC. That's good news for a country that is reportedly expected to see over one million jobs go unfilled in sectors such as mining, oil, and health care over the next few decades.
So why aren't we using them?
"Employers have a built-in bias and prejudice (against ethnic minorities)," said Montreal-based immigration lawyer David Cohen. "We don't recognize their language, and we don't recognize their skill set or education."
Lin has seen better times.
Working in his native China on water turbines, he was a celebrated mechanical engineer, so much so that the government hand-picked him to help develop a turbine for export to Thailand. He moved to Japan with his wife to earn a master's in mechanical design, then worked at a company manufacturing optical glass for fax machines produced by big companies such as Canon and Xerox.
In the points system that Canada uses to determine eligible skilled immigrants, Lin scored above average, and Canada listed his profession as in-demand. After finding out he was accepted, Lin went online and received his certification from the Professional Engineers of Ontario (PEO) to ensure that his credentials transferred to a new market.
If he did everything right, what went wrong?
Rather than fix the fact that more-than-capable immigrants such as Lin often sink in the Canadian labour market, Minister of Citizenship, Immigration and Multiculturalism Jason Kenney's changes kowtow to employer stereotypes.
In the points system, prospective immigrants currently must reach a minimum score of 67 out of 100 points in six categories: education, language, experience, age, arranged employment and adaptability. Since employers have identified low language skills as the No. 1 impediment to hiring new Canadians, Kenney will make that category the most significant, increasing its maximum points from 16 to 24. For the first time, foreigners will be required to score a minimum on the standardized language test to show they are at an "adequate intermediate" level, meaning they can express opinions, use idioms, and research and deliver a 10-minute presentation.
Lin remembers scoring about 10 points in the language category, a low mark for which he was able to compensate with stronger performances in the other sections. The new minimum threshold means an applicant would have to score the equivalent of 16 points just to be considered.
Many skilled immigrants arrive armed with an impressive résumé, only to learn that their foreign credentials are not recognized by Canadian employers. To avoid this rude awakening, Kenney will designate non-governmental organizations to do pre-assessments on prospective immigrants so they will know before applying if their education and work experience will transfer to the Canadian market. In addition, since employers often undervalue foreign work experience, Kenney is reducing the maximum number of points available in that category to 15 from 21 and at least one year of work in Canada will earn immigrants the maximum amount of points under "adaptability." For education, rather than award points based on the type of degree, a designated organization will determine the foreign credential's equivalency in Canada. The Minister will also ramp up numbers in economic immigration streams where discrimination is harder to control for.
The skilled worker program is still the best way to ensure foreigners are chosen equitably.
Story continues below slideshow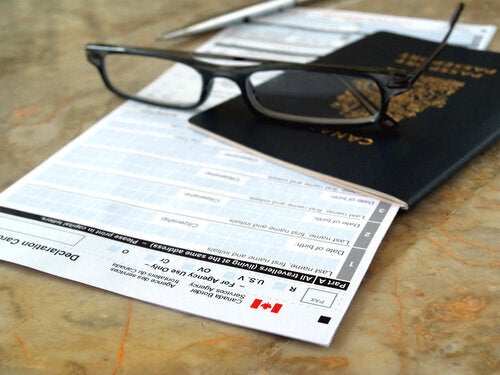 Canada's Points System: Then and Now
Before it was implemented in 1967, newcomers primarily came from Western countries such as Britain, Italy and the United States. By the early 1970s, countries such as Hong Kong, India and Jamaica became top source countries, and since at least 1994, Asia has been Canada's largest source of skilled immigrants.
Kenney, however, is increasing numbers in programs where employers play a greater role in the selection process. Since 2004, the size of the Provincial Nominee Program (PNP), whereby provinces sponsor immigrants for specific jobs needed there, has grown almost six-fold, and the government aims for a record high number in 2012. The Canadian Experience Class (CEC) – created in 2008 to provide a fast-track to permanent residency for foreigners with Canadian experience – was projected to increase by 1,000 spots this year.
Although these programs often result in jobs for immigrants, discrimination is extremely hard to monitor.
"There is no real way of ensuring employers will be selecting people without bias," said Jeffrey Reitz, a sociology professor at the University of Toronto and author of "Multiculturalism and Social Cohesion: Potentials and Challenges of Diversity." "The points system, with all its problems, is not something we should throw out."
Kenney has taken cues from similar changes made to the Australian system in the late 1990s that proved successful: Within six months of arriving, 81 per cent of economic immigrants had secured work in their field. But Australians also found that the revised program had an unintended consequence: The group of immigrants became less diverse.
Now the main source of newcomers to Australia is Britain – 20 per cent compared with Canada, which sees 5 per cent of immigrants who come from there – and studies show that the numbers of immigrants from other English-speaking countries such as New Zealand, the United States and South Africa are growing.
Meanwhile, a 2012 study by a University of Waterloo and Australian professor found that growth in immigration from Asian countries almost completely stopped between 2001 and 2005.
Experts worry that the same thing could happen in Canada as a result of Kenney's changes.
"Undoubtedly the new system will change source countries," said Arthur Sweetman, a professor in the Department of Economics at McMaster University. "But one thing we can also say is individuals from source countries do adapt. If the points [system] changes, people from country "X" who don't speak good English will put more effort into learning. But maybe that's putting the burden on the wrong place."
What kind of talent is Canada losing by devaluing diversity in our selection process?
For the first time in awhile, Lin puts on a dark navy suit and the black leather shoes he used to wear to work in Japan. It's May, 2003, and today, Lin will not be standing behind his convenience store counter.
Lin tries not to feel nervous. He is simply seeing what a Canadian job interview is like. If it doesn't work out, he always has his convenience store.
Lin knows he is qualified, that he brings a unique advantage for having worked in Asia, where technology has been developing faster. But he also knows foreign credentials are worthless. Paired with a Chinese accent, he already has two strikes against him.
Half a year after arriving in Canada, Lin had discovered that a former Chinese colleague was running a convenience store in Toronto. Lin decided to do the same. The man, who had a master's degree in economics, bought the store after growing tired of doing manual labour in a clothing factory – the only job he could find in three years.
There are many stories like his.
Fred Su owns the store down the street. Su immigrated as an electrical engineer in 2002 with 10 years of Chinese experience. After unsuccessfully applying for jobs during his first month, Su returned to night school for Canadian certification as a machinery auditor, a job he had done for two years in China.
He took a low-paying job in a food packaging factory outside the city, waking up at 5 a.m. and working until 3 p.m. After a few months of the routine, he had lost 30 pounds. When Su took the certification exam, he failed because his language skills had not improved enough to sufficiently answer the questions.
Lin bought Best Convenience eight months after moving to Canada, but quickly became restless. He found the neighborhood unsafe and would not let his wife work at night. Many of his customers were either drunk, stoned or mentally ill. Twice someone pulled out a knife and robbed his cash.
But mostly, he was bored.
Lin's daily interactions rarely moved past "do you want a bag?" and he couldn't imagine living the rest of his life to the soundtrack of a lottery machine. By 2003, he had started flipping through classified ads again in the Toronto Star again and applied for a few computer-aided design engineer jobs. Finally, he received a call back.
When Lin arrives for his job interview in downtown Toronto, two men are waiting for him. They shake hands and sit down at a table in the lobby, where the managers start asking him questions about his work experience in China. Lin answers politely in a level of English that has not improved since he bought the store.
One of the men shows him a computer drawing of a generator. They ask him how long it will take to reproduce the image, work Lin has done many times, and he replies three hours. The men keep a poker face.
Ten minutes later, leaving the building, Lin doesn't know how to feel. Though he knows he is more than qualified to do the work, he keeps thinking of all his disadvantages: the fact that he hasn't been practising for a few years, and namely, that he isn't Canadian.
The government might prize diversity, but most companies do not. Lin doesn't blame others or feel disappointment about the choices he has made. The Chinese describe this attitude as renming, signifying one who acknowledges his fate. So after two weeks, with no call back, Lin abandons his professional ambitions.
FOREIGN EXPERIENCE NOT WELCOME
Canada takes for granted that it can attract diverse immigrants. Our country's immigrant narrative, that newcomers will sacrifice their own careers as a means for their children to succeed in a free and inclusive society filled with opportunity, has become less and less compelling.
Meanwhile, some of Canada's biggest source countries have made efforts to lure back the best and brightest immigrants. In China, the "Thousand Talents" program, which consists of the central government offering jobs, research grants and moving allowances, has attracted more than 2,000 Chinese expats in three years willing to return to their country of origin.
The government launched a follow-up program in 2010 to target those under 40. An article in The New York Times documented the phenomenon of U.S.-born children of Indian immigrants – at least 100,000 in 2010, according to a senior government official – who emigrated to the country of their parents' origin, which they see as having better job options.
"Bringing in controversial immigration policies which may question our commitment to inclusiveness sends the wrong message," said University of Toronto's Reitz. "It could undermine our ability to create a more inclusive society for the people who are already here."
Our points system, which has traditionally drawn worldwide admiration, has been replicated by other countries. In 2008, the U.K. rolled out a similar system, and other Western countries such as Germany and Spain are looking to do the same.
"We can't just say we'll pick the best skilled workers and of course they'll be grateful to come here," said Bill Greenhalgh, CEO of the Human Resources Professionals Association (HRPA). "That's not the way it works anymore."
Canada needs to tackle workplace biases against different cultures, but research suggests those biases are often unspoken and deeply ingrained. A 2011 study by two University of Toronto professors and titled "Why do some employers prefer to interview Matthew, but not Samir?" found that, after sending out résumés to English-speaking employers in Toronto, Montreal and Vancouver, those with Chinese, Indian or Pakistani names were on average 40 per cent less likely to be interviewed than those with English-sounding names.
When the recruiters were asked to explain the pattern, "overwhelmingly, they responded that employers often treat a name as a signal that an applicant may lack critical language or social skills for the job."
The researchers found that adding other qualifications, such as the fact that an international applicant's university was accredited by a "Canada International Skills Certification Board" did not change the results.
A 2006 study from two University of Calgary professors discovered that skilled immigrants feel "Canadian institutions did not understand how academic systems in other countries worked and assumed that foreign qualifications were inferior."
In terms of earning potential, foreign experience is worth just 30 per cent of its Canadian equivalent, according to research done by University of Ottawa professor Ross Finnie.
With the pressure to hire quickly and effectively, many employers view foreign credentials as an unnecessary risk.
"If you hire someone with a well-known degree who does poorly, nobody's going to blame you," Reitz said. "If you take a flyer on someone whose qualifications you know less well, people will think, 'Gee, why'd you hire them?'"
After 13 years in Canada and 12 years of standing behind a counter, it takes a lot more for Lin to feel inspired.
On this year's November U.S. election night, he could have watched a news channel on his store's new small flatscreen TV. Instead, he is watching "Spiderman 2." Neither candidate fills Lin with hope, and the news updates during commercial breaks are enough to satiate his curiosity. Romney's policies, especially those on foreign affairs, are too extreme for Lin. Toward Obama, Lin simply feels disappointment. Where was the change he had promised?
By the time Lin locks up the store about 10:30 p.m., Obama has taken some key red states from Romney. When Lin walks into his house, the president is close to winning Ohio, a state that will cement his re-election. Lin's 15-year-old son, Andy, is sitting in the living room in his pajamas, watching the results. His wife and six-year-old son are asleep upstairs.
Lin encourages his son's interest in politics. He would never ask Andy to waste his time working in the store, even though Lin could use the help. On Tuesdays, Andy goes to sea cadet training, and on Sundays, he takes piano lessons, working his way toward Grade 10 certification. Most of all, Lin cares about his son's academic success. He knows off the top of his head that Andy currently has the 22nd highest average out of the 60 kids in his grade. The ranking is a four-spot improvement from last year, but Lin wants him to be in the top five. After his own first year of high school, Lin had the highest marks in his entire county.
Lin receives weekly job opportunities through e-mails from a Chinese government association. If he had only himself to think about, Lin would move to China in a second and resume his professional career. But he is focused on his family's roots, now firmly planted in Canada.
Lin's ambitions may be held hostage in the store, but at least it provides a steady income so that his sons may one day have professions that would justify his decision to immigrate.
After the major television networks officially declare an Obama victory, Lin sends Andy to bed – it is more important to get rest before school in the morning than to listen to Obama's victory speech. Nor is he staying awake to hear a recycled message that didn't come true the first time.
Early the next morning, Lin sleeps while Obama tries once again to inspire a country plagued with economic challenges:
I have always believed that hope is that stubborn thing inside us that insists, despite all the evidence to the contrary, that something better awaits us so long as we have the courage to keep reaching, to keep working, to keep fighting.
At 9:30 a.m., Lin stoops to pick up his Chinese paper with Obama's speech on the front page. He tucks it under his arm to read later, and unlocks the blue gates to his convenience store. Inside, the brightly coloured packaging and fluorescent lights provide many of his customers with temporary hope. Many while away hours scratching lottery tickets that could lead to big dreams, or more often, just an escape from their bleak realities. But to Lin, the store is a prison that keeps him from living in the outside world. An inconvenient truth about an immigrant's life in Canada.
With files from Yvonne Yo
CORRECTION: In an earlier version of this story, William Lin's last name was misspelled.
Popular in the Community