CALGARY and TORONTO — When it comes to the eye-popping housing boom that has seen house prices in Canada more than double in just 10 years, there are a few common explanations. Despite sluggish wages, bulls and bears alike generally cite some combination of easy credit, tight supply and, until recently, a relatively strong economy for opening the floodgates to an unprecedented housing binge, ratcheting up house values — and mortgage debt.
But there is evidence to suggest that income inequality — a trend that has been widening the gulf between Canada's very rich and everyone else for the last three decades — may also be part of the equation.
For many of us, incomes have become so detached from house prices that any relationship between the two may seem unfathomable. This is particularly true in Vancouver, where the city's optimism about a once-sleepy outpost finally realizing its cosmopolitan dreams came face to face with the recession, prompting a festering suspicion that something had to give.
By mid-2009, with debris from the United States housing bust lodged firmly in the gears of the world economy and debt levels surpassing record highs, observers were beginning to question the stability of the most expensive housing market in the country, which dipped only briefly before resuming its steady climb.
It was amidst this anxiety-ridden atmosphere that a little-known Vancouver real estate blogger tapped out a controversial post titled "Invisible Hand of Income (Inequality)." Noting that average income figures "don't really tell you what is happening at the upper end of the distribution," the self-described Van Housing Bull argued that wealthy buyers could support the market — regardless of what the bears may have been prophesying.
"The bottom line is that the reason why prices are so 'high' is because there is, amongst the buying public, a huge and large income inequality," the unidentified bull concluded. "For what else could be driving the market to clear at these prices, given the hyper-connected infoglut [sic] of a world we live in?"
Commenters were incredulous, deriding the assertions as baseless. The post also conveniently fails to mention ballooning mortgage debt, arguably the most important catalyst in the market's stunning ascent. But if you consider the central thesis on its own merit — that very high incomes are contributing to very high housing prices — it actually seems rather obvious.
The precise relationship between the growing income gap and rising house prices has yet to be studied in Canada. But some of what researchers have uncovered south of the border sounds pretty familiar.
"When the rich get richer, they bid up the price of things that everybody else wants, too," he told HuffPost.
A particularly insidious thing about a growing income gap, according to Cornell University economist Robert Frank, is the effect it can have on the psyche of buyers whose expectations don't jibe with their finances. In low-interest, lax lending environments, it's a scenario that can wreak havoc on the household balance sheet, as easy money makes resisting a sense of entitlement a much more difficult proposition.
"So you're keeping up with the Joneses," offers David Macdonald, a research associate at the Canadian Centre for Policy Alternatives. "The problem is the Joneses have a lot more money than you do. They have a lot more money, and you have a lot more debt — that's the trade-off."
As Macdonald noted in a report last year, since 2000, housing prices adjusted for income have moved increasingly "out of their historical range" of three to four times annual median incomes, to ratios of between 4.7 and 11.3. This, combined with swelling mortgage debt, which last year surpassed $1 trillion, has prompted him and others to warn that Canada's housing market is poised for a painful bust.
But whether the growth in housing prices constitutes a boom or bubble, income inequality — a growing imbalance that has been quietly reshaping the economic landscape for decades — may be partially responsible. Housing costs in recent years have moved well beyond what many Canadians can reasonably expect to afford, gnawing away at expectations and plunging households deep into the red. The growing gap is just another factor that might help to explain why.
(STORY CONTINUES ON NEXT PAGE)
'WE HAVE A BUILT-IN PROBLEM'
It's tough to pinpoint how much additional capital has been flowing into housing due to growing income inequality. But it's clear that some Canadians have a lot more to throw around than they used to.
From 1980 to 2005, annual market incomes for the highest earnings group grew by more than 16 per cent, despite shrinking by a fifth for those at the bottom and barely budging for the middle. According to a recent Conference Board of Canada report, this disparity has amounted to a "significant increase in income inequality" in Canada, where the gap, though much less pronounced than in the United States, is growing at a faster clip.
Increased earnings also mean more access to credit – a significant factor in determining one's buying power.
"The higher income [buyers] would certainly have much greater capacity to borrow money at a very cheap rate right now, and that certainly could be part of the story," says David Madani at Toronto research firm Capital Economics.
All of which could have something to do with the confluence of cement trucks and backhoes that jammed a newly built cul-de-sac in Calgary's Aspen Woods, an affluent community in the south-west suburbs, on a recent afternoon.
Standing outside a newly constructed $4.2-million mansion (or McMansion, depending on who you ask), Royal LePage realtor Jim Sparrow speculates that a hurdle to selling the 6,000-square-foot property could be that, despite the three-car garage, "There's not enough room for toys" like boats and ATVs.
"But once you get some trees and grass in, somebody will buy it," he says.
The pace of building in Aspen Woods has slowed since the downturn. In the prestigious "heights" region, for instance, all but one of the estate-sized lots, which promise the "utmost security and exclusivity," sit empty. But multimillion-dollar homes, complete with granite kitchens and twinkling chandeliers, are still popping up.
It's a common scene in the city, where Sparrow says the annual number of $1-million-plus home sales since 2001 has risen from just 15 to more than 400 – an increase of more than 2,600 per cent.
And Calgary is not unique.
According to Canadian Real Estate Association chief economist Gregory Klump, in Toronto, $1-million-plus homes as a percentage of total sales have increased from 0.5 per cent in January 2000 to 4.5 per cent, a change that he describes as "pretty significant." Meanwhile, in Vancouver, fully one-fifth of all home sales from January to September sold for more than $1 million.
"It's the higher end of the market that's really been skewing up average prices," he says.
(STORY CONTINUES ON NEXT PAGE)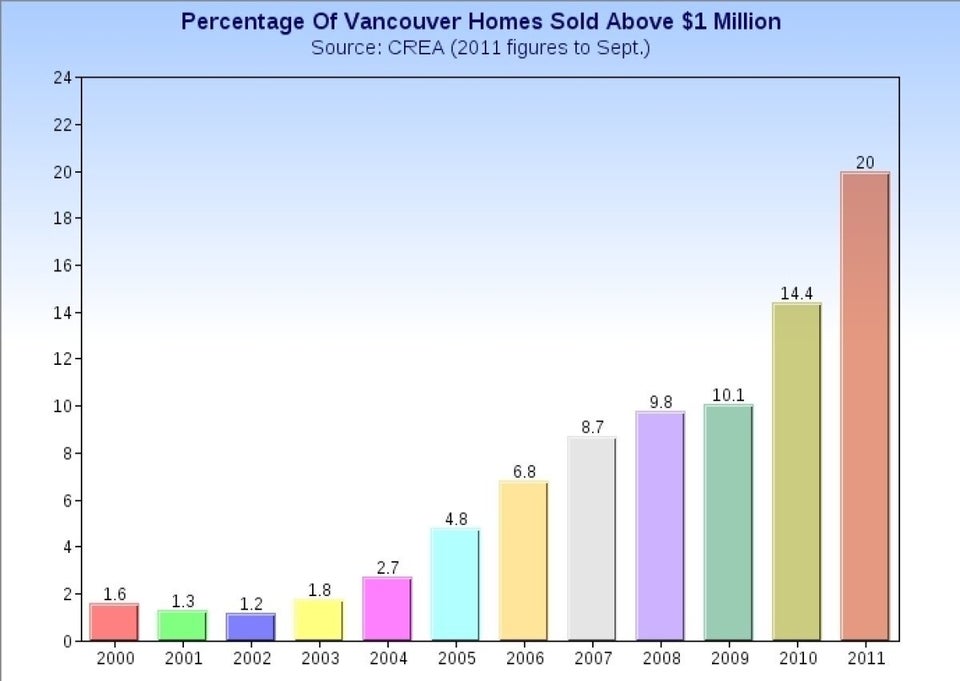 Homes Sold Above $1 Million In 3 Canadian Markets
Conventional wisdom holds that growing demand for big-ticket homes doesn't necessarily equate to higher prices for properties further down the food chain.
But according to Duke's Jacob Vigdor, a bigger proportion of high-end sales "is a clear symptom of a market where you have lots of new dollars coming in, but not a lot of new houses rising up to absorb those dollars."
While this may not explain the price hike in Calgary, where the sprawl is unencumbered by natural boundaries, Vigdor says his research is applicable to tight markets like Toronto and Vancouver, where increasing income inequality can have the effect of "just taking the existing housing and making it more expensive."
In these cases, the interconnectedness of the market is such that increased competition in one segment invariably puts pressure on the others, says David Hulchanski, an urban planning and housing expert at the University of Toronto.
"There's not a land bank for poor people and a land bank for rich people," he says. "It inflates everything all through the system."
Average market rents now exceed the budgets of more than half of Canadian renters, according to Michael Shapcott, director of housing and innovation at the Toronto-based Wellesley Institute.
"As income inequality continues to get worse, and people at bottom and middle of the income spectrum see that their income is stagnant or getting worse, their ability to maintain housing is compromised," he says. "We have a built-in problem."
While the condo boom that has taken hold in many urban centres may be loosening the market for middle income buyers, some say it has only made the affordable housing shortage more acute.
As Tsur Somerville, director of University of British Columbia's Centre for Urban Economics and Real Estate, points out, with the exception of subsidized housing, new buildings aren't targeted to the poor.
"No one builds crappy new buildings," he says. "The housing supply of the poor are old buildings."
And that supply appears to be shrinking.
According to the Canadian Housing and Renewal Association (CHRA), from 1996 to 2006, the number of units with monthly rents below $600 — the threshold of affordability for people making up to $24,000 per year — declined by 800,000.
The lack of affordable housing is so significant, says CHRA's Dallas Alderson, that it "may be one reason why a household would consider ownership when they otherwise would not."
(STORY CONTINUES ON NEXT PAGE)
Often described as an "emotional asset," the value of residential real estate doesn't always ebb and flow on the basis of purely rational consumer decisions. Bank of Canada governor Mark Carney acknowledged this in a speech to the Vancouver Board of Trade in June, warning about the extent to which cheap credit and the promise of exponential returns was pushing emotion ahead of reason.
"The risk," he said, "is that expectations become extrapolative, prompting the classic market emotions of fear and greed — greed among speculators and investors, and fear among households that getting a foot on the property ladder is a now-or-never proposition."
But according to Cornell University's Robert Frank, income inequality adds another logic-clouding emotion to the mix.
While we will not likely be influenced by the super rich, whose circumstances are very distant from our own, Frank notes that most social circles include relatively higher-income individuals, whose spending patterns can raise the bar for everyone else.
It's a phenomenon that he says has been particularly evident in the housing market.
"[Real estate] is the biggest single expenditure that any family undertakes, so if you're going to say, 'What's the biggest marker of where you stand?,' it's got to be your house," says Frank, whose studies have linked income inequality to bankruptcy and divorce filings in the U.S.
"Life is competitive. And in a race, it's not how fast you are, it's how fast you are relative to everyone else," he told HuffPost.
Got a housing story to share? Reach us on Facebook, tweet @HuffPostCanada with the hashtag #incomegap or leave a comment below.
Applying Frank's research to the Canadian context is somewhat problematic. As McGill University economist William Watson points out, unlike in Canada, public schools in the U.S. draw their funding from their municipal tax base, which means that a failure to "keep up with the Joneses" is about more than social status. The potential consequences are profound: Parents that linger in deteriorating neighbourhoods can unwittingly sentence their kids to a sub-par education, limiting their future opportunities for economic advancement.
But anecdotal evidence suggests that similar forces may be influencing real estate decisions here, too.
When Risa Alyson Cooper and her partner started house hunting in Toronto earlier this year, it quickly became apparent that they were not going to be able to keep pace with many of their friends. But to their surprise, Cooper, who runs a non-profit, and her partner, a teacher, discovered that the banks were more than willing to help them close the gap.
"We looked at them and were like, 'Are you insane? Why would you ever give us that much money?'" she recalls. "It made it very clear for me how easy it is for people to spend beyond what they should responsibly be spending."
Though, in end, they found something they felt they could afford — a small semi in a still-rough-around-the-edges neighbourhood — she suspects that some of her friends were motivated by other factors.
"I often look at the houses they've chosen, and the neighbourhoods they've chosen, and in my mind, they made their decisions on what they felt they deserved, not what they could afford," she says.
The visceral nature of this expectations gap was made plain a few months ago in a first-person lament in Toronto Life about the struggle to reconcile rising costs with a stagnant income.
(STORY CONTINUES ON NEXT PAGE)
If equity is important to us, there are plenty of ways to make the housing market a fairer place.
Watson, who has argued that the implications of the income gap are exaggerated, says the problem is primarily one of supply.
"If people are richer and they want to buy more houses, the people at the top can squeeze out the people at the bottom if the supply of housing is fixed. But why is the supply of housing fixed?" he says. "We want a housing market where supply is elastic. If there is upward pressure on price, we want people in that market to respond by supplying more units."
On the affordable housing side, Shapcott maintains that policy changes and federal funding — which has been steadily rolling back since the mid-1990s — would go a long way.
"We have practical evidence that when governments adopt strategies that cut income transfers, that has a very powerful impact in terms of people's ability to maintain good housing, and certainly good health," he says, citing Toronto's nearly record-long wait list for city-owned affordable housing, which is now approaching 9,000, as evidence that "private markets are failing to meet the needs of low-income people."
Others, meanwhile, are focusing on narrowing the divide between what middle-income folks can afford, and what they have been conditioned to expect.
Launched earlier this year, Attainable Homes Calgary Corp. is a non-profit that aims to make home ownership a reality for households earning between 80 and 120 per cent of area median income, which is currently between $53,000 and $80,000.
"These are people with decent jobs — they're teachers, they're nurses, they're heath care workers, they're police officers, they're firefighters, they're social workers — all the people that our city needs to thrive," says Sharon McCormick, executive director of the cost-sharing program, which draws its funding from public and private sources.
"[$80,000] is a very decent salary," she says. "To get there, they've had to make an investment in their careers — they've gone to university, they've gotten education to learn a skilled trade. They've done all the right things in life, and they just can't make it into the housing market."
But even as the housing market continues humming along, it may very well moderate on its own. Whatever the extent to which income inequality has helped to boost prices, some predict that more powerful forces, such as an inevitable hike in interest rates, could soon bring the era of skyrocketing values to a close.
It's a possibility that is promising for some and terrifying for others — and a poignant example of how, under the right circumstances, an imbalance in one area can sometimes contribute to another.
WHAT $350,000 WILL BUY YOU IN HOUSE MARKETS AROUND CANADA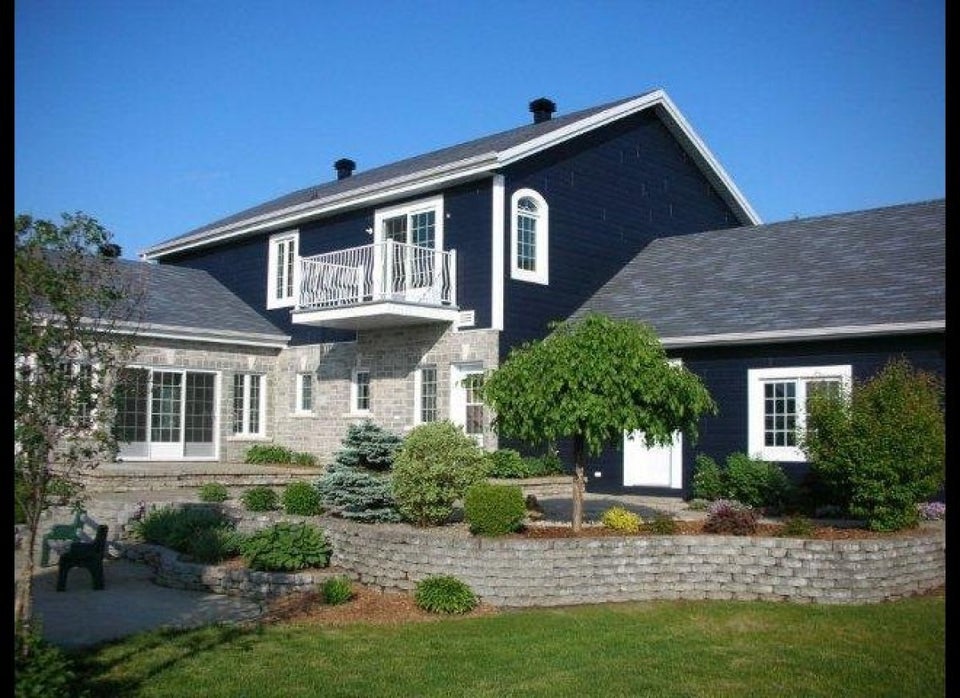 Canada Housing: What $350,000 Will Buy You Across The Country