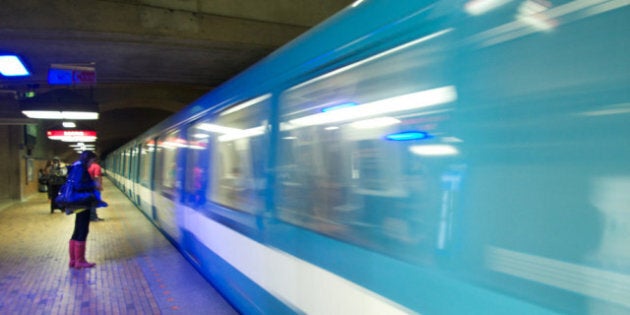 Montreal has seen its middle class neighbourhoods shrink as industrial jobs disappear, but economic segregation is worsening at a slower pace than in Vancouver and Toronto, a new study shows.
Released exclusively to The Huffington Post Canada, the forthcoming paper draws on more than three decades of census data to show for the first time how shifting income patterns have reshaped Montreal's neighbourhoods.
Labour market shifts, urban sprawl and gentrification have deepened the gap between rich and poor across the country, sometimes dramatically so. But Canada's second largest city has not been divided along income lines to the same extent as other major urban centres.
Indeed, Montreal remains a relative success story, even as the rise of a francophone economic upper middle class fuels urban sprawl, while the transition to the knowledge economy has left a large population of former industrial workers behind.
"The polarization that we see spatially is not nearly as extreme" as in other major cities, said author Damaris Rose, a professor at the Centre Urbanisation Culture, Société at Université INRS. "We're fortunate to have a strong socio-economic mix, and also to have a strong ethnic mix — neighbourhoods that are really a mixture of non-immigrants and immigrants."
But, she added, "we can't be complacent about it."
While the evidence may be less stark than in other major Canadian cities, rising income inequality has left its mark on the metropolitan area of Greater Montreal.
From 1970 to 2005, the proportion of middle-income neighbourhoods, or census tracts, on the island and surrounding suburbs shrank from about 64 per cent to 49 per cent. Meanwhile, there has been a significant uptick in the proportion of low-income neighbourhoods, which nearly doubled, from 18 per cent to 32 per cent. Very low-income tracts increased slightly from 2.5 per cent to nearly 4 per cent.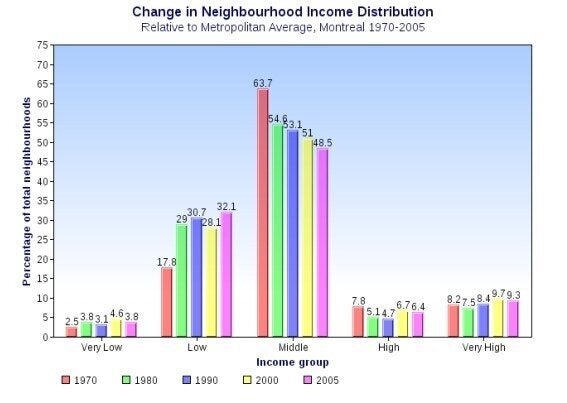 The proportion of wealthy neighbourhoods remained relatively stable: high income tracts declined from around 8 per cent to 6.5 per cent; and very high-income tracts grew from 8 per cent to just over 9 per cent.
Similar studies revealed more significant shifts in the Toronto and Vancouver areas over the same time period, where the share of middle-income neighbourhoods dipped from two-thirds of all neighborhoods to less than one-third in both cities. (The change was less dramatic when looking at the entire metropolitan area of Greater Vancouver.)
Despite the fact that Montreal is more economically heterogeneous than these other urban centres — with middle-income neighbourhoods more likely to be found amid more affluent or poorer tracts — a closer analysis reveals that certain areas of the city are indeed moving in different directions.
Applying a technique that was used by the University of Toronto's David Hulchanksi (and recently replicated in Vancouver) to distinguish between relative income winners and losers, Rose and her team divided Montreal neighbourhoods into three categories, which they called "cities."
"City No. 1" consists of neighbourhoods where average individual incomes increased by more than 15 per cent above the metropolitan rate from 1970 to 2005. In Montreal, that accounts for 19 per cent of the region's census tracts. On the island, these neighbourhoods tend to be clustered in long-established elite areas such as Westmount and Outremont, as well as heavily gentrifying districts like Old Montreal and the Plateau Mont Royal, where the housing market has experienced a significant lift.
Consistent with a pattern of urban sprawl, "City No. 1" also includes a near concentric ring of neighbourhoods in the outer suburbs, particularly in the eastern parts of the north and south shores, such as Varennes, Saint-Julie and Blainville, where a large number of middle-income people, predominantly francophones, have settled in recent decades.
"That really speaks volumes to the huge changes in Quebec society and the growth of an upper- middle income population in mainly francophone society," Rose explained. "Traditionally in Montreal, the wealth was associated with English speakers. That's really changed now."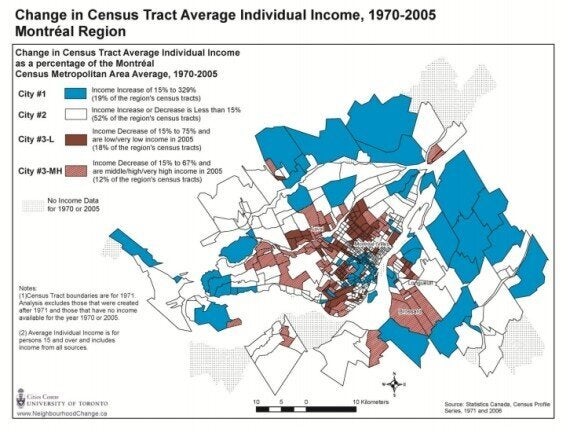 But while the push to create opportunities for the francophone population may have levelled the playing field in one regard, Rose says the effect of out-migration from the city has been "a hollowing out of old neighbourhoods in the centre."
Consequently, many parts of the inner city now occupy "City No. 3," neighbourhoods where incomes dropped by more than 15 per cent below the metropolitan rate. This category now makes up a total of 30 per cent of the region, though only three-fifths of these tracts are designated as low or very low-income. The remainder are classified as middle, high or very high-income, meaning that they're still relatively well-off, but have experienced some decline.
While the truly struggling neighbourhoods of "City No. 3" can be found in the city's post-war suburbs and older areas of the off-island suburbs of Laval and Longueuil, the most significant cluster is in north-east Montreal, where, the authors note, the continuous area of decline "now forms a strikingly large poverty concentration" made up of neighbourhoods that were primarily middle-income in 1970.
In Toronto and Vancouver, "City No. 3" is populated by a large and growing number of recent immigrants that are finding it harder to get ahead.
But according to Rose, immigration, while a contributing factor, has played a smaller role in the expansion of Montreal's "City No. 3," which is also populated by what she describes as "people who are left behind by the knowledge economy."
"They are people who are not overly educated, who in the past were able to work in Montreal's thriving industrial sector," she said. "We've had a complete gutting of [those] jobs."
The more stable "City No. 2," where incomes stayed more or less in line with the city's overall trend, encompasses 52 per cent of the region.
When it comes to why Montreal hasn't experienced the same degree of polarization as other urban centres, Rose points to a few possible factors, including relatively good access to public transportation, strong community programs, affordable housing -- and a small number of head offices.
"Some people would say that Montreal is unlucky not to have a large class of the super-rich," she said. "But perhaps that is an advantage, because it reduces the perception of extremes, and [the sense of] living in a place of huge disparities."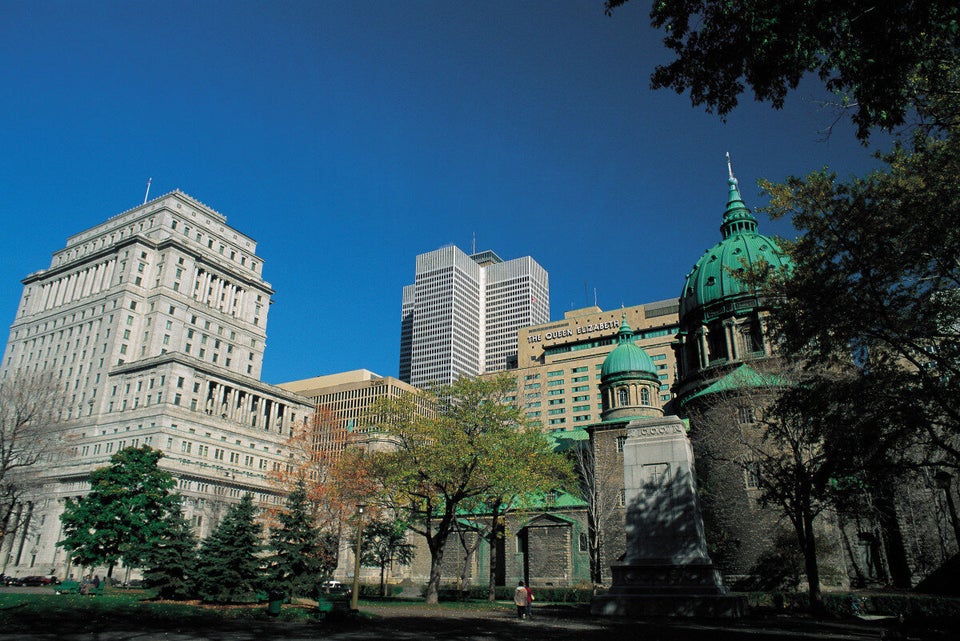 Economic Segregation: How Canada's Big 3 Cities Compare
Which Canadian Cities Are Experiencing The Fastest Ghettoization?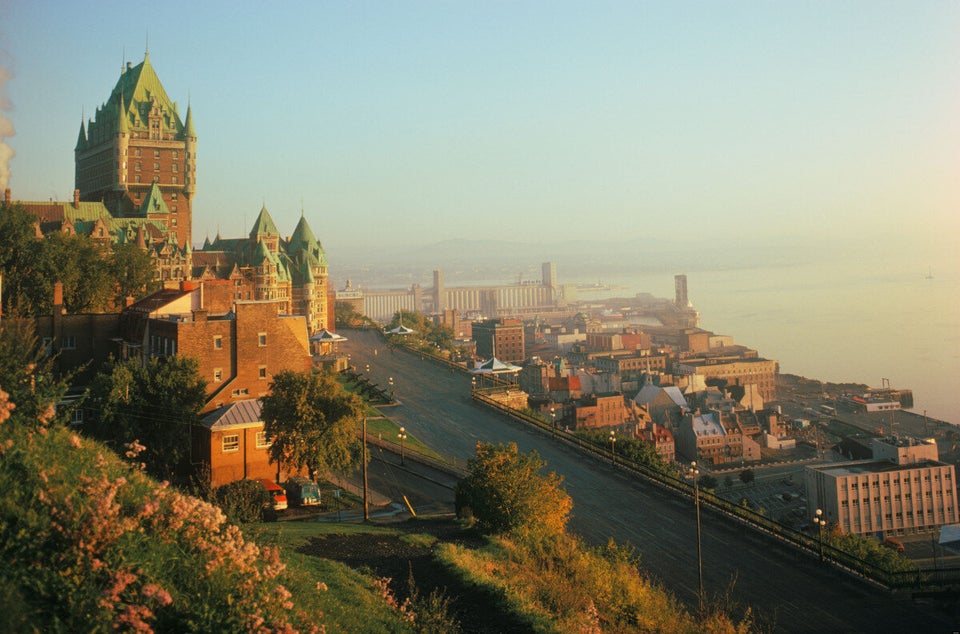 Which Canadian Cities Are Ghettoizing The Fastest?