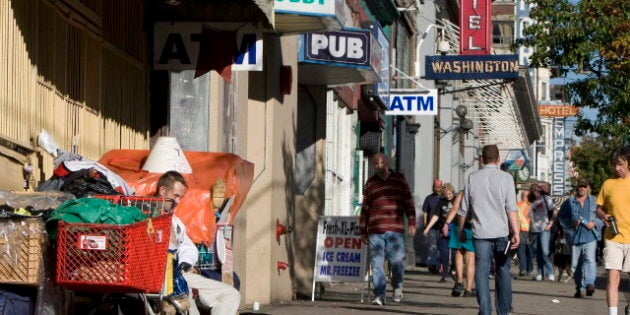 The vast majority of Canadians are concerned about the growing gap between rich and poor, and are willing to pay higher taxes to fight it, a new poll shows.
As the debate about income inequality intensifies, observers have often bemoaned that the causes and implications of this trend are too abstract to resonate with average Canadians. But the survey, released Tuesday by the Ottawa-based Broadbent Institute, indicates that most respondents believe that the deepening rich-poor divide could have a negative impact on everything from our standard of living to democratic principles.
"I found the results encouraging," Ed Broadbent, the former NDP leader who founded the left-leaning think-tank last year, told The Huffington Post. He said concern about income inequality and the desire for government to do something about it "cuts across all partisan persuasions, regional, class differences."
The poll, based on a telephone survey of 2,000 Canadians by Environics Research, found that 77 per cent of respondents see the growing income gap as "a big problem for Canada that will have a lot of long-term consequences for society." Though the sentiment was overwhelming among NDP voters, with 89 per cent in agreement, nearly 60 per cent of Conservative voters were also on board.
When asked whether growing income inequality "undermines Canadians values," 71 per cent of respondents agreed, with the majority indicating that, if left unchecked, the growing rich-poor divide could erode our standard of living (79 per cent); community safety (75 per cent); quality of healthcare and public services (72 per cent); employment opportunities for young people (71 per cent); and democratic principles (67 per cent).
The report said concern about rising income inequality undermining Canadian values was consistent among low-income Canadians and those whose household earnings topped $100,000 per year.
"No matter where you live or how much you make, the growing gap is viewed as decidedly un-Canadian," the think-tank maintains.
As numerous studies and reports have indicated, income inequality has increased dramatically in Canada in the past 25 years, where the gap between rich and poor is now widening at a faster clip than in the U.S., where the divide remains much more pronounced.
When it comes to tackling the growing gap, the vast majority of respondents said they wanted government to get involved, a make it either a top priority (42 per cent) or a medium priority (47 per cent).
"Contrary to stuff that we've been hearing from [right-wing think-tanks] for years, who put out the line constantly that people don't want governments to intervene, this poll says they expect government to do something about it," Broadbent told HuffPost.
To that end, more than 80 per cent of respondents were in favour of a tax hike on the wealthiest Canadians, while 64 per cent said they were either very willing (23 per cent) or somewhat willing (41 per cent) to pay "slightly more tax" themselves.
While Broadbent says he expected that the majority of respondents would support taxing the wealthy to fight income inequality, he was somewhat surprised to discover that "all Canadians are prepared to chip in."
Broadbent is not alone. Some observers questioned the finding on Tuesday, criticizing the construction of the question, which asked respondents if they would be willing to pay higher taxes "if that's what it would take to protect our social programs."
But according to Broadbent, the survey confirms that Canadians believe that taxation rates and income inequality are connected.
"There is a link and they see it, and are prepared to do something about it," he said.
It's a message he hopes will resonate with mainstream politicians, who have until recently shied away from making tax hikes part of their platforms.
"This is new that tax increases are a debatable item," he said. "It's time that all politicians paid attention to this."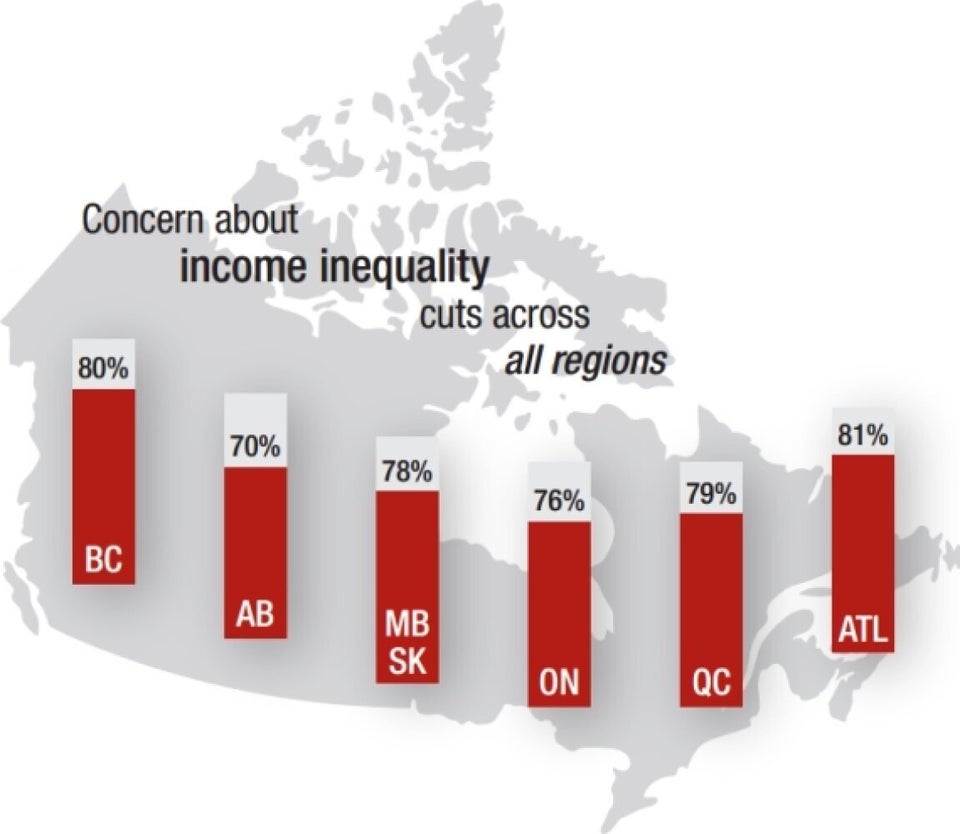 Findings Of The Broadbent Institute's Income Inequality Study