The falling loonie was supposed to be the Canadian economy's saving grace: Cheaper exports would help the country survive the shock of the oil price collapse.
But nearly two years after oil prices started falling, the "great rotation" away from oil doesn't seem to be happening, and that has economists worried.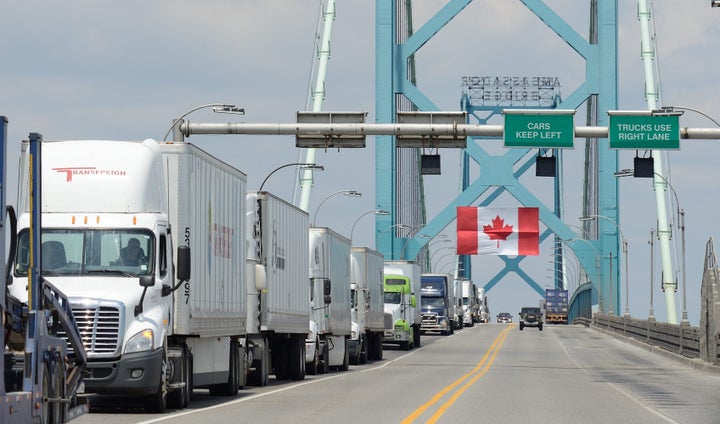 The country's trade deficit widened to its largest on record in April and stayed near that level in May, Statistics Canada said Wednesday, raising concerns that economic weakness in the second quarter could be worse than initially feared.
According to National Bank Financial, Canadian exports are on track to shrink at an annualized rate of 15 per cent in the second quarter of this year — the worst performance since the Great Recession of 2008-09.
"Trade was probably a massive drag on economic growth in the second quarter of 2016," NBF economist Krishen Rangasamy wrote.
Rangasamy said Canadian exporters can't keep up with growing U.S. demand, because the high loonie over the past decade whittled away our non-oil exporting economy. He notes that Canadian real exports, excluding energy, are still 10 per cent lower than they were at their peak in 2007.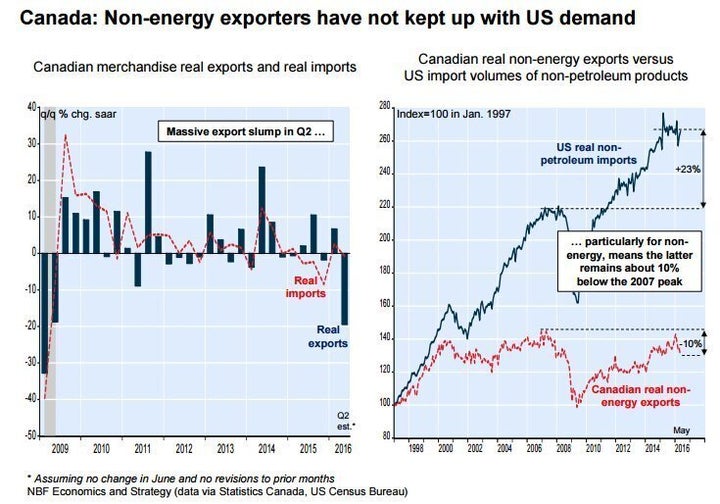 StatsCan said the trade deficit in May was $3.28 billion as exports of crude oil and bitumen grew despite the wildfires in Fort McMurray, Alta., that forced several oilsands operations to shut down production.
By some estimates, more than 1 million barrels per day of crude production was knocked offline — about 40 per cent of all Canadian oilsands output.
Economists had expected a trade deficit of $2.7 billion for the month, according to Thomson Reuters.
Overall, exports fell 0.7 per cent to $41.1 billion in May, while exports excluding energy products declined 1.8 per cent. Imports slipped 0.8 per cent to $44.4 billion.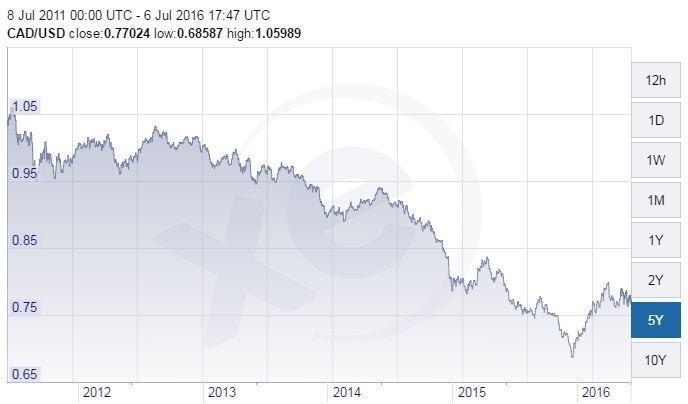 The result from April was also revised to show a historic trade deficit of $3.32 billion compared with an initial estimate of $2.94 billion.
Bank of Montreal senior economist Benjamin Reitzes called the trade report "very downbeat.''
"The string of declines in export volumes is a worrying sign that the transition away from energy sector-driven growth might be stalling,'' Reitzes wrote in a report.
"Add on the uncertainty surrounding the global economic outlook following the Brexit vote and Canadian trade will likely have trouble gaining meaningful traction in the near term.''
— The Huffington Post Canada, with a file from The Canadian Press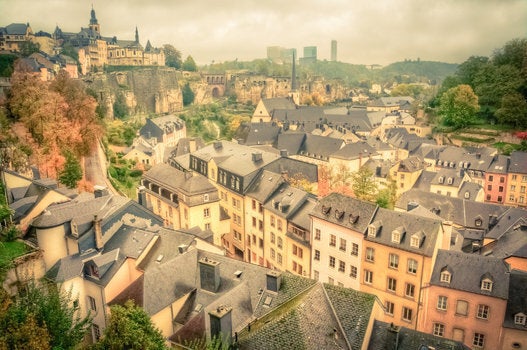 World's Most Competitive Countries, 2015