Prime Minister Justin Trudeau's latest catchphrase might be "Canada is back," but he wasn't the first to use it.
"Make no mistake, Canada intends to be a player... Canada's back. We're on the best economic footing of any of the G7 countries," Harper said.
Less than a day after winning the federal election in November, Trudeau said he had a message to those who feared Canada had lost its voice on the world stage.
"On behalf of 35 million Canadians, we're back," he said.
"Canada is back, my good friends."
Trudeau used the same phrase Friday when announcing Canada's contribution to a climate fund for developing countries.
"Canada is back and ready to play its part in combating climate change and this includes helping the poorest and most vulnerable countries in the world adapt," he said.
He said it again Monday during his address to leaders in Paris.
"Canada is back, my good friends," he said. "We're here to help to build an agreement that will do our children and our grandchildren proud."
Former Tory cabinet minister not impressed
"Such a bold claim within hours of an election win deserves some scrutiny to find out where Canada had been if we were now back," he wrote.
"The Liberals won the election, so they are entitled to some chest thumping, but they should try and balance the complex challenges of governing Canada for at least a few months before hanging their equivalent of a Mission Accomplished banner."
With files from The Canadian Press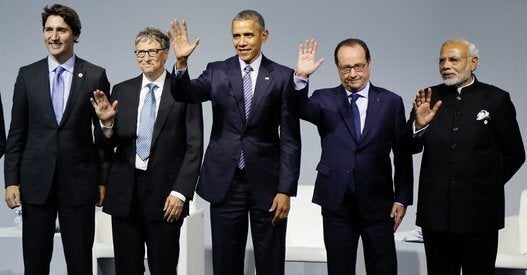 Trudeau's International Debut