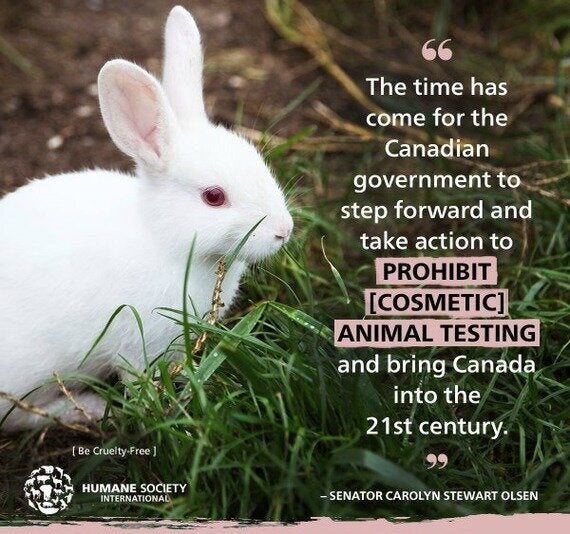 This past December marked a year since the Cruelty-Free Cosmetics Act (Bill S-214) was re-introduced into Parliament by Senator Carolyn Stewart Olsen.
On the anniversary of that milestone, another breakthrough in the Be Cruelty-Free Canada campaign (which works to ban cosmetic animal testing in the country) was reached when the Cruelty-Free Cosmetics Act passed its second reading on December 14th, 2016 with strong Senate support.
If the Cruelty-Free Cosmetics Act becomes law, it seeks to ban cosmetic animal testing in Canada and the sale of cosmetic products and ingredients that have been newly tested on animals outside of the country.
"This is an important next step which brings us closer to ending cosmetic animal testing in Canada. I look forward to working with my colleagues in the Senate to pass this important Bill," stated Senator Stewart Olsen.
The Cruelty-Free Cosmetics Act will now be studied further by the Standing Senate Committee on Social Affairs, Science and Technology.
On the recent news, Aviva Vetter, Be Cruelty-Free Canada campaign manager, said, "Already 35 major markets, including the EU, Israel, India, New Zealand and Taiwan, have enacted cosmetic animal testing and sales bans, and it's high time for Canada to join their ranks."
Liz White, director of Animal Alliance of Canada, also added, "This is a very exciting move towards ending cosmetic animal testing in Canada. In this day and age animals should not have to suffer for our cosmetic products. Safety of new products can be assured using existing ingredients and non-animal testing methods and the majority of Canadians support ending cosmetics cruelty."
Some companies still test new products and ingredients by forcing rabbits, mice and other innocent animals to suffer through cruel practices such as having lethal chemicals rubbed onto their skin or breathing in poisonous fumes without any pain relief administered.
Until Canada officially bans cosmetic animal testing, you can easily shop for cruelty-free cosmetics by looking for the Leaping Bunny logo on products and by using the Leaping Bunny shopping guide available in easy-to-use formats.
The Leaping Bunny program, which recently celebrated their 20th anniversary, was created by the Coalition for Consumer Information on Cosmetics and certifies companies to be free of animal testing at all stages of product development.
"We are proud to have Animal Alliance of Canada in our coalition and wholeheartedly support their and HSI Canada's independent efforts to see that this ban is enacted," says Kim Paschen, program manager of Leaping Bunny.
Another trustworthy cruelty-free cosmetics list is from Logical Harmony, a cruelty-free beauty and vegan lifestyle blog. This Cruelty-Free Brand List is updated weekly and for quick reference, you can add the list to your iPhone or Android in a few steps.
With over 600 cruelty-free cosmetic companies available worldwide, there is no need to support cosmetic companies that continue to test on animals when shopping for a new shampoo or lipstick.
Ottawa-based DEMES, maker of natural beauty and household products, is a great example of a company that does not participate in animal testing. DEMES is a partner of the Be Cruelty-Free Canada campaign and is certified cruelty-free by Leaping Bunny and Logical Harmony.
"Many Canadians are surprised that cosmetic animal testing is still allowed in our country. It's archaic, it's cruel, and it's time to go, forever. That goes for the various ingredients used in cosmetics, to the final product being sold at the counter. No animal should suffer for beauty," says Michelle Groulx, president of DEMES.
On a final note, this past December also marked one year since I wrote It Is Time Canada Banned Cosmetic Animal Testing, where I spoke with Aviva Vetter about cosmetic animal testing, the Be Cruelty-Free Canada campaign, her passion to help animals from a young age and the steps that led to a career as an advocate for animals. It is fantastic to see the progress that the Be Cruelty-Free Canada campaign has made in 2016 and let's hope that 2017 will be the year that Canada will #BeCrueltyFree.
You can show your support for the Cruelty-Free Cosmetics Act by visiting www.becrueltyfree.ca and sending a letter to your Member of Parliament.
Follow HuffPost Canada Blogs on Facebook
Popular in the Community