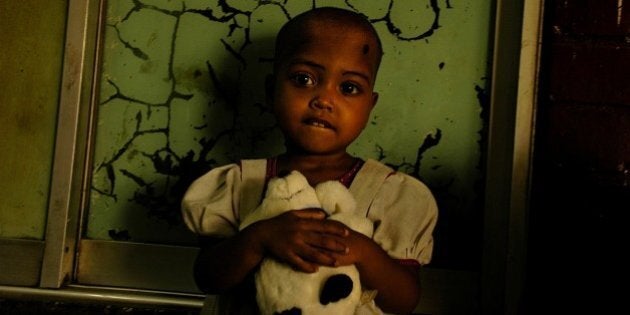 The current 69th annual UN General Assembly session promises to be one of the most memorable in the international body's seven-decade history. Perhaps never before have there been as many seemingly intractable crises facing global leaders at one time. There is ISIS, Ebola, the Palestinian-Israeli standoff, and the Russia-Ukraine conflict, to name only a few. People everywhere are understandably shell-shocked and fearful; their leaders are like jugglers performing before a skeptical audience.
Oftentimes, these UN gatherings produce predictable set pieces from leaders speaking in public while some serious brokering does happen behind closed doors, but this year promises to be different. There will still be hard bargaining behind the scenes, but no leader can ignore the pressing threats to peace and health.
From a Canadian perspective, this is the first time in four years that Prime Minister Stephen Harper has accepted an invitation to address the Assembly. While he will no doubt tackle current international political crises, I expect he will also use the occasion to challenge world leaders to keep earlier promises to reduce preventable deaths among young children and among women who die in pregnancy or while giving birth.
I will be there, too, for the first time as a member of the Canadian delegation, hoping that the Prime Minister reminds other world leaders that even when terrorist groups are contained and Ebola controlled, women and children will continue to die needlessly. Indeed, nearly 15 years ago, the global community agreed on a set of eight measurable goals to create a better world by 2015, including reducing the under-five mortality rate by two-thirds and cutting the maternal mortality rate by three-quarters. Well, 2015 is but months away, and some of these targets remain a long way off.
Considerable progress has been made, particularly in saving the lives of women and children in developing countries. In 2012, 400,000 fewer children died than in 2010. This year, 250,000 more women will survive pregnancy than would have five years ago. That's good news -- but at the same time some six million children under the age of five die every year and there are still nearly 300,000 maternal deaths annually. Those are staggering numbers -- especially considering that these deaths are easily preventable.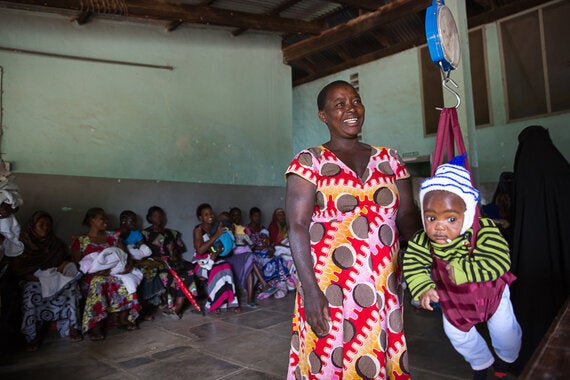 A mother weighs her baby at a newborn health clinic. Photo: Plan International
Earlier this month, UNICEF issued a report on global efforts to meet the two-thirds reduction in child mortality. The body said that, without stepped-up efforts, that goal will not be met until 2026 at the earliest, 11 years and millions of deaths after the initial deadline.
But we don't have to wait that long. We know how to eliminate these needless deaths, simply and cost effectively. Training up and providing more community health workers and basic measures, such as knowing how to spot trouble signs during a pregnancy or breastfeeding shortly after birth, can produce dramatic results. Adopting these and similar straightforward practices can help to cut current maternal mortality rates in half and child mortality by more than one-third.
It all comes down to the political will and necessary funds to make it happen. Canada is a recognized leader in both. In May, Canada committed a further $3.5 billion over five years to help eliminate these unnecessary deaths.
UN Secretary-General Ban Ki-moon has recognized Canada's global leadership by inviting the Prime Minister to be his co-host for a special one-day "Every Woman Every Child" session during the Assembly. Launched by Ban Ki-moon in 2010, this initiative is focused on how best to maintain momentum in the post-2015 Millennium Development Goal era.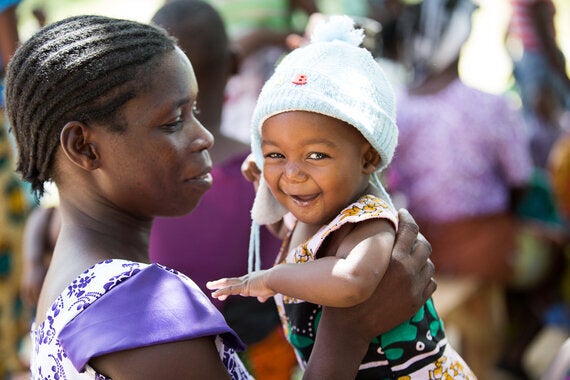 There's still more to be done to help save the lives of moms and their babies in the poorest parts of the world. Photo: Plan International
In any event, maternal, newborn and child health concerns cannot be separated from today's political and Ebola crises. Ultimately, these are all humanitarian disasters where women and children are most at risk. In the midst of fighting or an epidemic, health care is hard to come by. In the case of Ebola, healthcare systems in West Africa that were already fragile before the outbreak have now broken under the strain, turning an emergency into a catastrophe. Healthcare staff in affected regions have died. As a result, there are virtually no hospitals, if functioning at all, to welcome pregnant women in distress, let alone deliver a normal birth. Children needing care have nowhere to turn.
When Prime Minister Harper steps up to the podium at the General Assembly, it's Canada's opportunity to lead a full-court press on other nations to follow its example in generous, ongoing funding to solve a problem that is soluble. I hope his message is a rallying cry to other nations that also underscores a sustained commitment from Canada to get the job done. Finally, I hope that message inspires Canadians at home to continue to support the fight to save and protect the lives of the world's most vulnerable people.
Amidst staggering political and humanitarian crises, there are now 17 development goals for global leaders to tackle in the post-2015 agenda. At this UN General Assembly, Canada can ensure we don't lose ground on goals we've already started and can meet in this lifetime.
Popular in the Community