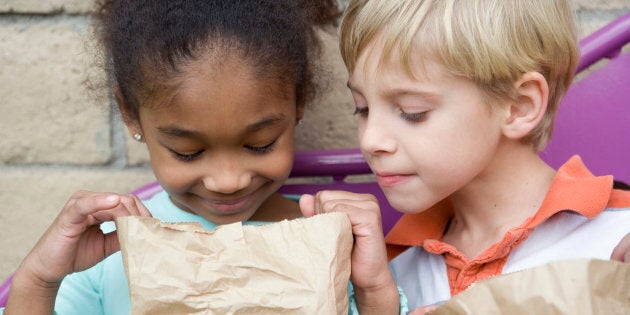 "My kids get vile junk food in their lunches sometimes, because they like it," she admitted. "That's right! They like Oreos just as much as I do, but overall, their diets are nutritious."
Registered dietitian Cara Rosenbloom agrees with this mindset for packing lunches. "It's totally fine to give children treats," she said in a 2015 interview with Global News. However, she noted that it's all about balance and remembering that these snacks need to have some nutritional value other than sugar.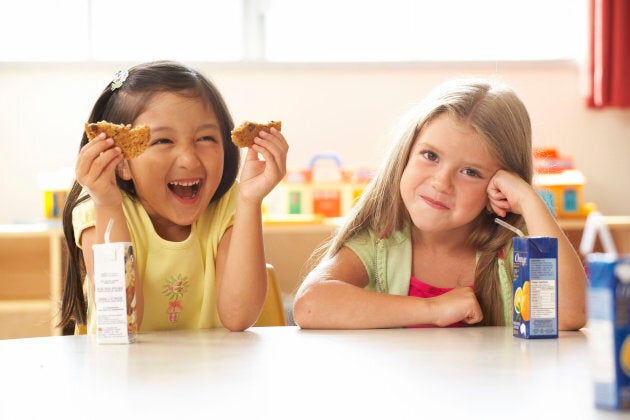 "When you're trying to fuel them through a busy school day they need the right kind of energy from food for both physical activity and mental activity," Rosenbloom said. "Giving them treats and snacks that are sugar with no other nutritional value won't fuel their bodies and it won't fuel their brains in a way that'll help them excel."
So to give parents some real-life inspo for what to pack in their kids' lunches, we asked our readers to send us photos of what their children bring to school. Here's what Canadian kids are really eating at lunchtime.
1. Andree Lau, Toronto, Ont.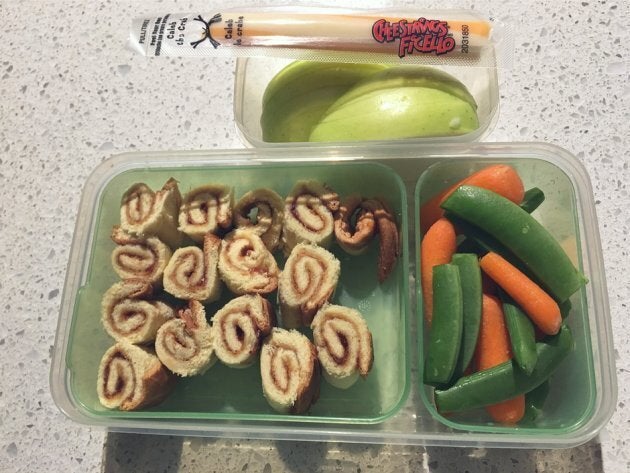 What's for lunch?: "Butter and jam sandwich sushi rolls, snap peas and carrots. For snack, cheese stick and apples."
2. Alison Myers, Calgary, Ont.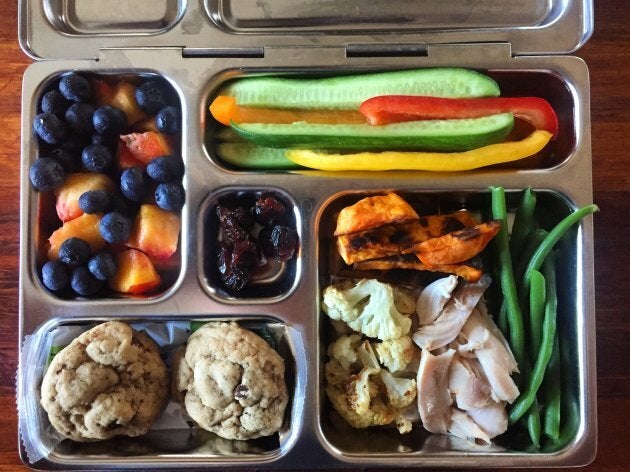 What's for lunch?: "The main section is beer can chicken, green beans with roasted cauliflower and sweet potatoes. Veggies are mini cukes and peppers. Fruits are nectarines and blueberries. Snacks are homemade chocolate chip cookies, dried cranberries and some fruit leather."
3. Joyce Uyesugi, Vancouver, B.C.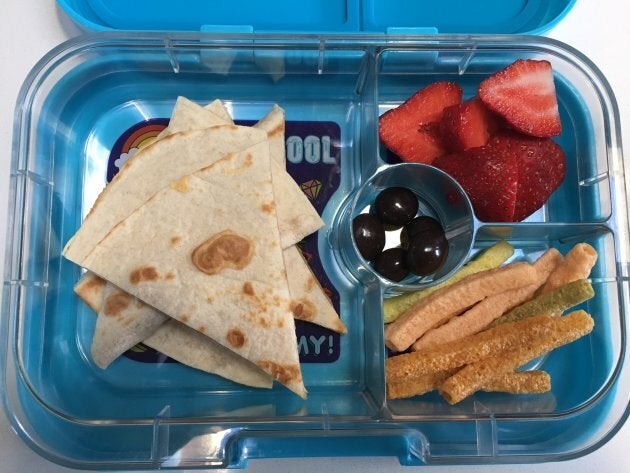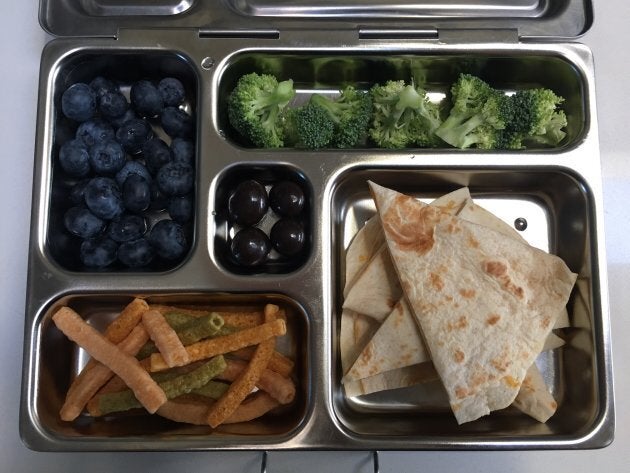 What's for lunch?: "Today I packed them cheese quesadillas, veggie straws, and a handful of chocolate-covered blueberries for lunch, along with fresh strawberries (which came back, argh! I had him eat them after school) for six-year-old and fresh blueberries and broccoli for nine-year-old. Because they like different fruits/veggies. Sigh!"
4. Christine McNaughton, Tehkummah, Ont.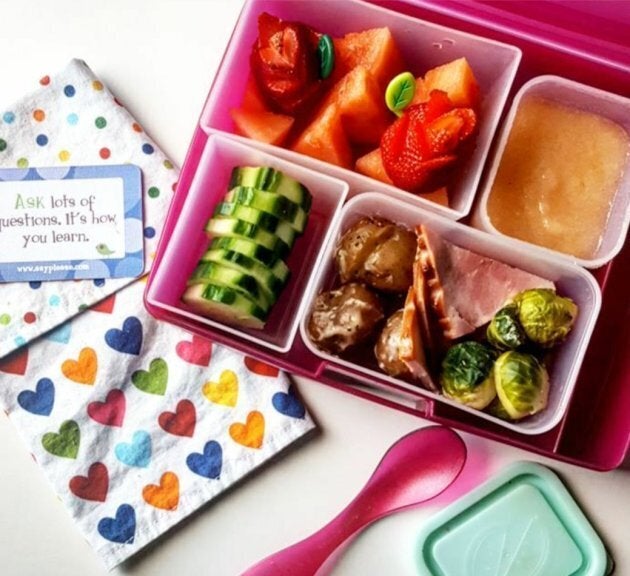 What's for lunch?: "Cucumber slices, ham, potatoes, Brussel sprouts, watermelon, strawberries, homemade applesauce and water to drink."
5. Meghan Grant, Calgary, Alta.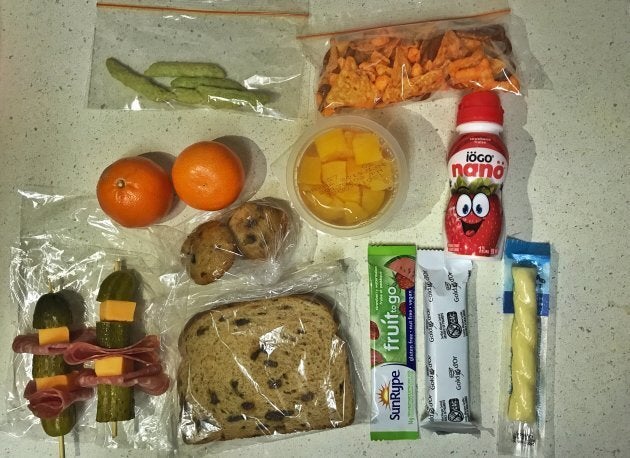 What's for lunch?: "Yogurt drink, Harvest Snaps snapea crisps, party mix (yes, leftover from an adult party... not a usual addition), peaches, two clementines, banana bread mini muffins, fruit-to-go fruit leather, raisin bread, cheese string, granola bar, pickle- salami- and cheese skewers."
6. Gigi Lau, Toronto, Ont.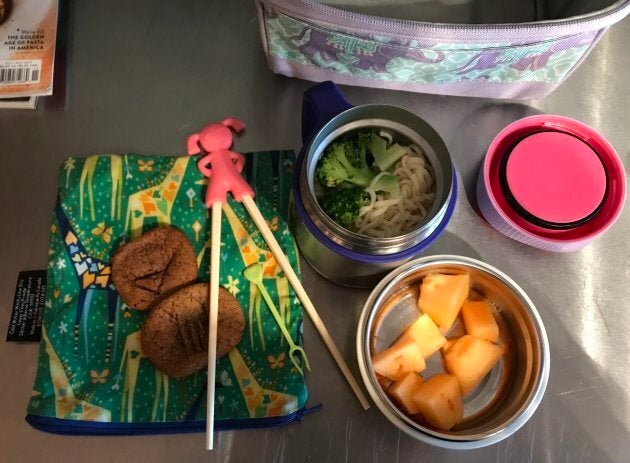 What's for lunch?: "Leftover instant noodles with broccoli. Cantaloupe. Two snickerdoodle cookies. Bottle water."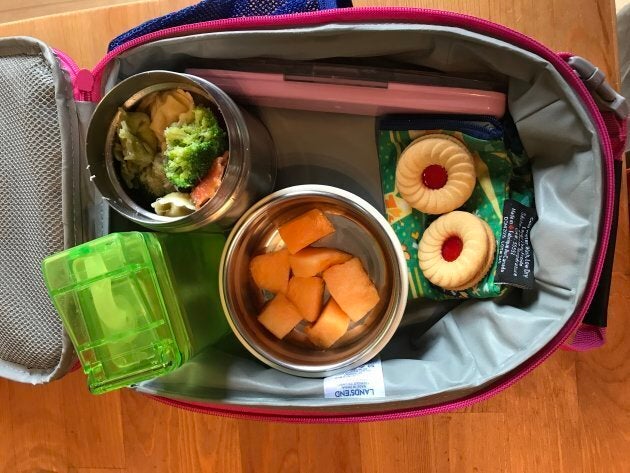 What's for lunch?: "Leftover cheese tortellini with broccoli. Cantaloupe. Two cookies. Bottle water."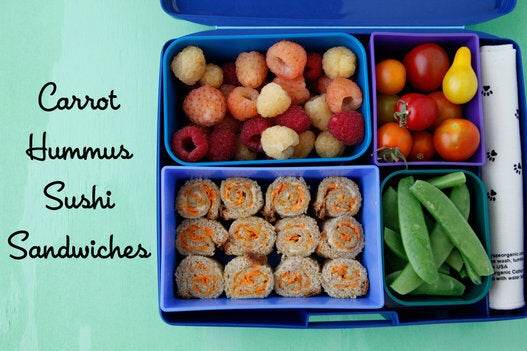 School Lunch Ideas Kids Will Actually Eat
Popular in the Community