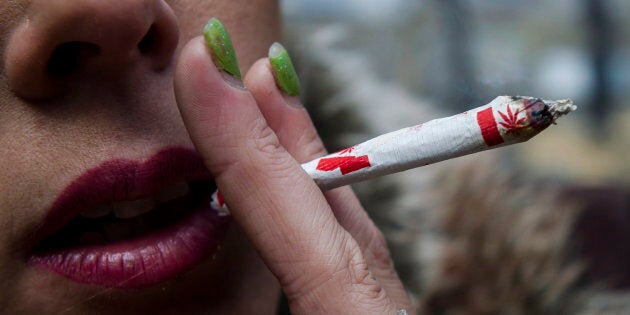 Almost a month into Canada's waltz with legal weed, a new poll suggests Canadians are divided when it comes to the age to buy and consume marijuana.
The federal government set the minimum age for recreational cannabis at 18, but left it up to the provinces and territories to decide if it should be higher. At the moment, it's 19 in most provinces and territories, while Alberta and Quebec have set it at 18.
A new survey from the Angus Reid Institute, however, found that while 27 per cent of respondents agree that the minimum age should be 18, a similar number of correspondents (26 per cent) want it to be 21. Some want it even higher than that — 13 per cent said the legal age should be older than 25.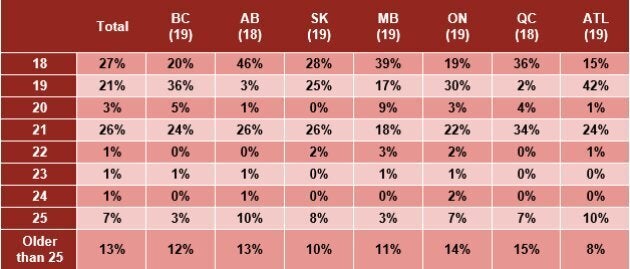 Most provinces and territories have opted to align their minimum age for weed with the one set for alcohol. The exception is Manitoba, where 18-year-olds can legally crush a couple of cold ones but have to wait until they're 19 to smoke weed.
Bottom line: if you're 19 or older, you can smoke or buy weed anywhere in the country, but that's still not high enough for almost half of the survey's respondents. Fifty-one per cent of respondents believe the minimum age to purchase or consume pot should be 20 or under, while 49 per cent said it should be 21 and over.
Minimum age aims to combat black market: PM
Breaking down the results provincially, respondents in most regions said they prefer a legal age of 20 and under. Only Alberta and Quebec had more support for a legal age of 21 and up — which might be good news for new Quebec Premier Francois Legault, who has pledged to raise the province's limit from 18 to 21.
Prime Minister Justin Trudeau has argued that the government's choice of a legal age is aimed at gutting the black market.
"If we eliminate the segment of the population between 18 to 19 and 21 years, which is a population often in university, often in areas where they'll try to consume, we're keeping an important segment of potential consumers for the black market," he said last month when asked about Legault's move.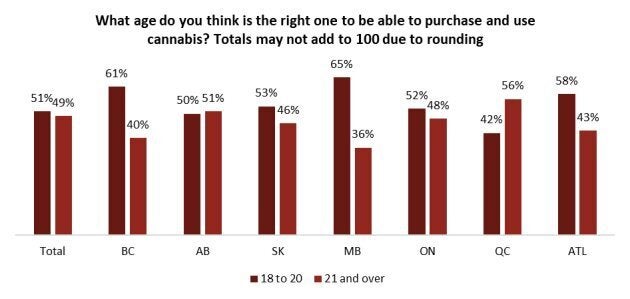 Age a big factor
The polling firm found that age plays a big role in this divide. Most young men and women in the survey, for example, opted for a legal age of 20 and under, while older Canadians disagreed.
The strongest support for a legal age between 18 and 20 came from young men, while women over 55 were the most in favour of setting one over 21.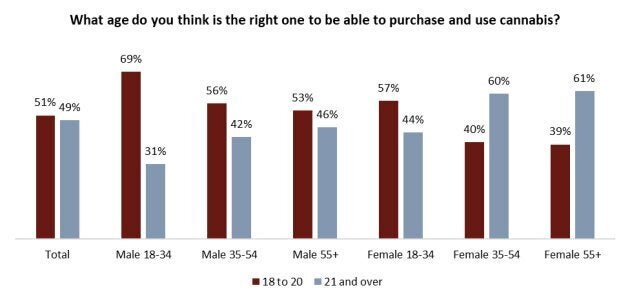 The survey also asked respondents about what they've done since pot was legalized. This includes browsing websites, going to dispensaries and, well, buying weed from either.
One-in-four said "yes to any" of those options, while 16 per cent said they visited a website that sells marijuana.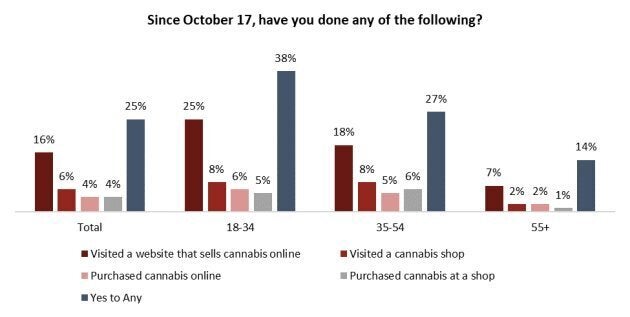 Lastly, the poll asked respondents about their general sentiments in a post-legal marijuana Canada. The results are mixed.
Thirty-five per cent of respondents said they are "neither pleased nor disappointed," while 34 per cent said they were pleased.
Once again, the poll found that age played a part in how much respondents' got a kick out of legal weed.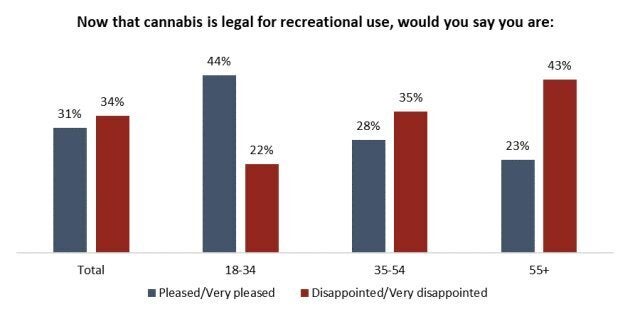 The Angus Reid Institute's poll was conducted online between October 24-29 among a representative randomized sample of 1,500 Canadian adults. For comparison purposes only, a probability sample of this size would carry a margin of error of plus or minus 2.5 percentage points, 19 times out of 20.
Also On HuffPost: The First Week Of Marijuana Legalization In Canada