 TORONTO -- As Barack Obama swears the oath of office at his second inauguration Jan. 21, the Canadian government and its people are looking for leadership from the president on two pressing, albeit contradictory, issues -- oil and the environment -- highlighting the tug of war between public opinion and government policy in this country.
Aside from the biggest elephant in Congress -- reaching agreement on spending cuts and the debt ceiling to avoid plunging the U.S. into a second recession that could envelop Canada -- energy and environmental policy rank among the most significant U.S. issues for Canadians.
Central to the debate is Alberta's crude-rich oil patch, which is said to be both critical to Canada's economic growth over the next 30 years and one of the dirtiest sources of energy in the world.
Prime Minister Stephen Harper's government is keen to see the White House greenlight TransCanada's controversial Keystone XL pipeline that would carry more than half a million barrels of heavy crude a day from Alberta's carbon-intensive oil sands to refineries in the U.S. Gulf Coast.
The most imperative issue for Canadian energy producers is access to global markets, and Keystone is so integral that it needs to be addressed early in Obama's second term, says Greg Stringham, vice-president of the Canadian Association of Petroleum Producers.
"Getting that approved some time this year will be important to keeping it near to its schedule," Stringham said, "and that's what we need to have the availability to be able to move into that market."
Harper has called the pipeline's approval "a complete no-brainer," given the U.S. desire for North American energy independence and its lust for oil. But he has also been clear that Canada is looking to expand oil exports beyond just the U.S. to oil-hungry Asia, where demand for oil sands crude is soaring.
A decision on Keystone, which requires approval from the U.S. State Department because it crosses an international border, could come as early as March or April, according to recent reports. Obama has already rejected the project once, forcing the Calgary-based company to revise the pipeline's route through Nebraska to avoid ecologically sensitive areas in the hopes of placating some of the project's most fervent opposition.
During the 2012 election, both Obama and Republican rival Mitt Romney championed U.S. energy self-sufficiency, but only Romney singled out Keystone as a crucial part of that plan. The issue is so divisive that Lisa Jackson, head of the U.S. Environmental Protection Agency, resigned earlier this month, reportedly in protest against apparent plans to approve the $7-billion project -- though a Capitol Hill source denied that the Keystone project played any role in Jackson's departure.
But the Harper government and the oil industry have lobbied hard for the pipeline expansion, and Obama has stressed the need to reduce the U.S. reliance on overseas oil. Canada's oil sands could be a big part of the solution.
Still, it's no easy solution. If Keystone is approved, Obama -- having touted a "clean energy economy" -- risks losing support from key environmentalists who have rallied against what would be the largest oil pipeline outside Russia and China, countries not exactly praised for their environmental track records.
The pending Keystone decision comes at a time when Canadians are captivated by the grassroots Idle No More movement, led by First Nations groups calling for "indigenous sovereignty which protects the land and water" and "to protect Mother Earth."
This activism has put a renewed focus on environmental issues such as climate change and green energy, says Adam Scott, climate and energy program manager at Toronto-based Environmental Defence.
"We've seen a number of attacks on environmental protections in Canada, and it sounds like there's a large group of people out there finally saying no to that," Scott said.
Many Canadians -- including Harper, who has indicated that his climate change policy will follow the U.S. example -- are looking to Obama to lead the charge. And the president has already hinted that addressing climate change is on his second-term agenda.
The events of 2012, now officially the hottest year on record -- from droughts in the U.S. to superstorm Sandy -- have sent American concern for the environment close to the level reported by Canadians, Scott says.
"It's becoming more clear this is the No. 1 issue," he said.
Scott, who believes Obama will reject Keystone to show that he is serious about the environment, is optimistic that the president will crack down on greenhouse-gas emissions, forcing Canada to develop its own clean energy strategy.
"Canada's oil-only policy isn't going to fly anymore," he said. "Canada's going to have to move into the new economy and start thinking about energy efficiency and renewable energy and clean energy."
But Don Abelson, director of the Canada-U.S. Institute at Western University in London, Ontario, says there is room to strike a balance between energy and environmental imperatives. Energy independence, including through Keystone, can be achieved in an environmentally responsible way, according to Abelson.
He believes that approval of Keystone, which would appease congressional Republicans, could actually give Obama leverage in pushing at least some of his environmental agenda through.
Obama's decision on Keystone will be among the first and most significant steps indicating his direction on an environmental policy that could change the North American economy.
For now, however, most Canadians are focused on more immediate economic concerns.
If there is no agreement in the U.S. on raising its debt ceiling or mitigating the impact of slated severe spending cuts, U.S. demand for Canadian exports could dry up. That would mean a severe hit to economic growth and Canadian jobs at a time of slowing domestic demand from debt-burdened consumers and a cooling housing market. A second recession in Canada would be possible.
Foreign Affairs Minister John Baird's office believes there is great opportunity ahead to expand the North American economy.
"We will continue to engage constructively with the Obama administration as we look to create more jobs, hope and opportunity in our two great nations," press secretary Rick Roth said.
But, Abelson notes that even top government officials can do little more than urge the president and U.S. lawmakers to put aside their partisan differences and move ahead with crucial issues that will affect the Canadian economy.
"We have to do our best to advance our concerns and to suggest areas of co-operation, but in the end we are the outsiders looking in," he said.
"[Canadians] would like to see President Obama work very closely with Congress, with the Republican House and the Democratic Senate, to try and set aside partisan interests and achieve a plan that is going to be good not only for the United States but for its continental neighbors and for the global economy."
This article is part of a series produced by The Huffington Post that closely examines the most pressing challenges facing President Obama in his second term. To read other posts in the series, click here.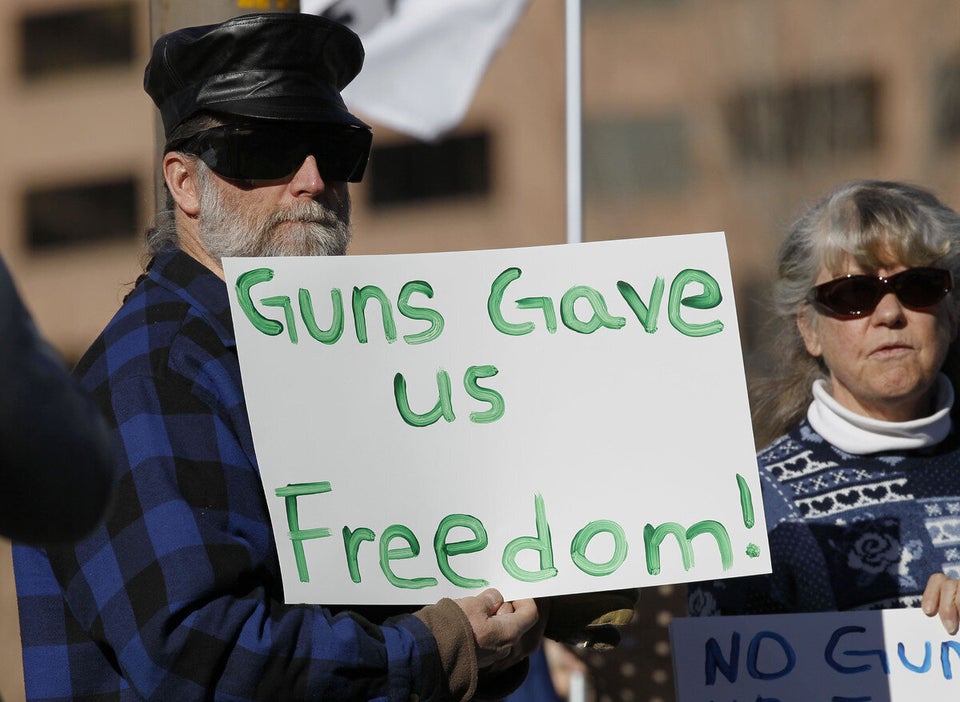 More Canadian 'Wants' From Obama's 2nd Term