Prime Minister Justin Trudeau's government is prepared to walk away from the NAFTA negotiating table if the Trump administration insists on scrapping a chapter of the deal related to dispute settlement, according to a news report.
The Trump administration released its wish list for NAFTA talks last week, and among the items is a request to scrap Chapter 19 of the trade deal. The chapter creates multinational tribunals to rule on disputes when a NAFTA country wants to impose anti-dumping duties on exports from another country.
In essence, Chapter 19 prevents NAFTA countries from slapping unfair duties on products from other NAFTA countries in order to protect their home industries.
An unnamed "senior Canadian official" told the Globe and Mail that the prime minister considers NAFTA's Chapter 19 a "red line" he will not cross.
It's a separate issue from Chapter 11, which deals with disputes between foreign investors and governments. A 2015 study from the Canadian Centre for Policy Alternatives found that Canada is the most-sued country under this mechanism, with more than 70 per cent of all claims being brought against it.
The Trump wish list doesn't mention Chapter 11.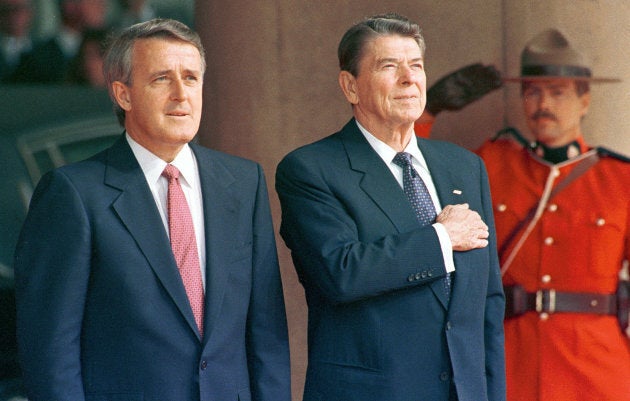 Derek Burney, who served as chief of staff to Prime Minister Brian Mulroney during the original U.S.-Canada free trade talks in the 1980s, and is now an advisor on the NAFTA talks to the current Liberal government, explained to Bloomberg why this is such a crucial issue to Canada: "We don't trust their trade-remedy tribunals, we never have," he said.
He added: "We wouldn't have the trade agreement if we didn't get that dispute settlement."
In 1987, Mulroney walked away from trade talks at the last minute when the U.S. resisted the dispute settlement chapter. The gambit paid off, and a trade deal that included Chapter 19 was signed days later.
Asked about Chapter 19 during a press conference Tuesday, Trudeau said only that he is "not going to negotiate in public, certainly not in advance of the negotiations actually starting."
But the prime minister added that "a fair dispute resolution system is essential for any trade deal that Canada signs on to."
What would happen if Canada walked away?
If Canada were to walk away from the talks, the NAFTA deal would stay in place, potentially pushing President Donald Trump to rip up the deal as he had promised during the election.
It's "the worst-case scenario," Robert Wolfe, professor emeritus at Queen's University's School of Policy Studies, told Bloomberg. "We don't want to have to do that, and we don't want President Trump to rip the thing up. They're a bigger boy in the schoolyard than we are, but we don't have to think we're going to get pushed around. We do have leverage."
Not everyone believes that NAFTA's cancellation would lead to economic catastrophe. Scott Sinclair, a senior research fellow with the CCPA, notes that, if NAFTA disappeared, trade between Canada, the U.S. and Mexico would be governed by WTO rules.
"We don't trust their trade-remedy tribunals, we never have."Derek Burney, ex-chief of staff to Prime Minister Brian Mulroney
"Under that scenario, Canadian exporters could face an additional US$3.5-5 billion in customs duties, equivalent to the value of 1.25 to 1.8 per cent of current exports," he wrote in a blog post.
"That's a speed bump, for sure, but would not bring trade to a screeching halt."
Wolfe believes that Chapter 19 isn't important enough for Canada to walk away from trade talks over it. He suggests Canada could see more benefit if it traded away that chapter in exchange for an end to "Buy America" rules in the U.S.
More from HuffPost Canada:
He notes that Canada has brought only three cases under Chapter 19 in the past decade.
"If you had to choose between a real restraint on Buy American and keeping Chapter 19, I'd yell and pound the table and give up Chapter 19," he told Bloomberg.
"A lot more Canadian jobs might benefit from stopping discriminatory government procurement in the U.S."
— With a file from Ryan Maloney