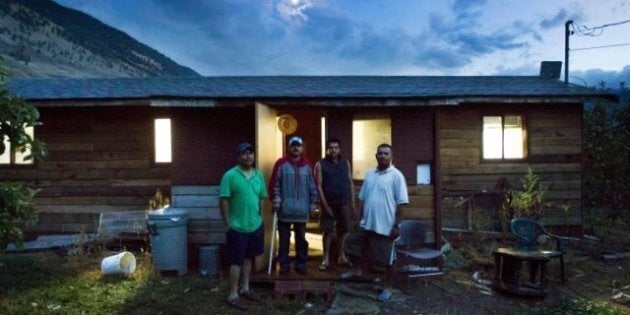 A federal program that brings more than 15,000 seasonal workers to Canada each year lacks proper government oversight, leaving some migrants prone to abuse and appalling living conditions, advocates say.
For decades, seasonal workers from Jamaica, Mexico and other Caribbean countries have poured into rural Canadian communities under Ottawa's Canadian Seasonal Agricultural Workers Program (CSAWP) and the Temporary Foreign Workers program. The CSAWP began as a pilot project in 1966 with 263 Jamaican workers and rapidly expanded to answer Canada's shrinking agricultural work force.
Overseen by Human Resources and Skills Development Canada, the program is supposed to safeguard workers from exploitation, but critics say there's little federal accountability. Complicating the matter is the fact the program is administered by a private, non-profit organization in Ontario, Nova Scotia and Prince Edward Island called FARMS – Foreign Agricultural Resource Management Services. (Its Francophone equivalent in Quebec and New Brunswick is known as FERME.)
The CSAWP "really suffers from a lack of government oversight by the Canadian government in terms of monitoring working conditions and living conditions, regulating them and sanctioning abusers," said Kerry Preibisch, associate professor in the department of sociology and anthropology at the University of Guelph.
Migrant workers are housed in a variety of different accommodations. Most live on the farmers' properties in bunk houses, barns or trailers. Some live away from the farms in motels or apartment buildings. Generally, accommodations are paid for by the employer.
Preibisch has documented a litany of substandard living conditions, from mould in bedrooms, a lack of indoor toilets and standing water to a gas leak that one employer refused to fix.
"I think growers would agree ... that those people who have abusive employment practices or undignified housing are really a black stain on the whole industry. They bring the industry into disrepute," said Preibisch, who has done extensive research on international migration and development with a focus on farm and food industry workers.
Yet the workers keep coming back to Canada, where they sow and harvest fruits and vegetables, tobacco, honey, ginseng and sod. They work in greenhouses, canneries and packing and processing plants.
They fill a void that exists because "there just aren't enough Canadians willing to work for that level of compensation," said Glenn Fox, an agricultural and natural resource economist at the University of Guelph.
Steve Martin, retail sales manager and a shareholder in Martins Family Fruit Farm, concurs. "Canadians are simply not available for seasonal work, especially in remote areas," he said.
Migrants benefit from the Canadian work experience as well. They typically come from countries where the standard of living is lower than Canada's and employment prospects are scarce. Their income, about $10.25 an hour before taxes, is worth more in their native currency, and their living conditions aren't usually any worse than what they have at home, said Fox.
"It's a win-win for migrant workers and for Canadian farmers," said Ken McEwan, Fox's colleague and a professor of production economics and agribusiness at the University of Guelph.
Still, about 60 migrant workers toured Ontario in the fall to highlight problems with the program, including the lack of access to health care, little-if-any job safety training, inadequate housing and isolation. Chris Ramsaroop, a spokesperson for Justicia for Migrant Workers, the advocacy group that organized the tour, said employer-provided housing for migrant workers falls outside the Ontario Landlord and Tenant Act. Workers have complained of rats, leaky roofs and sewage seeping into what can be small, cramped quarters, he said. Exploitive hours are another problem, he said.
"I'm not exaggerating ... workers have told us stories of working 18, 19, 20 hours a day. One worker told me he worked 35 hours over the period of two days, non-stop," said Ramsaroop.
Training and job safety are also ongoing concerns. A 2009 survey of 576 migrant farm workers in Ontario for the CERIS Ontario Metropolis Centre – a consortium of universities and community partners in the Toronto region – found that the majority of workers involved in operating machinery do so "without the necessary training and certifications required to minimize injuries." Almost half of the respondents who worked with chemicals applied them without the necessary protections like gloves, masks and goggles, leaving them vulnerable to viral, respiratory, neurological and physical illnesses.
Preibisch, who was a co-investigator for the survey, said interviews with the workers revealed that many more are in the fields without protective gear while pesticides are being sprayed.
A similar survey of 100 Mexican and 100 Canadian farm workers in B.C. found that more than 70 per cent said they received no workplace health or safety information at all.
McEwan, who has led a number of studies on human resource management in the context of agricultural work, said that language can sometimes be a barrier when it comes to training migrant workers.
"Workers said that they often feared reprisals if they took their concerns to their employers or to their home government representatives," the NSI paper noted.
"Migrant workers are subject to the whim of their employers" said Preibisch, noting the power imbalance created by the prospect of deportation.
Moreover, work visas restrict the migrants to working with one employer. If a worker has a conflict with the employer, the worker does not have the freedom to look for a job at a different farm.
"If we continue to insist on the value of a temporary immigration program, we have to think of ways to make a more just immigration system. The tied system is almost akin to slavery. At the very minimum, they should be given open work permits," said Preibisch.
There is hope things are improving. McEwan said that many farm owners have staff who made the effort to learn the language of their workers. He says many employers treat their workers like family and some go as far as visiting them in their home countries. The NSI paper also found that many farmers try to provide their workers with a good work-life balance by giving them amenities like televisions and bicycles, by facilitating spousal visits to Canada and organizing trips into town on days off.
"It just doesn't make sense to not treat employees as well as possible, even from a business perspective," said Martin.
Martin said he'd like to pay his workers $13 to $14 an hour instead of minimum wage but he can't because of the low food prices Canadians pay.
"Food here is cheaper as compared to our average salary than anywhere else in the world. I really believe people have to take a really good look at food spending habits. Do people complain about food prices? Do they go for the cheapest food? It's cheapest because the farmer is cutting corners with employees. That is what it boils down to. Our employees deserve to be paid probably twice what they get paid."