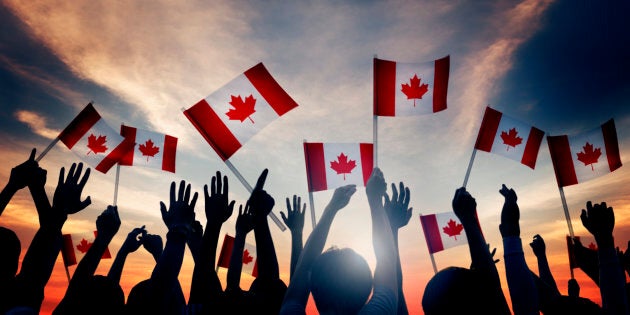 Happy 150th birthday, Canada — you're the world's most reputable country.
The Reputation Institute's latest survey of most reputable countries has given Canada a first-place finish, up from second place last year. Canada bumped last year's winner, Sweden, to third place, behind Switzerland.
In the six years the survey has been carried out, Canada has never ranked worse than second place.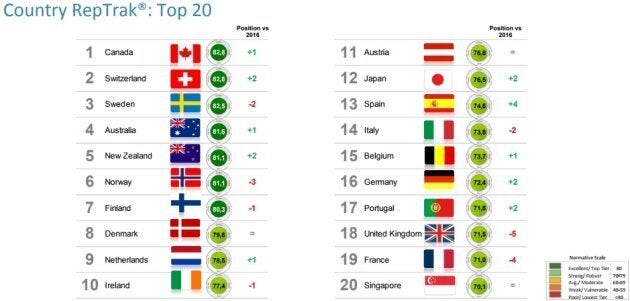 "A country's reputation has a direct impact on tourism, its exports and foreign investment," Fernando Prado, a managing partner at the Reputation Institute, said in a statement.
"The striking thing about Canada is that the nation's reputation is equally strong both inside and outside its borders — which should be a source of pride on its 150th birthday."
Trump does damage to U.S.'s reputation
The United States saw the largest decline among the 55 countries surveyed, dropping 10 spots to 38th, from 28th last year, something the RepTrak report blames squarely on U.S. President Donald Trump.
A larger number of respondents disagreed with the notion that the U.S. is "run by an effective government" (down 21.6 per cent), "has adopted progressive social and economic policies" (down 11.8 per cent), is an "ethical country with high transparency and low corruption" (down 11 per cent) and "is a responsible participant in the global community" (down 9.2 per cent).
The U.K. also experienced a drop in the rankings, down five spots this year to 18th place, which RepTrak says is related to the impact of Brexit.
"The consequences of Brexit are affecting supportive behaviours towards the country, with significant drops in intentions to 'invest,' 'work' and 'buy,'" the Reputation Institute said.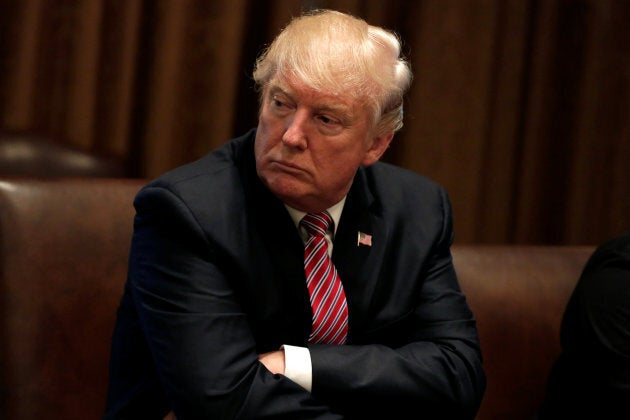 Interestingly, Britain's self-image improved by 7.5 per cent over this period.
Meanwhile, Trump's hostile approach to Mexico and Mexican migrants has actually boosted that country's reputation. It has seen a sizeable bump in investment intentions, as well as an increase in the number of people saying they are willing to visit the country.
Mexico ranked 37th in reputation this year, one spot better than the U.S.
The RepTrak survey looked at three broad categories of reputation: Quality of life (appealing environment); quality of institutions (effective government); and level of economic development.
Canada's lowest ranking came in the "effective government" category, where it ranked fifth. Australia took the crown for quality of life, with Canada second.
And as Canada 150 approaches, Canadians are without a doubt proud of their country. The RepTrak survey showed Canadians have the highest opinion of their own country out of any others surveyed, second only to Russia.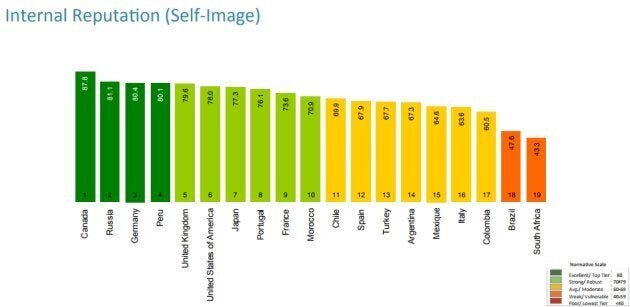 Popular in the Community