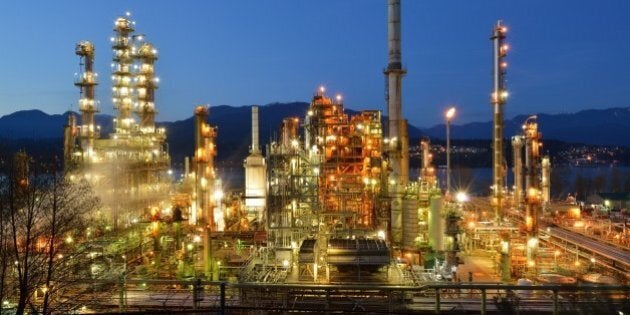 Canada's economy three times as exposed to oil price changes as in 1998 collapse
Lower gas prices will put $10 billion extra in Canadian consumers' hands
Loonie to hit 81 cents U.S.
Canada's growing reliance on oil exports in recent years has made the country "much more exposed" to the collapse in oil prices than it was in previous downturns, say economists at CIBC World Markets.
"Canada was not nearly the net oil exporter it is today during either the supply-side price correction of the 1980s, or the next decade's Asian crisis-inspired jolt," the economists said.
That's just one reason why the current oil price downturn is an "unprecedented" event, they wrote.
When the Asian financial crisis pulled oil prices down in 1998, oil production accounted for about 3 per cent of GDP. Today, it accounts for nearly 9 per cent, CIBC's data shows.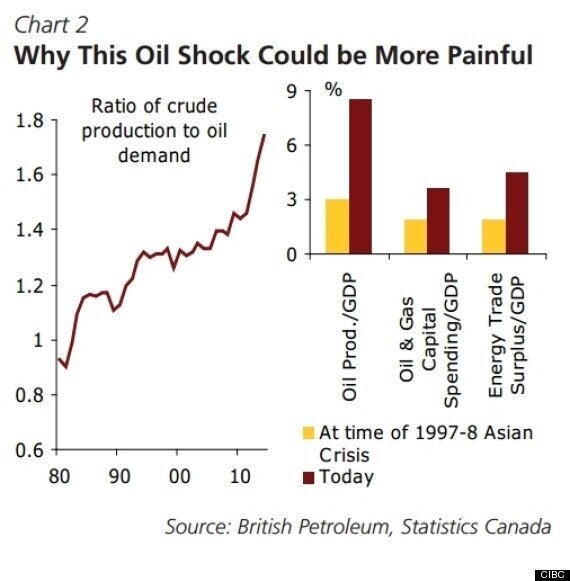 Even after adjusting for the falling loonie, which makes export numbers look better, Canadian oil producers are seeing prices 40 per cent below where they were just months ago, the CIBC report noted.
The Bank of Canada recently estimated that this would shave 0.3 per cent off Canada's GDP, but CIBC is now saying it will be more like 0.5 per cent.
Still, that pales in comparison to the estimated damage to Norway's economy (4.7 per cent of GDP), or Kuwait, which will take a hit equivalent to 18 per cent of its economy.
$10-BILLION BOOST FOR CONSUMERS
But there is an upside: Falling gas prices will put some $10 billion in extra spending cash into Canadians' hands, the economists forecast.
Some 5 per cent of consumer spending goes to oil-based fuels.
The benefit to consumers could be even larger, as CIBC's forecast assumes oil at $70 per barrel. Brent crude was trading below $60 as of Wednesday.
But what consumers gain, Canada's governments will lose. CIBC estimates those lower oil prices will shave $10 billion to $13 billion off of government revenue.
Alberta alone faces a $7-billion hit to revenue, the report says.
CIBC predicts federal revenues will fall $2.5 billion short of estimates, just about wiping out a $3-billion emergency fund the government set aside for just such events.
The economists also revised their forecasts for the loonie, and now expect to see it hit 81 cents U.S. before beginning to bounce back.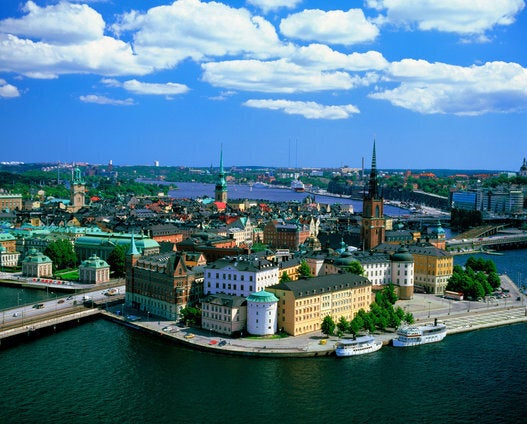 Most Attractive Countries, Cities For Work
Popular in the Community