Protecting the rights of children is an essential priority in the various international human rights agreements and treaties to which Canada has agreed to be bound. This commitment to international legal rights of children and of those who care for them should prompt the Government of Canada to urgently ensure that the Egyptian state lifts its travel ban on the family of Khaled Al-Qazzaz, which includes his wife Sarah Attia, as well as his four young children: Abdulrahman (10 years of age), Amena (8), Fatema (5), and Tahrir (3).
Khaled is a Canadian permanent resident with a long history of activism and philanthropy in Canada, and the rest of the Al-Qazzaz family is comprised of Canadian citizens. The Egyptian regime is barring the Al-Qazzaz family from returning to their home in Canada, and has seized a significant amount of their assets, including the family business. The case has drawn lots of international criticism, and it's not hard to see why, given that it involves the violation of several United Nations instruments.
The Egyptian government must allow the entire Al-Qazzaz family to travel outside of its borders, which includes both parents, but it is restricting their ability to do so.
As Human Rights Watch reported, the Egyptian regime's "opaque travel restriction policy violates both the Egyptian constitution and international human rights law." The government of Canada has a role and responsibility to protect its own citizens and their families. The Al-Qazzaz family needs support that only the Government of Canada can offer, which is consistent with Canada's long-standing obligations to international human rights law, including the rights of children.
First of all, Canada is a party to the UN Convention on the Rights of the Child, which stresses the state priority of the rights and well-being of children, and that state parties should "take all appropriate legislative and administrative measures" to implement children's rights, which includes respect of the rights and duties of the parents. In fact, the Convention specifies that: "No child shall be subjected to arbitrary or unlawful interference with his or her...family"; and that "a child shall not be separated from his or her parents against their will." The Egyptian government must allow the entire Al-Qazzaz family to travel outside of its borders, which includes both parents, but it is restricting their ability to do so.
Canada has also ratified the UN Convention on the Elimination of All Forms of Discrimination against Women, which provides that both mother and father have "common responsibility" in the "upbringing and development of their children," whose interests are of "primordial consideration" in all cases. Egypt's President Abdel Fatteh el- Sisi's regime took Khaled Al Qazzaz out of the lives of his wife and children when they detained him (without charge) for over 500 days. He endured solitary confinement and devastating torture while his children, none of whom were above the age of 10, lived without their father in their lives.
During almost two years of imprisonment, the children were only permitted one single visit to see him in Egypt's notorious maximum security Torah prison. Sarah Attia was tasked with raising her children as a single mother while trying to sustain an internationally-recognized campaign to free her husband, who was released from prison only last year.
These international instruments provide ample justification for the Government of Canada to act in this time-sensitive and urgent case. Yet, our government is only recommending that Sarah and her children return without their husband and father and abandon him, thereby leaving him even more vulnerable to the great risk of even further torture and imprisonment.
Egypt's travel restrictions are being used to silence and disappear pro-democracy activists, academics, journalists, students, judges, and human rights activists, like Khaled Al-Qazzaz. It is both unfortunate and heart-breaking that the Canadian government has been pressing Sarah Attia and the children to return to Canada and leave her husband and father of her children, Khaled Al Qazzaz, behind. Is it not enough that their children have already been subjected to this kind of traumatic separation once before? The children need their father and they need to return to Canada together.
Our international human rights commitments inform a different solution. Abdulrahman, Amena, Fatema, and Tahrir are entitled to live in Canada with both their parents. Consequently, the Government of Canada must urge the Egyptian government to lift their arbitrary travel ban and advocate for this necessary transfer of the whole family without delay.
These are rights that reflect universal principles, but Egypt's president recently said to an official American delegation that his country's human rights record shouldn't be judged through a "Western" lens. Britain and France have both just issued criticisms of Egypt's civil liberties record, and President Sisi's remarks are self-serving for his own government, attempting to deflect international disapproval. The Canadian government must not let this unproductive obfuscation of a clear-cut matter of human rights further impede its willingness and efforts to act.
In light of these extraordinary facts, along with Canada's commitment to universal human rights, urgent action is required to redress the Al-Qazzaz family's situation. The Trudeau administration must respond in a manner that, above all, secures and protects the rights of Khaled and Sarah's four young children, who are entitled to the care of both of their parents in Canada.
Follow HuffPost Canada Blogs on Facebook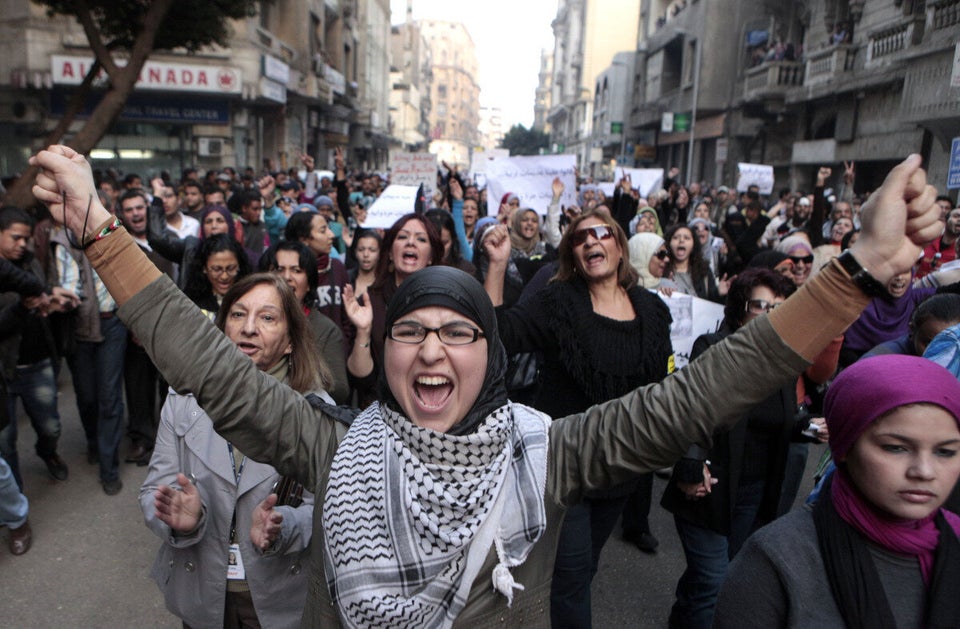 Egypt's Women Marching