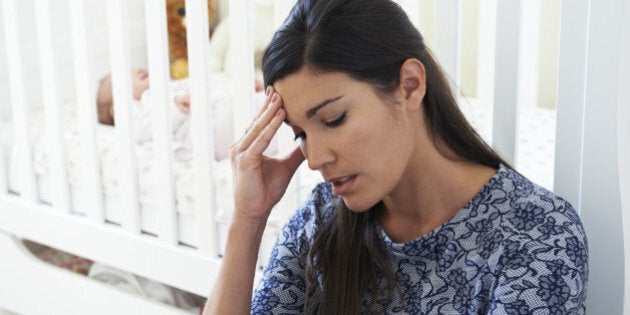 When I speak to mothers with postpartum depression (PPD) across Canada about their experience navigating the medical system for help, one overwhelming theme is common amid all the stories I hear which can be summed up in one word: Hopelessness.
That's because when they turn to the medical system for help for one of the most common postpartum complications, the onus is thrown back on them to figure their way out of postpartum depression while they're in the middle of a crisis dealing with postpartum depression.
There is a national crisis when it comes to the proper prevention, diagnosis and treatment of postpartum depression and Canada needs a prenatal and postpartum depression strategy now before more mothers (and their families) are left to suffer unnecessarily.
"As far as I am aware, there is no postpartum depression treatment guideline for all of Canada, nor by province," says Dr. Simone Vigod. "I agree with you that there is some inconsistency in what services are available depending on the province in which a woman lives, and/or the area in which she lives within a province."
Dr. Vigod leads the Reproductive Life Stages Program at Women's College Hospital in Toronto, Ontario. Dr. Vigod thinks the difference in services across the country might have to do with the absence of expertise in a given jurisdiction or a lack of publicly funded resources.
"There is also the issue of other barriers to care, including shame and stigma," says Dr. Vigod. "As well as practical barriers like finding transportation to get to appointments, finding childcare for older children while attending therapy, and cost."
"This way, each jurisdiction would have a better map of the evidenced-based services that should be provided and might be provided by different arms of the health and social service system (e.g. public health nursing, midwifery/obstetrical care, pediatric care, primary care, and mental health care)," says Dr. Vigod.
Just this morning, I met with a mother with another hopeless tale of how she went to her family doctor for help one month after labour, only to be told her constant crying and anxiety was normal and didn't require follow-up. At her six-week follow-up appointment with her obstetrician, she once again brought up her postpartum depression symptoms and was told to go back to her family doctor. Reluctantly, she did, at which point she says her doctor reluctantly wrote up a script for Zoloft and Googled whether it was safe for breastfeeding.
It's time for PPD treatment to be streamlined across Canada to ensure that all mothers with PPD, regardless of where they live, have access to the best treatment.
Is this really how we treat women with postpartum depression in Canada?
I hear time and again how rare it is for women to be told about the risks for PPD during pregnancy or postpartum, how some are put through the Edinburgh Scale by their doctor for a PPD diagnosis while others have never even heard of it.
Many are prescribed medication and told little about the side effects, how long they should be on it and how to wean. If they're lucky, some women are put on long wait lists for therapists in their community who provide cognitive behavioural therapy and interpersonal therapy. Support groups are few and far in between and so-called programs provided by the local district health unit are nothing more than lip service.
It's time for PPD treatment to be streamlined across Canada to ensure that all mothers with PPD, regardless of where they live, have access to the best treatment.
"I agree," says Sheila Duffy, Director of the non profit Pacific Post Partum Support Society in Burnaby, British Columbia. "We are working in that direction, however, there is still a long way to go as far as awareness, education and resources."
Sheila has been involved in the Perinatal Provincial Strategy in B.C. over the past eight years discussing recommendations for B.C. in regards to screening and treatment.
"Part of the B.C. provincial strategy is to administer the EPDS through public health immunization visits as well as doctors and it is available online as well and people can self-administer, the idea being that if doctors aren't doing the EPDS screening tool then there are other points of contact to make sure it happens," says Sheila. "However, this will still only catch some women, and it is also inconsistent as far as regions."
In Ontario, "the issue of perinatal mental health is a very significant one," says Ministry of Health and Long-Term Care spokesperson, David Jensen, "and would require a specific undertaking to establish a provincial approach."
Jensen says that currently individual hospitals in Ontario follow their own protocol for referral and treatment.
In Simcoe County, Ontario, where I live, the Orillia Soldiers' Memorial Hospital and North Simcoe Muskoka Local Health Integration Unit (LHIN) are currently conducting a review of perinatal and postpartum depression resources, which will hopefully result in an overhaul of services being provided because right now as it stands, there's not much.
I hope we get something like Dr. Vigod's program.
"Our hope is that the above interventions can be broadly disseminated and serve to help increase capacity to provide treatment for women with perinatal mental health issues across Canada by combating some of the health system barriers and the practical barriers for individual women to receive care," says Dr. Vigod.
Follow HuffPost Canada Blogs on Facebook