With the world running a real risk of running out of places to store oil, a growing number of analysts are saying there is a good chance prices could fall to around US$20 a barrel.
But it appears some Western Canadian exporters are already selling at those prices.
The official price of oilsands product — known as Western Canada Select — closed at US$21.72 on Wednesday, near eight-year lows.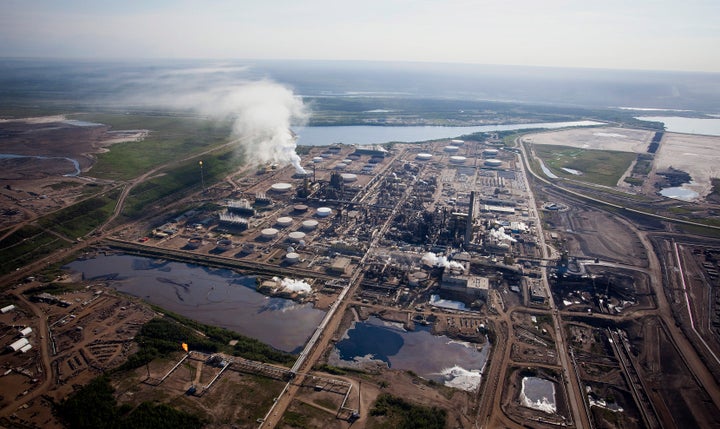 The Syncrude Canada Ltd. oil sands upgrading plant stands in this aerial photograph taken north of Fort McMurray, Alberta, Canada, on Thursday, June 4, 2015. (Getty Images)
According to Bloomberg, Canada's not the only one selling at a deep discount. Mexican oil is going for US$28 a barrel and Iraqi oil is trading at around US$25 a barrel. But Canada's was the lowest price Bloomberg found.
ARC Financial analyst Jackie Forrest told Reuters that, at these prices, oilsands operations are losing between $1 and $3 per barrel of oil produced. But oilsands operators are unlikely to shut down existing operations, because shutdown and restart costs are so high that producers lose less money by continuing to pump out oil.
Despite having some of the highest production costs in the world, Canadian oil has long sold at a discount to the North American benchmark price, which is trading at around US$35 this week, near a seven-year low. Heavier crudes, like that from the oilsands, trade at lower prices because they are more expensive to refine. Canadian exporters say that inadequate access to U.S. oil refineries also forces Canadian prices down.
WTI oil price, 2011-today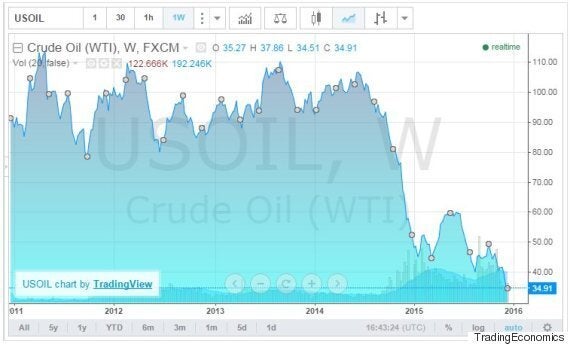 And things could get worse in the Canadian oil patch before they get any better. The world is still producing about 1.5 million barrels of oil per day more than it needs, and the oil cartel OPEC signalled this month it wants prices to stay low.
There is a risk that the world will run out of oil storage space, Goldman Sachs said in a report cited by FuelFix on Thursday. If that happens, the benchmark price for North American oil — currently trading at around US$35 — will have to fall all the way to US$20 to halt production, the investment bank said.
"The quarter ahead looks a good deal more bearish than the quarter just ending," Ed Morse, head of commodities at Citigroup, told Bloomberg.
Besides the storage problem, "the already oversupplied market now faces the imminent return of Iranian barrels," Morse added. Citigroup is calling for oil to fall "to the high $20s" if storage space runs out.
The U.S. Energy Information Administration reported this week that crude oil inventories once again rose more than expected, and are now near levels not seen in 80 years.