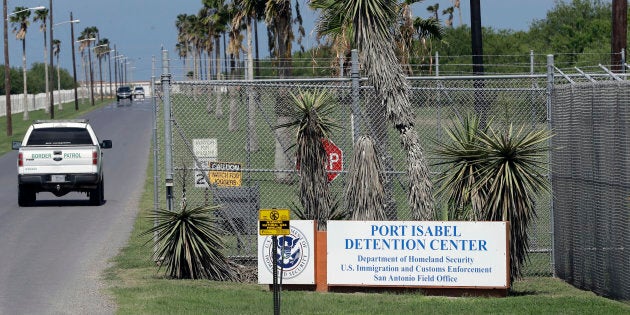 Despite the federal government's vocal commitment to human rights, the body in charge of Canada's national pension plan has increased its investments in companies that profit off U.S. President Donald Trump's migrant detention centres.
As first reported by nonprofit news site Documented and The Guardian, the Canada Pension Plan Investment Board — an independent agency from the federal government — has increased their shares in two U.S. companies over the last year, namely CoreCivic and real estate investment trust GEO Group.
CoreCivic, formerly the Corrections Corporation of America, is the "largest owner of partnership correctional, detention and residential reentry facilities" in the U.S., according to its website. GEO Group is also one of the largest private prison contractors in the U.S., and both run detention centres near the U.S. border with Mexico.
Earlier: Donald Trump's immigration plans will make private prison industries filthy rich. Story continues below.
After contributing to Trump's presidential election campaign, both CoreCivic and GEO Group have gained from his administration revoking cuts to private prison use, as well as spending increases for Immigration and Customs Enforcement (ICE), according to The Wall Street Journal.
CPPIB increased its investment
According to filings with the U.S. Securities and Exchange Commission, the CPPIB held 73,700 shares in CoreCivic worth about US$1.7 million as of August 2018, more than double the shares it had the year before.
Its shares in GEO Group increased almost almost 13-fold, from 12,000 in August 2017 to 153,500 in August 2018, with a value of US$4.2 million.
We expect the CPPIB, like other Crown corporations, to live up to the highest standards of ethics and behaviour, and that is in fact exactly what it is doing.Bill Morneau, Minister of Finance
NDP MP Charlie Angus raised the issue during question period in the House Of Commons on Monday.
"Does the finance minister believe that investing in cigarette companies and privatized prisons meets a credible standard of corporate investment for the Canada Pension Plan?" he asked.
Finance Minister Bill Morneau pointed to the CPPIB's independence from the federal government, which he called "important to protect the pensions of Canadians both today and tomorrow."
"We expect the CPPIB, like other Crown corporations, to live up to the highest standards of ethics and behaviour, and that is in fact exactly what it is doing."
In June, Prime Minister Justin Trudeau suggested it was not his place to be condemning Trump's child migrant policy.
The CPPIB's 2018 report on sustainable investment includes information on why the board does not divest from certain companies. It says the board's responsibility is "to maximize investment returns without undue risk of loss."
"In general, CPPIB believes we can more effectively press for positive change by being an active, engaged investor than we can by sitting on the sidelines," it says.
"The aim is win-win: more responsible corporate behaviour from investees and higher returns for 20 million contributors and beneficiaries."
Deborah Allen, CPPIB's director of global corporate communications, said in an email to HuffPost Canada the investments in the two companies were part of "prudent global diversification" of the pension plan's assets.
Allen said "virtually every mutual fund, exchange-traded fund, segregated fund" in Canada seeking exposure to "a widely-based U.S. stock index" would have be investing in CoreCivic and GEO.
"While we recognize it's the principle rather than the amount of the stock for many people, we would note that we held about $5 million of these two stocks as of March 31 (the date of our last annual report)," Allen said.
"With the total fund as of the end of our first quarter (June 30) valued at $366.6 billion, those investments represent about 0.001% of holdings."