After 50 years of this occupation, it's important for Canadian taxpayers -- who have a government that considers itself to be a close friend of Israel's -- to understand how we may be implicated in the perpetuation of these injustices. The military occupation, after all, which was meant to be temporary, appears to be entrenching itself as a permanent fixture after 50 years. There is no end in sight.
Let's look back further than 50 years ago to get a sense for how this situation began.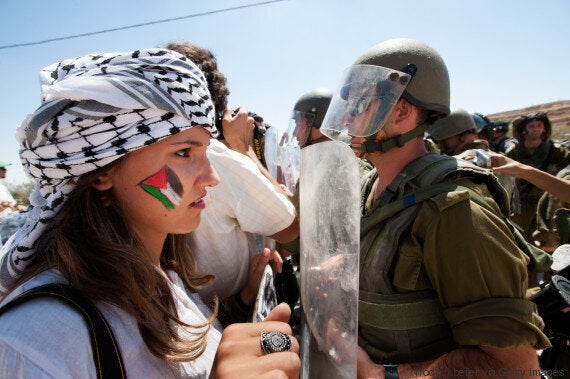 At the turn of the 20th century, Jewish settlers from Europe began arriving in large numbers in what was then known as Palestine. Many fled violent persecution, while others immigrated to Palestine for ideological reasons.
The leadership of these settlers in Palestine sought to establish a Jewish-majority state in the land. There was a problem, though: a thriving society populated by hundreds of thousands of people -- from different faiths and backgrounds -- already inhabited the country.
An organization called the Jewish National Fund (JNF) was created by European Jews in 1901, and was tasked with purchasing land in Palestine, which was to be held, and used exclusively for, Jewish settlers. Once this desired Jewish-majority state was established -- in the aftermath of the forced displacement of at least 700,000 Palestinians who were already living there -- the JNF was tasked with transforming the scenery of the depopulated country into a European landscape.
Using non-native species such as pine and eucalyptus trees, the JNF established parks and forests over the ruins of depopulated and demolished Palestinian villages, which have erased the traces of Palestinian habitation. These endeavours have also prevented the Palestinians who were living on these lands for generations from returning to their properties.
As a Canadian, here's where you come in. The JNF refers to its branch in Canada, JNF Canada, as one of its many offices abroad. JNF Canada solicits millions of dollars in donations a year from Canadians, and through its registered charitable status, is able to issue tax receipts for these donations. This means that Canadian taxpayers are subsidizing JNF Canada's activities.
Is this Canadians' idea of charitable activity?
While JNF Canada has supported some worthy causes in Israel, these cannot distract from their central role in "greenwashing" Israel's theft of Palestinians' land. And through sponsoring forests and parks that go into the Occupied Palestinian Territory, JNF Canada is implicating Canadians in the entrenchment of Israel's military occupation.
JNF Canada describes their main project, Canada Park, as the flagship project of Canadians in Israel. Established over the lands and ruins of depopulated and demolished Palestinian villages from 1967, the project is located on militarily occupied Palestinian territory, beyond Israel's internationally recognized border -- otherwise known as the Green Line (or the 1949 Armistice Agreement Line).
Between June 6 and 7, 1967, Israeli forces expelled roughly 10,000 peaceful Palestinians from their hometowns in the West Bank; the villages were subsequently demolished, and the villagers were turned into internally displaced persons or refugees. Canada Park was established in the area in 1973, conveniently concealing these crimes, and preventing the villagers from returning to their lands. This is in violation of the Fourth Geneva Convention, to which both Canada and Israel are signatories, and which is embedded in Canadian law.
Israel's Separation Barrier, ruled as illegal by the International Court of Justice in a 2004 advisory opinion, is located nearby, ensuring that the park falls on the Israeli side of the barrier, becoming, in effect, a part of Israel. Canada's official policy deems the route of the barrier to be illegal, since it goes beyond the Green Line.
Is this Canadians' idea of charitable activity? Palestinians from the villages now covered over by Canada Park have been demanding the right to return to their properties for 50 years, but due to Canada Park, they are unable to exercise their rights. Meanwhile, JNF Canada denies (p.9) the historical presence of the Palestinian villages over which Canada Park is situated, and has continued fundraising towards the park in recent years.
According to the Israeli NGO Zochrot, 46 of 68 JNF parks and forests are located on the ruins of Palestinian villages destroyed by Israel. In the words of JNF official Michal Katorza, "...a large portion of JNF parks are on lands where Palestinian villages used to stand, and the forests are intended to camouflage this."
You can even see how the Separation Barrier snakes around the trees of JNF Canada-sponsored Yatir Forest, on the Palestinian side of the Green Line.
Other examples of projects sponsored by JNF Canada going beyond the Green Line include Begin Park, built over the ruins of the Palestinian villages of al-Qabu and Ras Abu 'Ammar, and Gilo Forest and Park, situated beyond the Green Line in illegally annexed East Jerusalem.
JNF Canada regards all of illegally annexed East Jerusalem and the occupied West Bank as permanent parts of Israel. Canada's official policy, and virtually the entire international community, would beg to differ.
After 50 years of military occupation, why are Canadians subsidizing the entrenchment of this system of oppression over the lives of millions of people? Our minister of national revenue, the Honourable Diane Lebouthillier, and the Canada Revenue Agency, have a lot of explaining to do.