A majority of Canadians believe that political correctness infringes too much on their freedom of expression, a new poll suggests.
The numbers released Monday from the Angus Reid Institute show that 76 per cent of respondents think political correctness — loosely defined as the avoidance of certain words or actions that might offend marginalized groups — has gone "too far."
Eighty-two per cent of Canadians over the age of 55 said they shared that view, compared to 78 per cent of those between 35-54. Sixty-seven per cent of those 18-34 feel the same.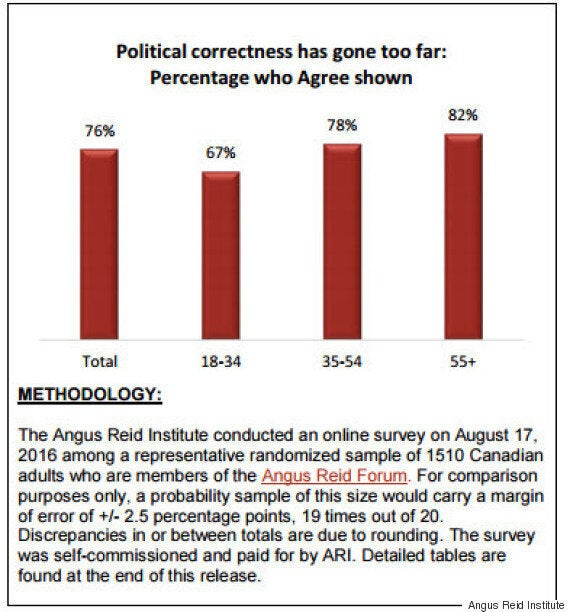 The poll comes as America considers the possibility of electing Donald Trump president — a man who has railed against political correctness and who frequently spews offensive and outrageous remarks.
Two-thirds of respondents told the firm "too many people are easily offended these days over the language others use."
Thirty-three percent, meanwhile, said people should be more careful with their words to avoid upsetting others with different backgrounds.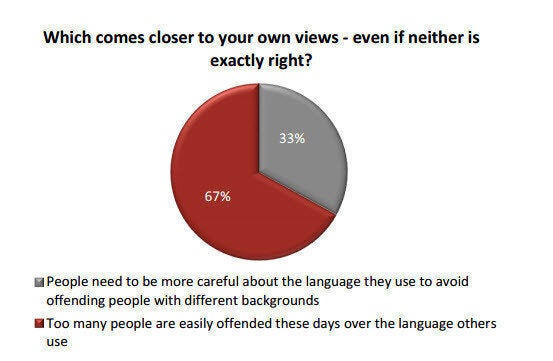 And when it comes to political stripes, past Conservative voters were the most likely to say people today are too easily offended. Seventy-nine per cent of Tory supporters expressed that view, compared to 21 per cent who said people should be more careful with their words.
By comparison, nearly double the number of Liberals (40 per cent) and NDP supporters (38 per cent) said more should be done to avoid offending others with words.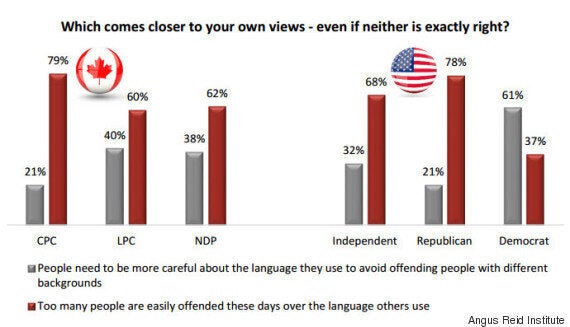 In the U.S., Republicans and independents were far more likely than Democrats to say people are too easily offended.
The poll also had some interesting numbers on so-called "self-censorship." Seventy-eight per cent of respondents told the firm there are some opinions "you just shouldn't express in front of people you don't know." Meanwhile, 80 per cent agreed with the statement that, these days, "it seems like you can't say anything without someone feeling offended."
Nine-in-ten respondents said when they do hold their tongues, it's about being polite rather than avoiding judgment.
The online poll was conducted on August 17 among a representative sample of 1,510 Canadian adults who are part of the Angus Reid Institute forum. It has a margin of error of 2.5 percentage points, 19 times out of 20.
Tory alarm over political correctness
While battles over political correctness are perhaps not as common in Canada as the U.S., some Tories have suggested their rivals are overly concerned about not offending others.
During the election last year, former Tory prime minister Stephen Harper said Liberal and NDP opposition to a law stripping citizenship from dual nationals convicted of terrorism was "elite political correctness on steroids."
There's been a few instances of PC talk in the House of Commons since Liberals formed government.
In May, Tory MP Larry Maguire said a bill to make Canada's national anthem gender-neutral was being done "in the name of political correctness." The legislation ended up passing the House of Commons.
A month later, Tory MP Alex Nuttall suggested the cancellation of the television show "Border Security" was due to "another example of political correctness by the Liberals."
"We have a government that is so consumed with political correctness that it forgets what the everyday Canadian thinks about and is concerned about," Bergen said at the time.
With files from The Canadian Press