Struggling with public criticism over its now-suspended plan to end door-to-door delivery, Canada's postal service is looking to burnish its image with customers. To that end, it's bringing back weekend delivery for the holiday season and opening what it calls North America's first drive-through parcel pickup location.
Starting in November, the postal service will deliver packages on weekends "in major urban centres," Canada Post said in a statement issued Monday. It has run similar weekend-delivery programs in prior years.
The postal service says it has hired 2,000 temporary workers to meet delivery demand, which it says will peak on Dec. 14, when Canada will see the busiest day of the year for deliveries.
The Crown corporation has also launched its first drive-through parcel pickup location, in the Toronto suburb of Richmond Hill, Ont. It's a move designed to better integrate the postal service with online shopping.
"Customers never have to get out of their car," Canada Post said in a statement. "At the welcome kiosk, they simply scan the barcode on their smartphone or paper pickup notice, then drive ahead to receive the item at the pickup window."
The Richmond Hill location even has a "fitting room" where customers can try out clothes they bought online.
"If the item isn't right for them, they have the added convenience of being able to return it immediately," Canada Post says.
And it features self-serve shipping kiosks that weigh and price packages and print out shipping labels. The automated kiosks, as well as access to postal boxes, will be accessible 24/7, Canada Post says.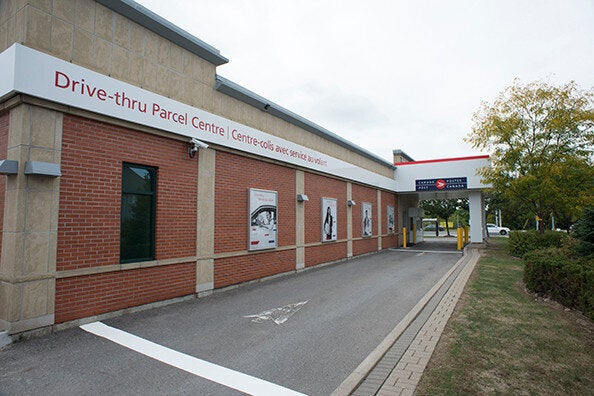 The postal service announced last week it is freezing work on its switchover to community mailboxes, following criticism from the postal union that work on the mailboxes continued, despite the incoming Liberal government's vow to stop cuts to door-to-door delivery.
CEO Deepak Chopra said work on the mailboxes couldn't be stopped immediately without disrupting service. Canada Post estimates there were 460,000 addresses across the country that were in the process of being moved to community mailboxes when the freeze came into effect.
"Efforts are now underway to place the comprehensive program on hold in an orderly fashion," the postal service said last week.