Canadians can now tack on stamps that celebrate the Muslim holiday of Eid, alongside ones that mark Christmas and Chinese New Year.
At an unveiling in Richmond Hill, Ont. Tuesday, the organization said it made sense to add a stamp commemorating the holidays.
"As Canada reaches its 150th birthday, our stamp committee reflected on some themes that need to reflect the Canada of today," Canada Post CEO Deepak Chopra said, as quoted by IQRA.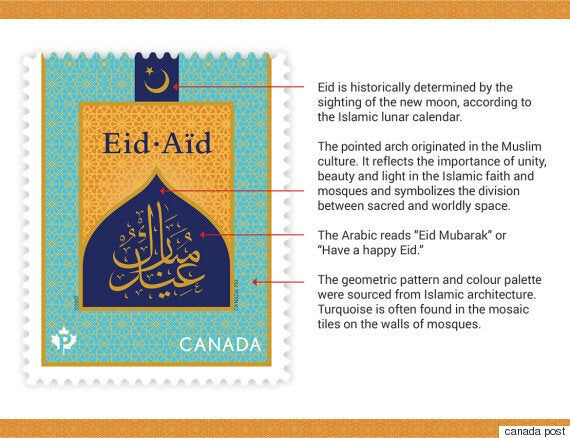 The colourful new stamp, which features light and dark blue and orange with a yellow geometric pattern over top, was inspired by Islamic architecture, according to Canada Post.
The Arabic text inside the pointed arch, which symbolizes the importance of beauty, unity and light, reads "Eid Mubarak," which translates to "Have a happy Eid."
Eid al-Fitr falls at the end of June in Canada and signifies the end of Ramadan, the month where Muslims fast from dawn until dusk. Eid al-Adha, or the Festival of Sacrifice, marks the story of Abraham's willingness to sacrifice his son to obey God.
Both festivals can include special prayers, extravagant meals and visits with loved ones.
For more than 50 years, the postal service issued a Christmas stamp around the holidays. More recently, it started issuing two every year, one to celebrate the Christian celebration and the other a secular holiday one.
It has also issued a Chinese New Year stamp every year since 1997, according to the National Post, and those to mark Black History Month since 2003.
The Eid stamp isn't the only new religious design you'll see popping up at postal outlets this year.
The service will issue a Hanukkah stamp, as well as two stamps marking Diwali, the Hindu festival of lights.
The new designs will be available for the next three years, and may become permanent if they sell well, Canada Post's director of stamp services Jim Phillips told the Post.