If the former chief economist of BMO is right, one of Justin Trudeau's first challenges as prime minister will be to grapple with a slowdown in Canada's housing market.
Sherry Cooper isn't predicting a housing market crash, but in a note Wednesday she said that "housing has peaked" in Canada, and years of strong price growth (and household debt growth), particularly in Toronto and Vancouver, are coming to an end.
On that issue, she is adding her voice to a growing chorus of experts who say that Canada's housing market has run out of room to grow. TD Bank, for instance, is forecasting relatively sharp declines in home sales in Ontario and British Columbia in 2016 and 2017, and sees prices coming down in those markets as well.
"With 70 percent of Canadian households already owning their own homes and housing affordability declining with the bottoming in mortgage rates and the rise in house prices, lending activity will inevitably slow," wrote Cooper, who is now chief economist at Dominion Lending Centres.
House price growth in Canada got an extra kick this year thanks to the Bank of Canada's cuts to interest rates in the first half of the year. But in its decision Wednesday, the bank stood pat, leaving its key lending rate at 0.5 per cent.
Cooper says the BoC's run of interest rate cuts is over, and that means no more stimulus for the housing market.
"The Bank has run out of bullets with overnight interest rates so close to [zero]," she wrote, adding that she expects the bank not to move on interest rates "for the foreseeable future."
"Thus, Canadian interest rates have bottomed. Most particularly, mortgage rates have bottomed. The growth in mortgage lending has likely peaked, or will very soon."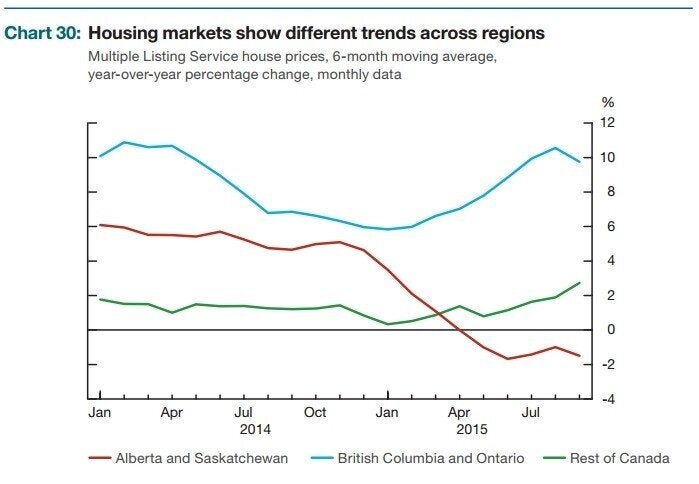 The Bank of Canada says the country effectively has three housing markets: "Markets in B.C. and Ontario have maintained their strength, Alberta and Saskatchewan are experiencing further weakness, and activity in the rest of Canada has been soft."
Still, Cooper expects a slowdown and not a collapse because "household balance sheets for the majority of homeowners are rock solid."
But she notes that about 10 per cent of Canadian households are in debt deep enough to be "vulnerable" if mortgage rates were to start rising.
Trudeau Prepped For A Housing Slowdown?
A slowdown in the housing market could have significant repercussions on the broader economy. The housing boom of recent years has made Canada more reliant on construction jobs than it has been in recent history, and many experts say it was the strength of Canada's housing market that kept this year's oil-led recession from turning worse.
Thus a housing slowdown could seriously impact the country's unemployment rate and economic growth.
But the Liberal party's election platform includes a pledge to run a $10-billion deficit to fund programs to stimulate the economy, including more than $4 billion for new infrastructure projects. While that would do nothing to restore the lost value of people's homes in a slowdown, it would help to offset the unemployment caused by it.
"Infrastructure and construction is the clear number-one area that could benefit" from the Liberal plan, David Doyle, an economist and strategist at Macquarie Group, told BNN. "There's big, big new investment in infrastructure proposed by the Liberal Party."
But government deficit spending tends to drive up interest rates, and thanks to that the Liberal plan could end up driving mortgage rates higher, some economists note.
Most Amazing Future Condo Projects