There really are a few Canadian cities where you'll be able to afford a home some day.
They're just not Toronto and Vancouver.
Rental listings website Rentseeker has produced a new, 3D-infused graph showing how much it costs to buy a home across the country — and how much that's changed since last year.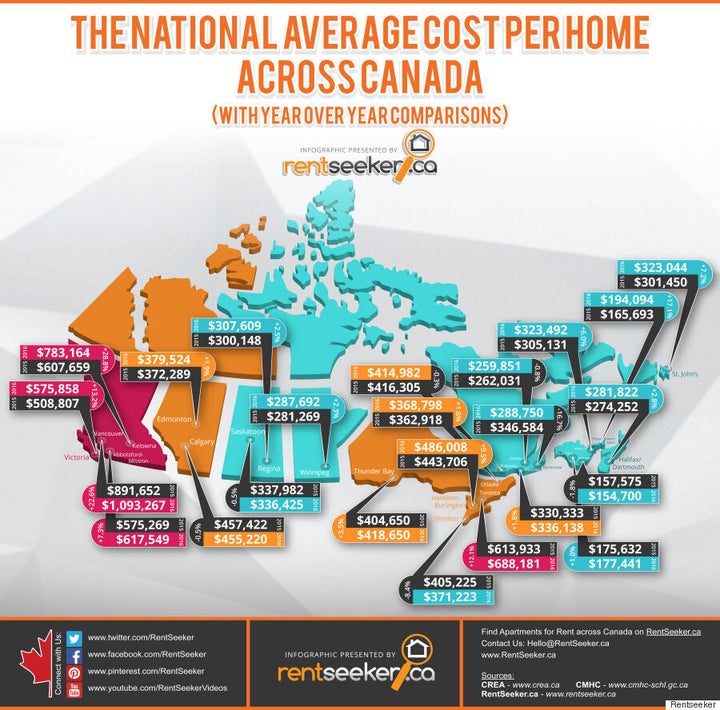 The graph provides more bad news for prospective homeowners in Canada's hottest housing markets. In Toronto, the average home price grew 12.1 per cent, from $613,933 to $688,181, according to data from the Canadian Real Estate Association (CREA) and the Canada Mortgage Housing Corporation (CMHC).
And must one say how much home values increased in Vancouver? OK — they went from $891,652 to $1,093,267 in one year, an increase of 22.6 per cent, the biggest jump in the country.
But those aren't the only markets where home values leaped. Home prices jumped by 17.1 per cent in Prince Edward Island, and by six per cent in New Brunswick.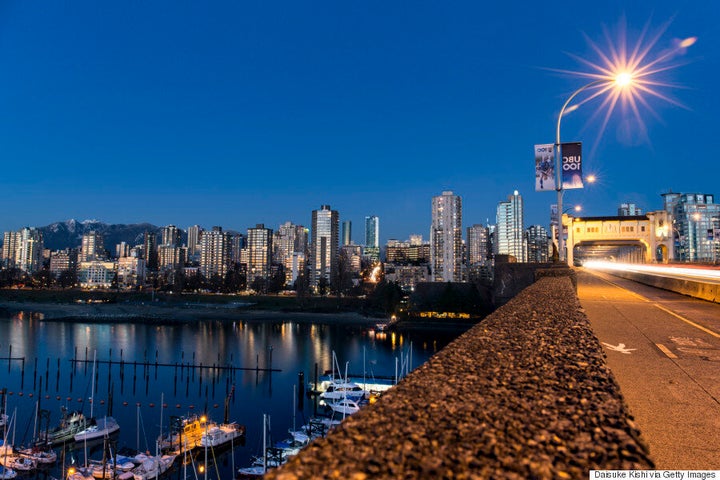 These gains are no doubt daunting for people who hope to buy a home (and impressive for those who already own). But there are signs that the relentless increases may be coming to an end.
April saw no sales growth in "the 6ix" after they fell by 1.8 per cent in the previous month. And in Vancouver, sales dropped one per cent from March to April.
But slowing activity hasn't done much to home prices yet. Vancouver's benchmark price rose 25.34 per cent to $844,800. The benchmark price in Toronto sat at $614,700 last month, a jump of 11.6 per cent from a year prior.
But not every city was a winner when it came to home values. Prices in Sherbrooke, Que. plummeted from $346,584 to $288,750, a fall of 16.7 per cent, while in Windsor, Ont., they dropped 8.4 per cent, from $405,225 to $371,223.
Home prices appear to be jumping in communities close to Toronto and Vancouver — but at much more affordable levels.
The average prices in the Hamilton-Burlington region, outside Toronto, rose 9.5 per cent from $443,706 to $486,008.
And in Abbotsford-Mission, about 70 kilometres from Vancouver, prices jumped 7.3 per cent, from $575,269 to $617,549.
Meanwhile, in Victoria, B.C.'s capital (only a ferry ride away from Vancouver), prices increased 13.2 per cent, from $508,807.
So while major cities themselves may seem out of reach, there are (for now) opportunities in places close by.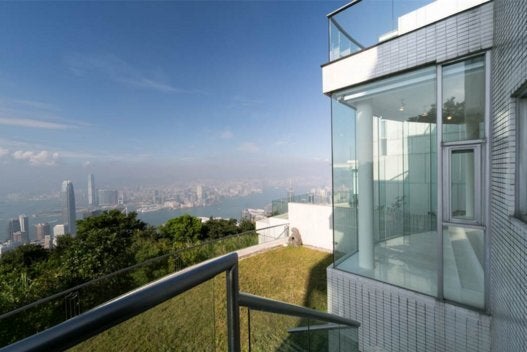 The World's Most Expensive Streets Look Like This