The average price of a Canadian home is growing. And the Great White North has four cities to thank for that.
The Teranet-National Bank National Composite Home Price Index for June shows the average home price growing 2.3 per cent in the past month due to gains in 10 out of the 11 areas it covers.
The average price also went up 10 per cent year-over-year, its biggest increase since July 2010.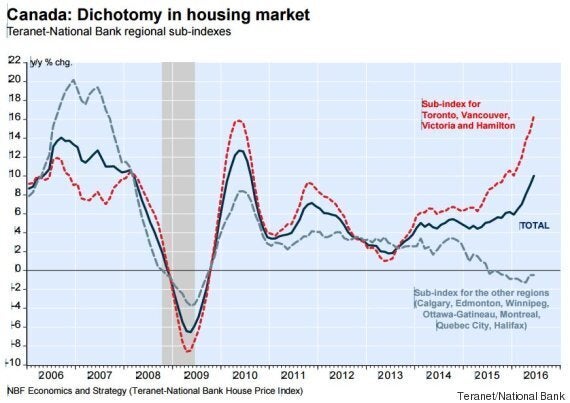 But a chart provided by National Bank shows that those increases are largely due to gains in four places: Vancouver, Victoria, Toronto and Hamilton.
Without them, prices would have dipped into negative territory on an annual basis.
Vancouver, for example, had its biggest annual price increase on record at 23.4 per cent.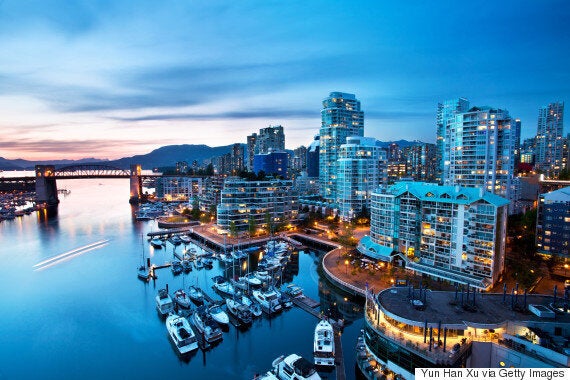 Elsewhere, Hamilton prices went up 13.8 per cent over the past year, Victoria prices rose 12.5 per cent, and Toronto prices rose 12.4 per cent.
They form a sharp contrast with areas such as Calgary, where year-over-year prices declined by 2.4 per cent; Edmonton, where they fell by 1.9 per cent; as well as Quebec City and Halifax, which saw smaller decreases.
National Bank noted that price gains came after "strong gains in the previous months."
The average Canadian home price is up 6.8 per cent in 2016 so far, rising more than the historical average of four per cent for the first half of the year.

Vancouver's home price gain is, of course, bad news for anyone looking to get into the market. But it may not be great news for the market itself, either.
He noted that sales of single-family homes are down on Vancouver's west side, even as listings have gone up.
Prices clearly haven't adjusted, but that often takes time.