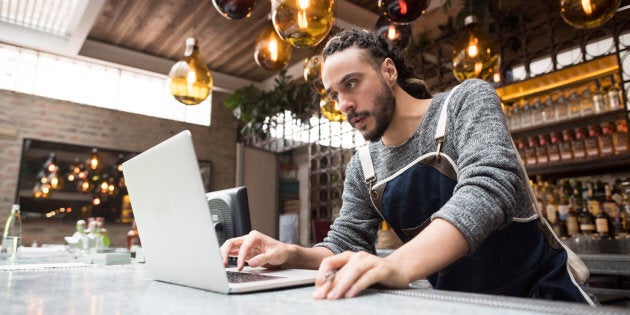 Canada's economy has been on a roll recently, churning out a stunning 374,000 jobs over the past year. With such high demand for workers, wages in Canada should be seeing some notable growth.
Well, no such luck. According to Statistics Canada's latest survey of payroll employment, earnings and hours, wages in Canada rose an uninspired 1.8 per cent over the past year. Given that inflation drove prices up 1.4 per cent in the last year, that's paltry real wage growth of just 0.4 per cent.
In certain sectors, things look considerably worse than that. Retail, which employs close to 2 million Canadians and is the largest sector by employment, has seen wages shrink by 0.6 per cent in the past year, StatCan data shows.
Construction, which was hit by last year's housing slowdown in Vancouver and this year's slowdown in Toronto, has seen wages fall 2.4 per cent over the past year.
Weak wage growth isn't a Canada-only phenomenon. In the United States, the unemployment rate is near record lows below 5 per cent, but wage growth is missing there as well.
Many economists are scratching their heads as to why. In previous economic recoveries, low unemployment and strong job growth led to wage inflation, but not this time.
Watch: Canada's best cities for jobs and affordable homes
Experts say there are many reasons why wage growth isn't picking up despite a solid North American economy:
Automation is happening in many industries, reducing the demand for traditional jobs in those sectors. In Canada, grocery stores are among the businesses busily switching to machines, which may help explain the poor wage growth for retail workers.
Businesses are taking profits instead of hiring. A recent report from the U.S.'s Brookings Institution argued that, since the 1970s, companies have been taking an ever larger share of income, leaving less to workers. "Changes in worker bargaining power, competition within and across industries, and globalization can all influence the share of output workers receive," the report said, as quoted at Business Insider.
Employees aren't asking for raises. In the wake of the financial crisis a decade ago, and elevated unemployment rates for years afterwards, many employees are simply not confident in their prospects to seek out higher pay or better jobs. A study from CIBC last year found Canadians are staying in low-paid work longer than they used to, out of fear of looking for a new job.
There are some parts of Canada's economy where wages are growing significantly. One such notable area is food and accommodation, where wages have grown 6.8 per cent over the past year.
Food and accommodation is heavily influenced by tourism, and with the loonie weaker in recent years, Canada has seen a boom in tourism from abroad. Tourist expenditures are up 5.4 per cent in the past year, according to StatCan.
Interestingly, wages in management of enterprises and companies jumped by a whopping 19 per cent in a year. That bump was concentrated in Ontario, which saw a 26-per-cent hike in management pay. A StatsCan spokesperson said that could be due to "particularly large" bonuses handed out to managers, and noted the number could be revised in the future.
But if the number is accurate then, as usual, it's good to be the boss.
The data on Canada's job situation will get an update on Friday, when StatCan releases unemployment figures for September. Canada's unemployment rate stood at a nine-year low of 6.2 per cent in August.
Popular in the Community