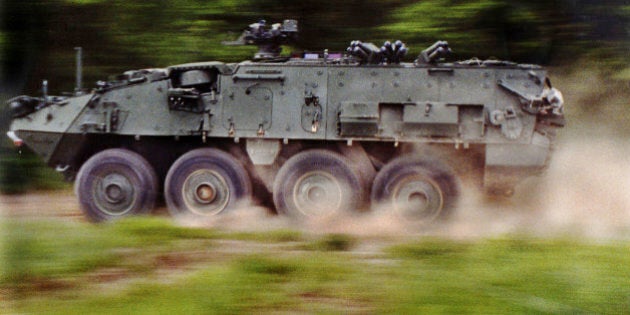 * Co-authored by Peggy Mason, President of the Rideau Institute, and Alex Neve, Secretary General of Amnesty International Canada.
Pressed by reporters in the final days of the federal election campaign, both outgoing Prime Minister Stephen Harper and Prime Minister-designate Justin Trudeau seemed to downplay the extent to which the largest arms deal in Canadian history is in fact an arms deal. While Mr. Harper referred to the $14.8-billion worth of armoured vehicles that Canada is poised to ship to Saudi Arabia as "transport vehicles," Mr. Trudeau used the even more innocuous-sounding "jeeps."
But whatever the label (or euphemism), the fact is that the Saudi contract is as subject to Canada's military export control policy as, say, a deal for Canadian-made bombs, missiles, or high-calibre automatic weapons.
In practice, this means that a human rights assessment must be conducted before an export permit can be issued by Canada's Department of Foreign Affairs. This requirement acquires special relevance when the recipient of Canadian military goods has a well-documented record as one of the worst human right violators in the world, as is indisputably the case with Saudi Arabia.
This is not a matter of opinion or interpretation.
Canada's military export controls specifically apply to "any article included in the Export Control List," as mandated by the Exports and Imports Permit Act. The armoured vehicles at the centre of the Saudi deal fall specifically under Group 2 of the Export Control List, which includes military goods and technology that Canada considers to be "specially designed or modified for military use." Other items in this group include weapons or armament with a calibre greater than 12.7 mm, torpedoes, rockets, vessels of war and chemical or biological toxic agents.
When we think of the global arms trade, it is likely that we think first of small arms and light weapons. But the net cast by the international community in its efforts to regulate the trade of conventional weapons is widening. In fact, small arms and light weapons are but one of eight categories of conventional weapons covered by the recently adopted Arms Trade Treaty. This agreement acknowledges that many types of military exports -- from armoured combat vehicles to attack helicopters -- can be used to fuel armed conflict, support human rights violations and sustain autocratic regimes.
While most states in the world have signed the Arms Trade Treaty, Canada has not -- and neither has Saudi Arabia. One of the explanations Canada has given for not signing is that the Arms Trade Treaty only "brings countries up" to the export control standards Canada already enforces.
But however strong export controls might be on paper, they are only as effective when implemented.
According to Canada's military export policy, "a key consideration in the review of each application is the end-use of the export." And while the required export permits must be secured regardless of the destination, the policy specifically states that Canada "closely controls" military exports to countries "whose governments have a persistent record of serious violations of the human rights of their citizens."
If the deal between Canada and Saudi Arabia goes ahead, we must assume that, even after the required human rights assessment was conducted, Canada determined that there was "no reasonable risk that the Canadian goods would might used against the civilian population."
It is hard to overstate the appalling human rights record of the Saudi regime. A report issued this month by Amnesty International provides extensive documentation of war crimes committed by the Saudi-led coalition in neighbouring Yemen. In the light of this new information, AI has called for a complete ban on weapons used to commit these abuses to Saudi Arabia and its allies in this venture.
Year after year, authoritative organizations such as Amnesty International and Human Rights Watch have condemned the consistent, systematic repression of the Saudi civilian population by the House of Saud, which has governed as an autocratic monarchy for more than 80 years.
In Saudi Arabia, political rights are restricted. Civil liberties fare no better. Freedom of speech is rigorously censored. Freedom of association, freedom of the press and academic freedom are restricted. Women are subjected to systemic discrimination; for example, they are not allowed to drive. The state enforces its views of religious truth with harsh penalties. Even non-violent crimes can warrant beheading.
So let us be clear about what it is that Canada is selling to Saudi Arabia: ultra-modern fighting machines, routinely fitted with large-calibre guns, cannons and mortars -- and unequivocally covered by Canada's military export control policy. If the deal proceeds, let us not forget that it did so with full prior knowledge of export safeguards and of the end user's abysmal human rights record.
It is not $14.8-billion worth of ice cream trucks that we're selling. And the recipient is not exactly Sweden.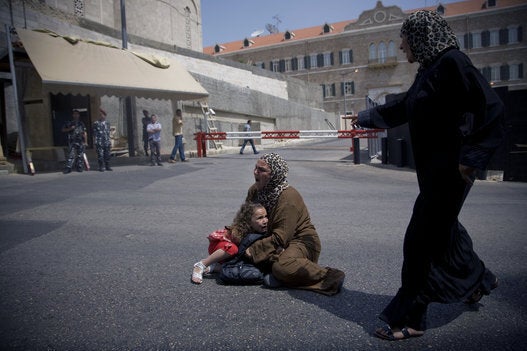 Tributes to King Abdullah of Saudi Arabia