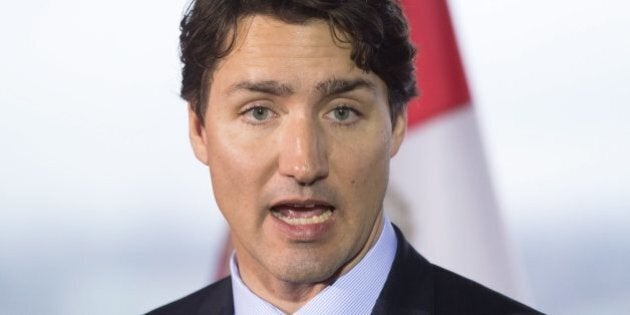 Ottawa might wish to consider softening the rhetoric on the purported irreversibility of the $15-billion military export contract with human rights-pariah Saudi Arabia. The more it continues to assert that "what is done is done" in the face of obvious red flags and unresolved questions about the authorization of the deal, the more it backs itself into an increasingly untenable corner.
It appears that the Trudeau Liberals prefer to commit to more stringent, transparent military export controls in the future, as long as this particular deal can proceed under its veil of secrecy. Transparency can inform subsequent contracts, seems to be their position, just not this one.
But this is no ordinary deal. It represents the largest transfer of military goods in Canadian history, and the equipment is going to one of the worst human rights violators on the planet. This combination makes for the perfect test case of Trudeau's promises of change, openness and principled government.
Only weeks ago, Global Affairs Canada seemed to veer from its irreversibility line when a spokesperson conceded that the department could consider suspending or cancelling existing permits, should relevant reports emerge. The point is, reports relevant to this deal emerge regularly.
So far in 2016, much information has been presented that should influence government deliberations about the best way forward. It is unimaginable that Global Affairs Canada is not aware of the following:
• On January 2, Saudi Arabia summarily executed approximately 50 individuals, including a high-profile Shia cleric, increasing regional tensions and earning widespread international condemnation.
• On January 12, prominent human rights lawyer Samar Badawi was arbitrarily arrested and questioned about links to a Twitter account campaigning for the release of imprisoned human rights lawyer Waleed Abu al-Khair. Her brother, imprisoned blogger Raif Badawi, was sentenced to 10 years in prison and 1,000 lashes for setting up a website for public debate; his wife lives in Canada.
• On January 27, a leaked report of a United Nations-mandated panel revealed "widespread and systematic" attacks on civilian targets "in violation of international humanitarian law" by the Saudi-led coalition in neighbouring Yemen.
• On February 5, a Nanos Research poll found that a majority of Canadians asked about the Saudi arms deal ranked the protection of human rights over job creation.
• On February 25, in a non-binding vote, the European Parliament overwhelmingly supported an arms embargo of Saudi Arabia.
• On February 27, the Associated Press reported that a court in Saudi Arabia had sentenced a 28-year-old man who admitted to being an atheist and refused to repent to 10 years in prison and 2,000 lashes.
• On February 28, respected former Liberal justice minister Irwin Cotler called on Trudeau's government to reconsider the deal: "We should not sell arms to a country that engages in a persistent pattern of human-rights violations." Former Liberal foreign affairs minister Lloyd Axworthy had previously said, "The degree of oppression against women and dissidents in Saudi Arabia is becoming almost epidemic."
• On February 29, an Angus Reid survey indicated that fewer than one in five Canadians believe that sticking by the deal with Saudi Arabia is a good decision.
While the information above covers just two months, the contract with Saudi Arabia is projected to last at least 14 years. How long is Ottawa prepared to skirt legitimate questions about the human rights implications of this deal?
Questions about the dubious eligibility of Saudi Arabia as a recipient of Canadian-made military equipment have been raised for over two years.
Ottawa has pointed to the need to uphold contractual obligations in regard to the Saudi arms deal. But it defies logic and credibility that there are no provisions for suspension or termination under any circumstances.
Foreign Affairs Minister Stéphane Dion has said that Canada would "probably" face penalties, were it to back out of the deal. Asked for clarification, Global Affairs Canada claimed it is bound by commercial confidentiality to say no more. Oddly, it seems that while Canada would break the terms of the contract if it revealed those terms, Saudi Arabia is not breaking them by committing gross violations of human rights.
Questions about the dubious eligibility of Saudi Arabia as a recipient of Canadian-made military equipment have been raised for over two years. Yet two successive governments have failed to address the most basic question: how can the authorization of this deal be consistent with the human-rights safeguards of Canadian export controls?
If a satisfactory response exists, it would clearly be in the government's interests to articulate it. The most plausible answer: the deal is simply not consistent with Canadian export controls. But a strong rationale does exist for the government to review the authorization of this contract and address valid questions about its human rights implications.
The exit strategy for the Trudeau government is remarkably straightforward: Adhere to applicable arms control norms and regulations.
Abide by current domestic export controls, whose applicability to the Saudi arms deal is beyond dispute. Adopt the norms of the international Arms Trade Treaty, which Canada intends to join soon and which will subject Canadian arms deals to even greater scrutiny. This position gives Ottawa a solid, legitimate framework on which to justify its handling of the Saudi arms deal going forward.
Polls indicate that most Canadians would support a review of this deal, and strict adherence to domestic and international norms would be a compelling argument in favour of such a review. So there is, in fact, a politically sound exit strategy from the Saudi arms deal quagmire inherited from the previous government--should Ottawa find itself needing one.
Follow HuffPost Canada Blogs on Facebook