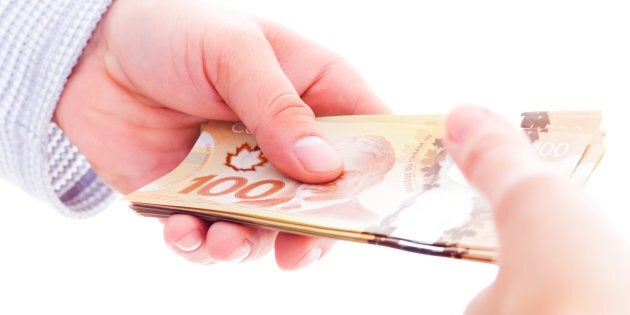 If you needed any more evidence that Canada's job market is on fire these days, look no further than Statistics Canada's latest survey of job vacancies.
The number of available jobs in Canada soared by 15.1 per cent over the past year, to a total of 468,000 vacancies, StatCan reported on Thursday. That means there were 62,000 more available jobs in the third quarter of 2017 than there were a year earlier. The job vacancy rate rose to 2.9 per cent, from 2.6 per cent a year earlier, another sign of a heating job market.
The data comes on the heels of last week's blockbuster unemployment report, which showed Canada's jobless rate dropping to 5.7 per cent in December, the lowest rate recorded in comparable records going back to 1976.
Watch: Automation threatens 40 per cent of Canadian jobs, Liberals' economic adviser says
If there's a downside here, it's that employers don't appear to be reacting to the strong job market by raising wages. The average offered hourly rate for available jobs barely rose at all in the past year. It was at $19.85 per hour in the third quarter of this year, up just 10 cents in a year.
That number is likely to be impacted in the coming year by significant minimum wage hikes in Ontario and Alberta, both of which are on a path to a $15-an-hour minimum wage.
But hiring managers don't seem to be raising wages of their own volition, and that could lead to a "workforce crisis," recruitment agency Hays Canada warned last month, as employees depart for greener pastures.
"When the economy and job markets are strong, employee tolerance for not getting what they expect drops considerably," Hays Canada president Rowan O'Grady said.
"All the warning signs are there and those who refuse to acknowledge this reality are taking their biggest risk in at least five years."
But where are the jobs being created?
If you're unemployed and searching for work, it can be dispiriting to read all these stories about how great the job market is. So here are some hints as to where to find work, based on the data in StatsCan's job vacancy survey.
Quebec has seen the largest percentage jump in available jobs over the past year, with vacancies rising a whopping 30.6 per cent, or 21,000 new available jobs.
British Columbia also put in a stellar performance, with job vacancies up a solid 20.2 per cent, or 16,000 jobs.
And in another sign that Alberta is recovering from the oil price slump, job vacancies there jumped by 21.3 per cent, or 9,400 job openings.
Newfoundland was the only province to see a decline in vacancies, with job openings down by about 500 over the past year.
Looking at industries, food and accommodation continues to be Canada's biggest employer, with 68,600 jobs available. Retail came in second, with 56,725 jobs available.
The largest spike in offered wages was in the natural resources and agriculture sector, which includes oil and gas. The average wage offered by hiring managers jumped 11.5 per cent in a year.
StatCan warns, however, that this doesn't mean people in this industry are necessarily seeing big raises. It may simply mean that businesses in that field are hiring for higher-wage positions.
All the same, here is what has happened with offered wages in Canada, by industry:
StatCan's next survey of job vacancies, which will look at the final quarter of 2018, is scheduled to be released in April.