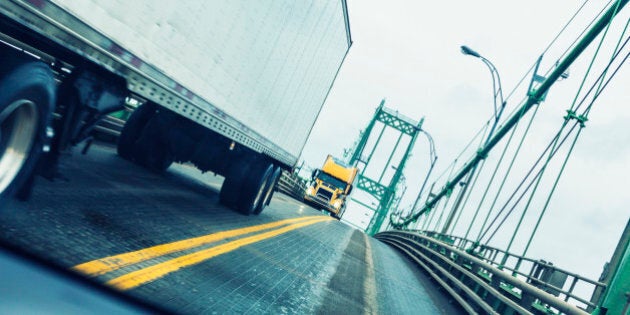 America doesn't need Canada anymore — at least not nearly like it used to.
The share of U.S. imports that come from Canada has hit its lowest point in decades, lower than at any point since the U.S. and Canada entered into free trade in the late 1980s, Desjardins Economics says.
Canada's share of U.S. imports fell to 13.2 per cent in 2015, down from 18.5 per cent in 1990 and 19 per cent in 2000, Desjardins senior economist Francis Généreux wrote in a report issued Wednesday.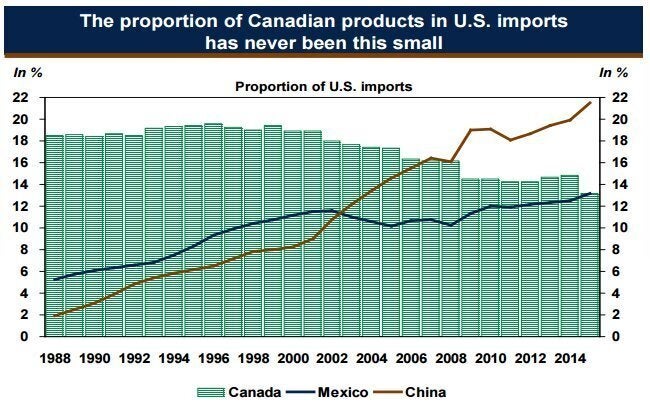 Canada's share of U.S. imports peaked in the mid- to late 1990s, and has been declining ever since, this chart from Desjardins Economics shows.
The news shows that Canadian exports aren't yet benefitting from the drop in the Canadian dollar, which is supposed to boost exports to the U.S. and elsewhere.
Canada's share of U.S. imports saw a particularly steep drop last year (down 15.1 per cent), due to falling oil prices which made Canadian exports less valuable in U.S. dollar terms.
But the long-term decline seen since the start of the century isn't about oil, Généreux writes — it's about the rise of China and the entry of Mexico into NAFTA.
"China leveraged a very low cost structure and an artificially weak currency to grab major shares of the U.S. market from the rest of the world, including Canada," Généreux writes.
The strategy has had results: China's share of U.S. imports has soared to 21.5 per cent, from 8.2 per cent in 2000.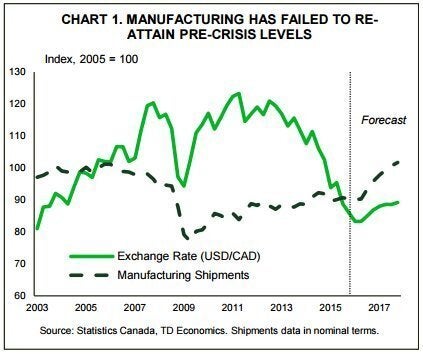 This chart from TD Economics shows Canadian manufacturing hasn't recovered to levels seen before the economic crisis of 2008-09.
Mexico has benefited from its entry into the NAFTA free trade area in the 1990s, and its share of U.S. imports — 13.2 per cent — is about to overtake Canada's share, the Desjardins report states.
"Canadian products still have a bigger share than Mexico's. This situation could change soon," Généreux writes.
Recent data from the Center for Automotive Research, reported on in the Globe and Mail, shows just how far Canada has fallen behind. Having led Mexico on auto investment for years, Canada is now seeing a fraction of what Mexico gets. Last year investment in Mexico's auto industry tripled that of investment into Canada's — US$4.5 billion in Mexico versus US$1.5 billion in Canada.
"In 2016, the lower loonie should help real exports of other Canadian non-oil goods. In the long term, however, Canada will have to look to other factors, in particular better productivity, to keep from losing more of the U.S. market," Généreux concluded.