Reopening any negotiated deal offers a chance to fix what was wrong in the first place.
Unifor has been a long-standing critic of the North American Free Trade Agreement. Like other unions and NGOs, we've consistently called for a NAFTA rethink.
It is for that reason we welcomed the reopening of the NAFTA, even if led by a U.S. President that we so vehemently disagree with on almost every point.
NAFTA has enabled the capital flight of multi-national firms, as has global free trade more broadly. That has inflicted great pain on working people and their communities. Renegotiating NAFTA gives us a chance to address concerns with two of our most important trading partners, and craft a deal that actually helps working people. And if it doesn't, then we should walk away.
Which brings me to plans to reopen the Trans-Pacific Partnership.
Canada recently signed on to a plan pushed by Japan and New Zealand to resuscitate the TPP despite the U.S. withdrawal. Under jointly negotiated TPP rules, there can no deal unless both the U.S. and Japan agree to it.
Well, the U.S. didn't agree. And yet, the TPP lives on after Canada and the other 10 remaining countries voted to discuss reviving the deal.
The reality is that the TPP is a disastrous document, offering little if any economic benefit to Canada.
Well-documented research reports point to higher drug prices, a weakening of Canada's supply management system, extreme legal protections for investors, among a long list of other concerns.
The TPP in its current form would force Canada to take significant auto sector concessions as well, setting back an industry that has thankfully been on the rebound.
Recall that the U.S. and Japan (without Canada even at the table) agreed to let cars and parts travel tariff free through the TPP zone, even if more than half (55 per cent) was built outside of the 12-member trading bloc -- even more for some car parts.
I do find it very encouraging to hear Canadian officials say that any new TPP would first need significant alterations before they sign on. To me, this signifies that they get that meaningful change is needed in the kinds of deals this country negotiates.
Tens of thousands of Canadians voiced opposition to the TPP in the past year. The talk from federal officials that they believe they have a chance to address issues with the TPP would indicate that they were listening. This marks a major victory for social movements and concerned citizens, and marks a departure from the Harper years.
This is Harper's deal, and there is no obligation on the Liberal government to carry it forward absent a total overhaul. Unifor and others will continue to make our voices heard about what truly progressive trade ought to look like. The government can be assured of that.
What I'm not so sure of is whether our officials have had a chance to chat with their counterparts in Japan, Australia and New Zealand. These folks have essentially said TPP changes aren't in the cards.
Canada has not only been outflanked in past rounds of negotiations (remember that the Harper government joined TPP talks at the eleventh hour, from fear of being left out) but our approach to trade talks has historically been a strange mix of export diversification strategy and political desperation: call it, strategic desperation.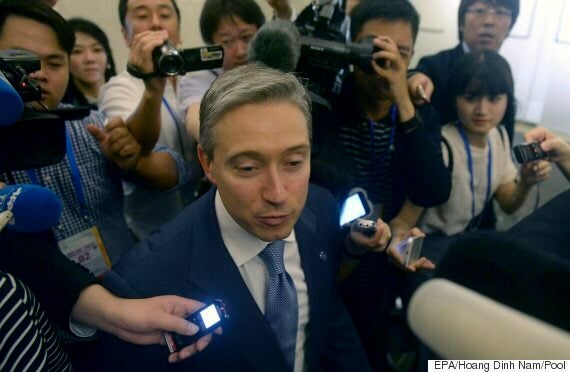 Yes, it's good to explore enhanced trading relations with all countries. But do we have to reform patent laws, trade away our supply management system, undermine our ability to set national economic policy, undermine key industries such as auto and transfer extraordinary powers to private investors to do it?
Do we have to chart a path toward more "free trade" deals for the sake of getting a deal, even if the deal doesn't deliver on promised goods to Canadians?
Harper seemed to think so.
Think about Canada's recent trade pact with South Korea. Big promises were made at ratification. A more than 30 per cent rise in Canadian exports and lots of new jobs. Korea would be Canada's beachhead in the Asia-Pacific.
The results have been beyond disappointing.
In fact, the benefits of the deal have been totally one-sided, favouring Korea. Korean merchandise import growth has far outpaced Canadian exports. In the last two years, Korean imports have grown by 47 per cent, while Canadian exports have grown by just five per cent. Our resource exports have stagnated, while Korea's have grown. And the value of Canada's agriculture exports has actually fallen.
It's hard to imagine these outcomes being much different with countries where we have similarly unbalanced trade flows such as Japan and China, both of which are in Canada's free trade sights.
Before we set out to exhume a trans-Pacific trade deal or kick-start any other major trade negotiation, the federal government needs to think long and hard about what we would be getting ourselves into.
Harper pursued the TPP out of his own ideological belief in the power of free trade, the free market and big corporations, without a care for the working people and communities affected the most.
For him, and any politician, that's a failed political calculation. Most world leaders have come to understand this. I want to believe that Canada's have too.
Follow HuffPost Canada Blogs on Facebook
Popular in the Community