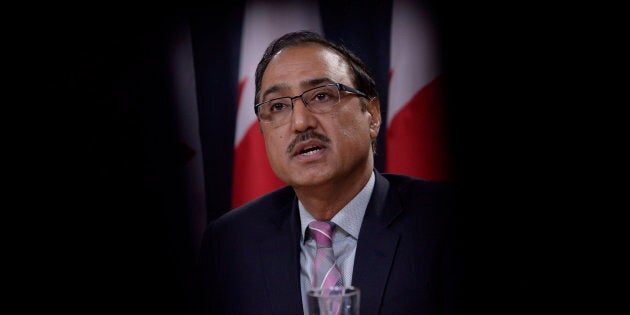 OTTAWA — The federal government is at risk of making a "climate change detour" if it decides to build a string of small nuclear reactors, says an Ontario advocacy group against radioactive pollution.
"We are in a climate crisis," said Lynn Jones of Concerned Citizens of Renfrew County and Area at a press conference in Ottawa Tuesday. "We need the government of Canada to take an unprecedented leadership role on this."
Every dollar we spend now is important.Lynn Jones
Jones brought up the recent United Nations Intergovernmental Panel on Climate Change (IPCC) report warning countries have a little more than 11 years to mitigate the effects of a rapidly warming Earth.
"We can't afford to take this detour right now to enhance the profits of a few multinational private sector nuclear businesses. Every dollar we spend now is important," Jones said. She was accompanied by Green Party Leader Elizabeth May.
The advocacy group said it filed a petition with the auditor general over concerns tax dollars will be used on nuclear instead of renewable energy.
Watch: Does nuclear power have a place in a low-carbon world?
Their concerns square around the natural resources department's ongoing interest in building small modular nuclear reactors (SMRs) in the next 20 years to meet energy demands.
SMRs are called "small" because they generate around or less than 300 megawatts of power. For comparison, the total output for the Pickering nuclear generating station along Lake Ontario is 3,100 megawatts — enough to provide electricity to 1.5 million people.
A natural resources committee report published last year called SMRs "a cost-effective, low-emission" energy source for off-grid buildings, particularly those in northern and remote communities, as an alternative to fossil fuels such as diesel.
The technology could reduce Canada's dependence on fossil fuels; lower greenhouse gases; and maintain the country's "international leadership position in nuclear energy and security," the report stated.
But given how nuclear energy comes with the issue around the "disposal of high-level, highly radioactive, poisonous, toxic nuclear waste," May said the government should be swayed by "abundant" wind and solar technologies, especially given their competitive price.
Looking at SMRs is a non-solution to the pressing problem of climate change, May said. "We don't need nuclear energy to solve the climate crisis."
Final SMRs roadmap report coming Wednesday
Nearly 15 per cent of Canada's total electricity supply is generated by nuclear power plants. Sixty-six per cent comes from renewable sources including hydro, wind, and biomass, according to government data. Nuclear energy is a concern among environmentalists because spent uranium fuel from use in reactors is deemed radioactive waste that needs to be entombed.
The federal government is entertaining a strategy to build SMRs in an election year where climate change is poised to be a wedge issue.
The Liberals have been touting the new carbon pricing system as proof of proactive efforts against climate change. Conservatives are calling it as a tax issue, arguing it is an affront to middle-class Canadians living on a budget.
No federal funding decision have been made related to the construction and operation of SMRs. A spokeswoman for Natural Resources Minister Amarjeet Sohi said public safety and environmental protection are top priorities while the government reviews recommendations.
"Our Government believes in the power of clean technology to create jobs and drive innovation," said spokeswoman Vanessa Adams in an email, referencing $2.8 billion in funding to support the growth of clean technologies.
She noted SMRs as a "promising potential area of energy innovation that could provide electricity, both on- and off-grid" that supports the "transition to low-carbon energy solutions."
"We understand the importance of investing in clean and renewable energy and having the necessary information to make decisions about innovative technologies," she said. "That is exactly how we are moving forward."
A final government report on Canada's SMRs plan is expected to be released Wednesday.