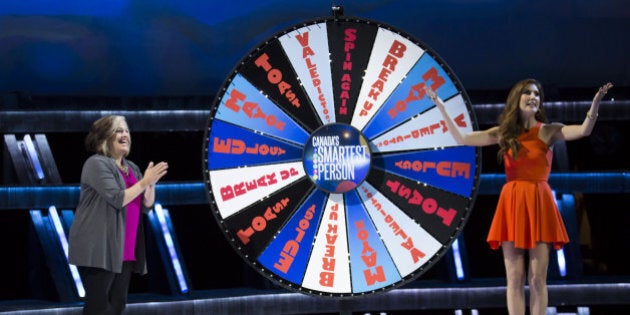 On a recent jaunt to the CBC headquarters in Toronto, I got up close and personal with the broadcaster's new series, "Canada's Smartest Person." It was meant to be a screening and showcase of the show's new app but had I known my intelligence would also be tested, I probably would have boned up for it a little differently and not just played "Candy Crush" on the train ride down.
Not only am I not Canada's smartest person but I wasn't even close to being the smartest in the room. Heck, when I do this at home each week, I probably won't be the smartest person in my house — and I have an eight-year-old. But that's OK. Because not only does the series ask, "what does it really mean to be smart?," but creator and executive producer Robert Cohen stated that "Canada's Smartest Person" will not just focus on how smart you ARE but HOW you are smart. And that's both fascinating and reassuring. Because everyone is smart in their own way.
"Canada's Smartest Person," which is based on CBC's two-hour special from 2012 (the test subject, if you will), is now a weekly series and will focus on the Theory of Multiple Intelligences, of which there are six main areas: Social, Visual, Musical, Logical, Linguistic and Physical.
According to Jessi Cruickshank, who shares co-hosting duties with Jeff Douglas, the series "redefines what it means to be smart." So you might not be a brain surgeon, a physicist or a rocket scientist, but you might be a whiz when it comes to solving puzzles, have awesome Boggle skills or know the distinct sounds of a trombone versus a sousaphone.
Thirty-two of Canada's diverse contestants (ranging from lawyers, doctors, and students to a cheese salesman, a firefighter and a poet) went through a rigorous testing and interview process to land a coveted spot. In each hour-long competition, four hopefuls will battle it out in front of a live studio audience. The winner of each show will advance to the championship finale, which will showcase the eight finalists, one of whom will be able to claim the title of Canada's Smartest Person.
Story Continues After The Gallery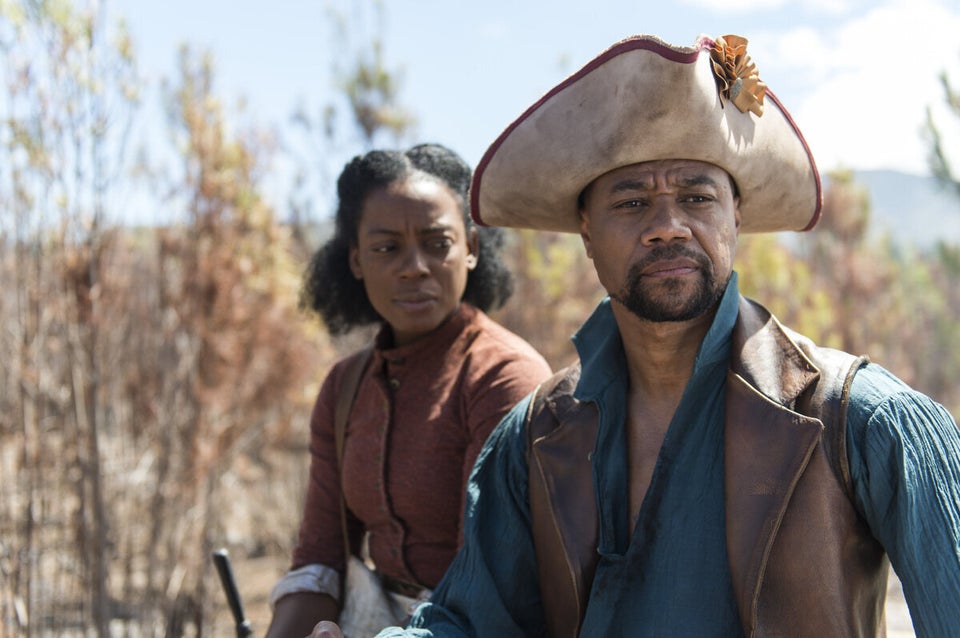 CBC TV Fall/Winter 2014-15
It's absolutely entertaining, the kind of show that has been missing for a while. Those days of "Who Wants to Be a Millionaire?," "Are You Smarter Than a Fifth Grader?" and "The Weakest Link" seemed like a thing of the past but "Canada's Smartest Person" is turning that formula on its head with its interactive capabilities.
Remember those shows of the past, where you would yell the answers at the contestants knowing full well they couldn't hear you? Well, here's your chance to prove them wrong (if they're wrong, that is). CBC's second screen experience is unprecedented and allows viewers the opportunity to play along with every single challenge with the Canada's Smartest Person app or at the show's website. You can see how you stack up against your friends and family and those participating across the country and by tuning in, and playing, each week, you can develop your own unique intelligence profile.
"When you are playing with the app and you're presented with the exact same challenges what the contestants have on TV, it creates that sense of stress and anxiety and that's fun," says Paul Mcgrath, executive producer, interactive, CBC. "That becomes a bit of an addictive phenomenon and we hope people will come back and play along. By doing that, that's how they get their own intelligence profile and that message is very affirming to people to say, maybe you do badly in IQ tests but you're a genius socially or musically or whatever. There's a really positive underlying message."
But it's not all about the interactive component the show boasts. "Even if you don't participate in the second screen experience, it's just a really entertaining and dramatic program as you root for your favourites and who ends up taking the title of Canada's Smartest Person," says Cohen. "But the interactive component really does take the series to a new level. This is one of the most complete interactive social television experiences, if not THE most, ever attempted anywhere. And we are very proud to be on the cutting edge of television today with the series."
It really is quite a feat for Canadian television — and other countries have already clued in. Cohen reveals that it's already been picked up in Turkey, Sweden and other European territories, and hinted that we might soon see an American version.
"This format's probably one of the most ambitious original Canadian formats ever attempted and I think everyone here on the team is really proud of that, especially in a time when so much of Canadian television right now is filled with American and British imports, and Canadian versions of those," adds Cohen. "We're so happy and proud that an original Canadian format is actually travelling in the other direction. We've had a lot of success with this format internationally … and the interactive component is a big part of the format's success."
"Canada's Smartest Person" is addictive and fun for the whole family (but, please, don't think I'm not going to try and take down my third-grader, and the gloves are off when it comes to my husband). But bragging rights are up in the air, as I know first-hand, after leaving CBC last week feeling more than a little deflated. But then I remembered how well I fared in the linguistic portion and didn't feel quite so ashamed. Will I post my scores each week? Heck, yeah! Will I hang my head doing so? I might have before but after debating the different kinds of smarts that exist, I will proudly share with the rest of the country how well (and poorly) I do. Will you?
"Canada's Smartest Person" premieres Sunday, Sept. 28 at 8 p.m. (8:30 p.m. NT). The app is now available for download on iOS and Android devices.