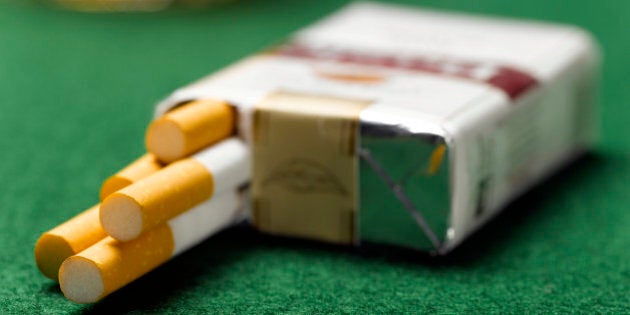 According to the World Cancer Research Fund, approximately one-third of cancers can be prevented simply by abstaining from smoking. That's good news for Vancouverites, who, according to a new study, have the lowest smoking rates in Canada.
On Sept. 30, the Canadian Partnership Against Cancer (CPAC) released a study entitled "Population Health in Canada's Largest Cities." In it, British Columbia repeatedly ranks well in terms of overall citizen health as it relates to cancer risk. The study quotes figures from the Canadian Cancer Statistics 2012 report stating that smoking causes an annual 30 per cent of all cancer deaths and 85 per cent of lung cancer deaths in Canada.
British Columbia's metropolitan areas had the lowest percentages in the country for daily or occasional smoking (by residents 12 and up), with 14.5 per cent in the City of Vancouver and 14.7 per cent in the Greater Vancouver Area. In contrast, the Greater Ottawa Area had the highest rate with 23.9 per cent, with the City of Toronto registering 17.5 per cent, Quebec, 19 per cent, Halifax, 21.1 per cent, and Edmonton, 23.1 per cent.
According to the report, the World Cancer Research Fund also estimates that one-third of cancers can be prevented by eating well, limiting alcohol, maintaining a healthy weight, and exercising regularly.
The City of Vancouver, Greater Vancouver Area, and Victoria also had the three lowest percentages for adults over 18 classified as overweight or obese, with 32.5 per cent, 43.2 per cent, and 44.4 per cent, respectively. The City of Toronto came in fourth with 45.1 per cent, followed closely by Quebec at 46.9 per cent and Calgary at 47.1 per cent. At the bottom is St. John's with 63.7 per cent.
Overall, British Columbia has a 16.6 per cent smoking prevalence, which is below the national average of 20.3. Alberta came in at 22.2 per cent, Ontario at 19.3, and Quebec at 22.2. With 57.1 per cent, Nunavut registered the most smokers in Canada by far.
Like this article? Follow our Facebook page

Or follow us on Twitter