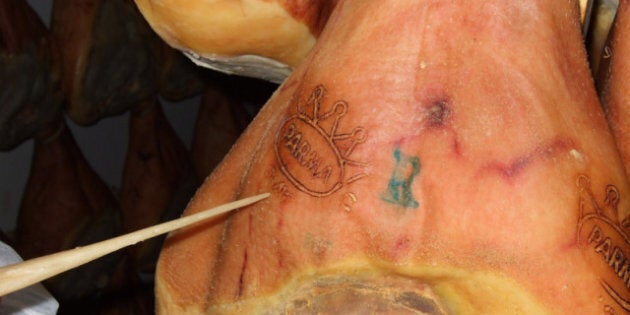 In most of the world, "Prosciutto di Parma" or "Parma Ham," is recognized as one of the highest quality hams, produced and naturally dried in the Parma region of Italy.
Prosciutto di Parma has a protected origin status in the EU; buyers in China, India and even in the United States, where the term is trademarked, recognize Parma Ham as being from Parma.
But in Canada, what is sold as Proscuitto di Parma and packaged with Italy's red, white and green colours is, in fact, Canadian ham produced by Maple Leaf Meats.
As the trademark owner in Canada, Maple Leaf has forbidden Parma ham producers from labelling their products Proscuitto di Parma.
Instead, the producers, who must abide by strict Italian rules regarding production and quality control, sell their Canadian exports as "Original Ham."
"For Italians, this is one of the major issues in CETA (the Comprehensive Economic and Trade Agreement)," a EU Commission official closely linked to the Canada-EU trade talks told The Huffington Post.
EU negotiators are pushing to ensure Canada will recognize geographical indications (G.I.) to protect traditional products in an intellectual property right chapter.
"Canada is resisting. They do not agree and they would not like to talk about geographical indication. They say 'We can talk about geographical trademark,' " Federico Desimoni, a legal advisor with the Consortium of Parma Ham producers, told HuffPost in an interview from Italy.
The term "Parma" was registered in 1971 when Parma Ham exports were forbidden in Canada for sanitary reason -- a ban that was only lifted in 1997. Parma Ham producers have tried, unsuccessfully, to buy the trademark from Maple Leaf as well as sue the company but Canadian courts have ruled in Maple Leaf's favour.
Desimoni hopes CETA can establish a way for both producers to "co-exist" and allow Parma Ham producers to label their meat as being from Parma.
"To go to the courts is very long and expensive and we would prefer that the Canadian authorities express themselves in a firmer way in a bilateral agreement to say ... that if you use Parma Ham as an indication of source, you are not infringing the Parma trademark because you are simply saying where your product is made," Desimoni said.
"We are not infringing on Parma Ham trademark, we are using it as a G.I., so it is different."
Maple Leaf officials reclined a request for an interview.