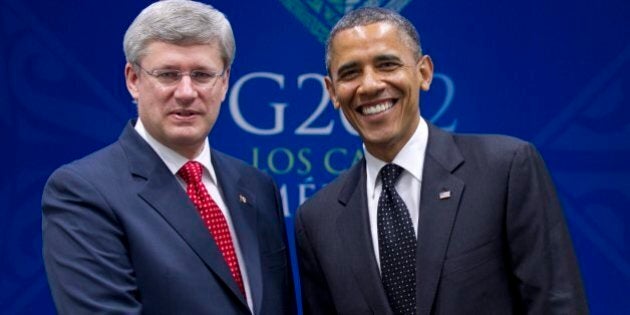 Canadians would see Internet freedoms curtailed under the Trans-Pacific Partnership (TPP) currently being negotiated among a dozen Pacific Rim countries, groups critical of the deal say.
The Council of Canadians and OpenMedia have launched a campaign to stop Canada from joining the TPP, saying it would "criminalize some everyday uses of the Internet," including mash-ups (combining different media works to create a new one) and small-scale downloading of music.
Calling the proposed trade deal an "Internet trap," OpenMedia said in a statement Tuesday that the deal would also "force service providers to collect and hand over your private data without privacy safeguards, and give media conglomerates more power to send you fines in the mail, remove online content -- including entire websites -- and even terminate your access to the Internet."
The actual contents of the TPP are not yet finalized, with the next round of negotiations set to begin in San Diego next month. The talks have been criticized for taking place under a veil of secrecy. But a draft of an intellectual property chapter leaked in early 2011 raised concerns among privacy experts and Internet freedom advocates because of a slew of proposed regulations on Internet use and the expansion of intellectual property laws.
For instance, Canadian law currently distinguishes between commercial infringement of copyright and non-commercial infringement, with lesser penalties for non-commercial violations. Under the TPP, there would be no such distinction, meaning a person who breaks a digital lock to copy a song for personal use could potentially face the same criminal sanctions as someone who copied songs to sell pirated music.
And while Canadian law -- including the new copyright law passed last week -- recognizes some reasonable exceptions to the restrictions on copying digitally locked media, the TPP makes no exception at all, InfoJustice reported.
"Why are a group of lobbyists and unelected trade representatives deciding how citizens around the world—including Canadians—can use their Internet?" OpenMedia executive director Steve Anderson said in a statement. "Will Prime Minister Harper tell us what he's signing us up for in these back room deals?"
However, it may be the case that not even Prime Minister Stephen Harper knows for sure what Canada is signing up for.
"In other words, we will have no input into that. And that's worrisome because we don't really know what those agreements are."
The countries negotiating to be part of the TPP are Australia, Brunei, Chile, Japan, Malaysia, New Zealand, Peru, Singapore, the U.S. and Vietnam, with Canada and Mexico joining the talks last week. China is not part of the talks, and reportedly views them as an attempt to curtail Chinese power in the Pacific region.