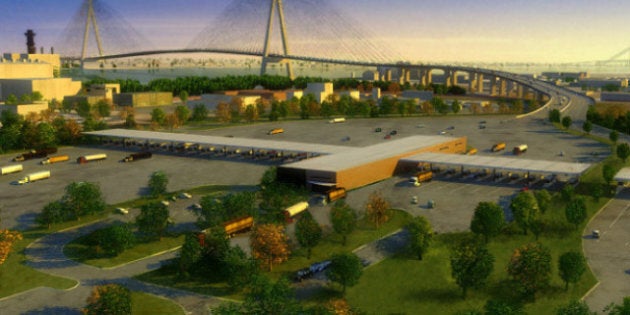 The fate of a proposed new bridge connecting Windsor with Detroit that Ottawa has called the country's "number one national infrastructure priority" is uncertain after a Michigan Senate committee voted down the proposal Thursday.
The Detroit River International Crossing, as it is known, has broad support in Canada, where the need to augment the 82-year-old Ambassador Bridge is largely undisputed. But it has been the subject of heated controversy in Michigan, where the Ambassador Bridge's private owner has been fighting an aggressive campaign to stop the new, publicly-owned crossing from being built.
The Michigan Senate's Republican-dominated Economic Development Committee voted the plan down Thursday, meaning it will not come before a vote in front of the full Senate.
Nor is it clear what happens next. According to State Senate Majority Leader Randy Richardville, the proposal is dead.
"I'm done with it at this point," Richardville told the Detroit Free Press. "It's unfortunate. An opportunity was missed" to create 20,000 to 40,000 jobs, Richardville added, "but there are other things we should be talking about."
But Rick Snyder, the Republican governor of Michigan who is backing the project, indicated he's not giving up.
The proposed $2.2-billion bridge would more than double the capacity of traffic between Windsor and Detroit. The Canadian side of the project would see a new parkway built bypassing downtown Windsor and creating for the first time a direct freeway connection from Ontario's busy Highway 401 to the United States.
The current Ambassador Bridge is over capacity and leads onto city streets in Windsor, causing frequent and long delays that cost Canada's economy millions in lost productivity.
About one-quarter of all trade between the U.S. and Canada crosses the Ambassador Bridge, amounting to about $150 billion in economic activity per year.
In a sign of Canada's eagerness to see the project built, Ottawa has offered Michigan $550 million to built the new bridge, which would be publicly owned but privately operated.
Moroun's campaign has also received help from the Koch brothers, billionaire energy industrialists whose political pressure group, Americans For Prosperity, has been spending money on the effort to stop the bridge.
The group has been accused of running a smear campaign. Earlier this year, phony eviction notices appeared on the front doors of homes in Detroit's Delray neighbourhood. The notices, linked to AFP, alleged that residents would be evicted if the new bridge were to be built.
Fears about the fate of Delray were behind some state senators' opposition to the plan, but the issue has ideological overtones in the U.S's political arena.
"Republicans and Democrats have a philosophical problem with putting a private business out of business by building a publicly owned bridge," state Rep. Paul Opsommer told Bloomberg.
Popular in the Community