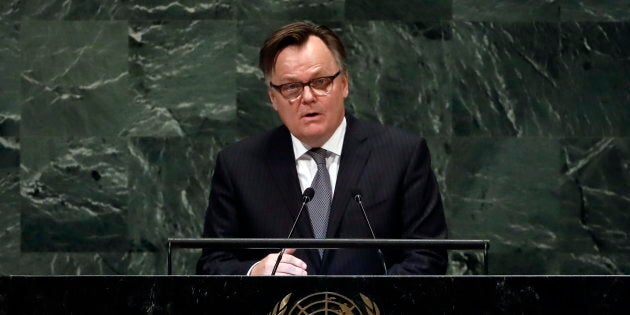 OTTAWA — As Prime Minister Justin Trudeau boasted in Ottawa on Monday that his government had secured a trade deal without capitulating to the Americans, his man at the United Nations was, for the first time, making the case that Canada deserves a spot on the Security Council.
If elected to the UN's most important decision-making body, Ambassador Marc-André Blanchard said, Canada would bring to bear its long-standing dedication to peacekeeping, it would work to tackle climate change and violent extremism, and promote economic security and the empowerment of women and girls.
Canada, he said, would also champion UN reforms to ensure inclusion, accountability and transparency in the organization's deliberations.
Blanchard twice referred to the prime minister, trumpeting his leadership on the world stage. He said Trudeau had spearheaded efforts to find new ways to finance development and had raised more than $3.8 billion to reduce barriers for women and girls to access education in fragile and conflict states.
Watch: Why Canada wants UN Security Council seat
Blanchard, who stepped in to replace Foreign Affairs Minister Chrystia Freeland after she swapped spots Saturday to be in Ottawa as NAFTA negotiations heated up, alluded to Canada's long history with the United Nations.
Canada was among the drafters of UN declaration on human rights, it was instrumental in setting up peacekeeping operations, and helped set up institutions at the rules-based order, he said, as he signalled an openness to reform and said institutions should be not impervious to change.
With a nod to smaller, less wealthy nations, Blanchard noted that the benefits of rules-based system had not been evenly distributed.
"Too many remain excluded economically, socially and political, from the decision-making that affects their lives," he said.
Blanchard touched on issues designed to strike a chord with member states whose vote Canada needs.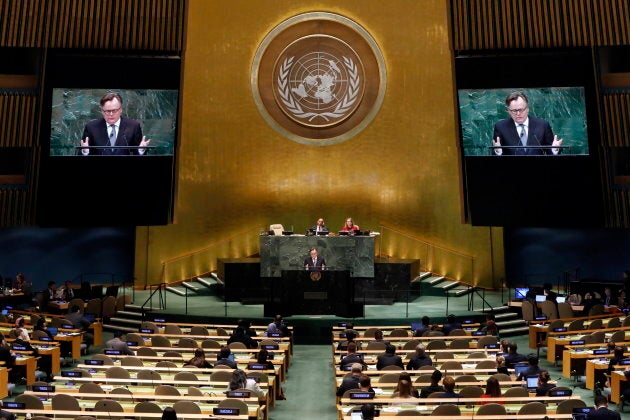 Calling climate change — which is an existential threat for many island nations — "the defining issue of our time," he quoted Trudeau in saying: "Developing countries should not be punished for a problem they did not create, nor should they be deprived the opportunities for clean growth that developed nations are now pursuing."
He called on the General Assembly to "all support Africa" as it works to create opportunities for its youth and to reduce inequalities.
Blanchard made reference to Canada multicultural cities and to Canada's welcoming of 50,000 Syrian refugees over the past three years but was careful to note that other countries had accepted many more.
Canada isn't perfect, he acknowledged, saying it still has challenges to overcome, the most important being reconciliation with Indigenous peoples.
"We are confident that we can contribute to effective, carefully considered global responses," he told the sparsely populated room as delegates of Germany and India looked on. "We have a proven record of working with other member states to bring fresh ideas and innovative approaches to tackle complex problems, from peacekeeping and policing to peacebuilding and transition."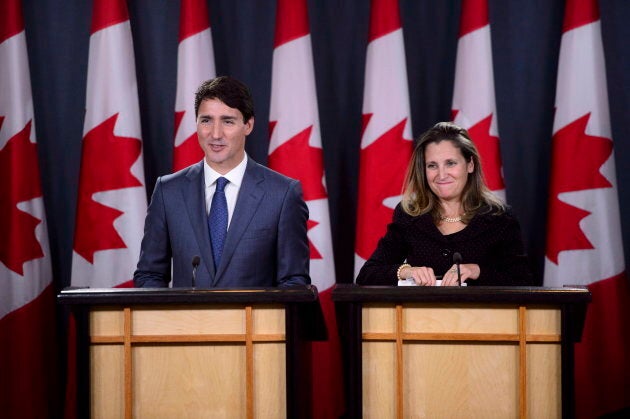 Canada is campaigning for one of two seats reserved for what's referred to as the Western bloc on the Security Council in 2021-2022. The vote takes place in 2020, but Canada is already late to the game, those familiar with the process say.
Adam Chapnick, a professor of defence studies at the Canadian Forces college, notes that Norway and Ireland — Canada's challengers — started campaigning years before Trudeau announced in 2016 that he wanted the seat in 2021.
"We are campaigning from behind, which we have never done before," he said.
In order to win a seat, a country needs to receive the backing of two-thirds of the General Assembly. There are 193 member states eligible to vote.
In 2010, when Canada lost a bid to sit on the Security Council, it faced off against Germany (which won in the first round) and Portugal (which won in the third round). Canada withdrew from the race after the ballots had been cast, saving the country the embarrassment of losing with only 32 votes.
Former Liberal cabinet minister Allan Rock, who served as UN ambassador from 2003 to mid-2006, notes that the vote is secret and sometimes countries that say they will vote for you don't. He believes many nations decided they didn't like the Conservatives' policies — the closing of some embassies, the reduction in international aid, and especially the close support of Benjamin Netanyahu's government in Israel.
"I really think it was a global judgment on the foreign policy of Stephen Harper's government, and one that was richly deserved," he said.
"The Palestinian question is a real fault line that runs through the whole UN system, and you stand on either one or the other side of that divide," he added.
Canada started aligning its Middle East votes closer to Israel and the United States under Liberal prime minister Paul Martin, a trend that continued under Harper and hasn't much changed under Trudeau.
But when asked if he thought Canada's pro-Israel voting record would hurt its chances this time, Blanchard told HuffPost Canada that he didn't think so.
LISTEN: HuffPost Canada's "Follow-Up" podcast explores Canada's UNSC bid
"We always said they would not trade in our values and policies to be elected on the Security Council," he said, noting that countries vote on a whole range of issues.
Canada's best asset in the race, he told HuffPost, is the prime minister.
"Mr. Trudeau is perceived as a very inspiring leader, someone who can be trusted and someone who has very strong values and a voice that is so needed at this time," he said from New York in a phone interview over the weekend.
During his photo-ops and bilateral meetings last week at the United Nations, Colombian President Iván Duque, for example, praised Trudeau, telling reporters he wanted to express his "admiration" for the prime minister's work, noted they were both progressives of the same generation, then gave him a yellow soccer jersey with his name on it.
But Richard Gowan, a senior fellow at the UN University's independent think tank, the Centre for Policy Research, said he thinks the Canadian mission should "ration the use" of the prime minister.
'There's a risk of overkill with Trudeau'
"There's a risk of overkill with Trudeau," he told HuffPost. "He is a great performer... . Other leaders do like him, but there is sometimes the sense that he risks a bit of a cult of personality, and actually diplomats can resent that."
Chapnick said he thought Canada's foreign policy should show "significantly more humility."
"Canadian governments for the last 20 or 30 years have been rather obsessed with the need to lead on the world stage," he said. "We have to lead environmentally, we have to lead on gender ... but pushing yourself into a leadership position when you may not be best suited for it doesn't make a lot of sense to me."
He said it is important for Canada to allow other states to get "credit."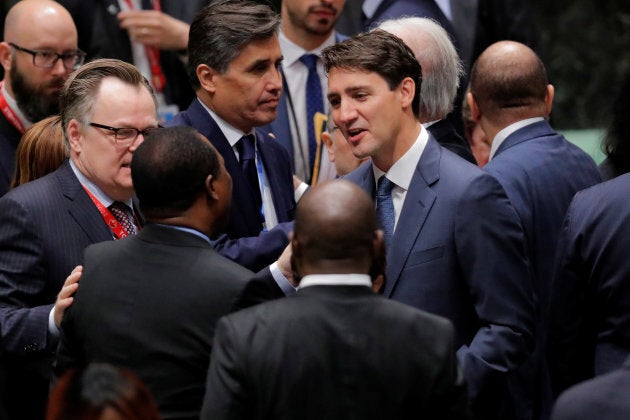 The big challenge for Canada, according to Gowan, is that it faces off against two like-minded countries: Ireland and Norway.
"Dublin has always maintained very good relations with developing countries and, to some extent, presents Ireland as a, you know, another former colony that has a special link to former colonies in Africa, Asia and elsewhere," Gowan said.
Heinbecker called Norway — which gives one per cent of its GDP to international aid and has spearheaded some of the thorniest peace processes, in the Middle East, Colombia, Sri Lanka and South Sudan, for example — the "poster boy for the UN."
"When we say, 'We're back,' they say they've never left."
Former foreign affairs minister Lloyd Axworthy, who also spoke with HuffPost's "Follow-Up" podcast, said there is a "chance" Canada might win.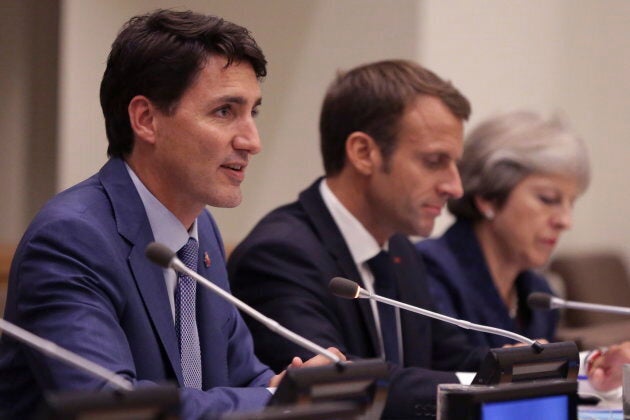 "It's a very tough competition," he said. But Canada, he said, generally has good standing at the UN, is not seen as a threat to anybody, and commitments on gender equality and a new peacekeeping presence in Mali — the most dangerous current UN peacekeeping mission — would be a "big plus."
Yves Fortier, who was Canada's UN ambassador under Progressive Conservative prime minister Brian Mulroney from 1988 to 1991, said he thinks Canada as a "very good chance of being elected. Definitely."
"If you look at Canada's record now over the course of the last nearly 70 years, we can put our record up against that of Ireland and that of Norway," he said.
In his speech, Blanchard stressed Canada's commitment to peacekeeping, saying how proud it was to lead the Elsie Initiative to help double the number of women in peacekeeping.
"We also know that having woman in the ranks and in charge makes peacekeeping more effective and its results more durable," he said.
The Commons defence committee, however, heard testimony last month from Bipasha Baruah, the Canada Research Chair in Global Women's Issues at Western University, who told MPs there are no data to suggest women have made a tangible difference on the ground and said it wasn't fair to place that burden on them.
"What really troubles me [is] how women were being curated and packaged," she told HuffPost. "As if ... you would be able to solve the institutional problems. That is not true ... issues require much deeper reflection."
Axworthy said he felt that Canada's relationship with the United States and the ongoing NAFTA negotiations had overtaken Canada's foreign policy since President Donald Trump's election.
He expressed hope that once NAFTA — or the new USMCA — was done, the government might turn its attention to more of the issues Trudeau had championed before Trump's election, namely the world refugee crisis.
Gowan stressed that the stakes for Trudeau are high.
"Everyone is conscious that Canada lost its last race for the Security Council," he said. "Now, you can lose one race, but if Canada loses two Security Council races in succession, I think that we'll know that will be bad for Ottawa's relations with the UN going forward."