 As for the handful of Canadians who do plan on taking a trip (we're looking at you Alberta), they're not looking to go very far. The poll suggested that of the handful of Canadians travelling, 36 per cent planned on heading to the States.
And that doesn't take into account scuffles, arguments and confrontation travellers may have with border agents over what goods are allowed into the U.S.. With this in mind, HuffPost Canada Travel has compiled a list of the goods Canadians can and can't bring across the border.
Goods Canadians Can And Can't Bring Into The United States. Slideshow text follows for mobile readers.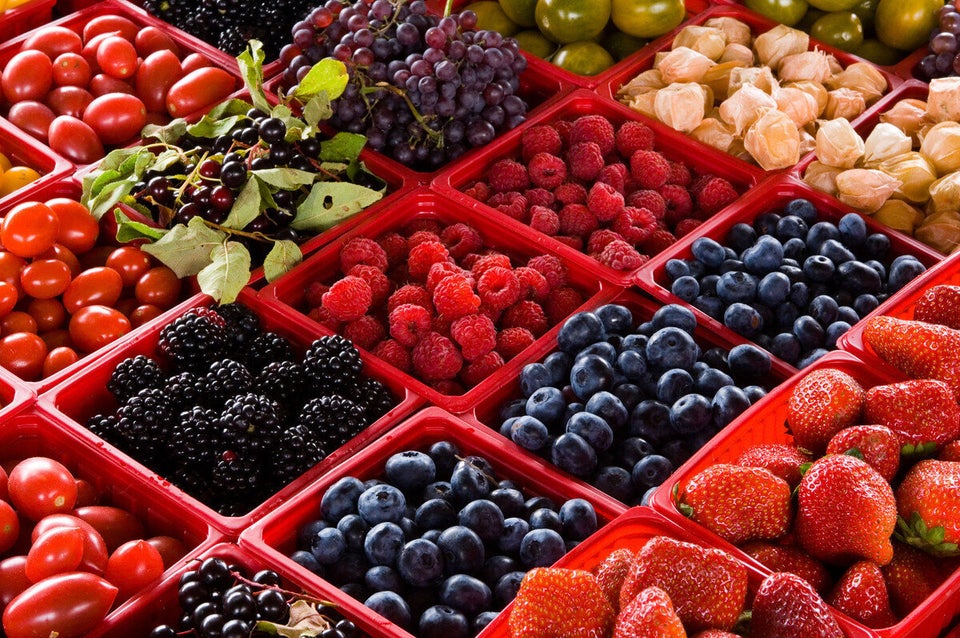 Goods Canadians Can And Can't Bring Into The United States
Answer: Yes, with some exceptions
Answer: Yes, with some exceptions
Canadians packing potatoes will want to leave them at home. Currently, the United States Department of Agriculture has banned potatoes from Western Canada due to "a disease outbreak." For the most part, vegetables grown in Canada are safe to bring to the U.S., however non-native produce, like pineapples, that are sold in Canada are prohibited due to fears of disease. For a database of Canadians fruits and vegetables that are safe to carry into the United States, click here.
Between Canadian cases of mad cow disease, avian flu and swine flu, the United States has effectively banned any meats from entering the United States via luggage or carry-ons for personal consumption. This includes meat like sausage or prosciutto and meat byproducts such as foie gras or bullion, regardless of how they've been prepared. Eggs are also on the inadmissible list, though the the Customs and Border Protection website says the list of banned meats is fluid and changes frequently.
Canadians travelling with their pets can carry personal amounts of pet food that contains beef, veal, bovine or equine products so long as it is commercially packaged and labelled. Pet food containing lamb, sheep or goat meat is still prohibited.
According to the USDA, Canadians can bring a variety of plants while travelling to the U.S. However, there are a number of conditions. For one, Canadians can only bring12 plants without a permit if they're of a variety under no special restrictions. However, all plants must carry a phytosanitary certificate — proof from Canada that your plants are safe. Also, plants should be bare-rooted during inspection, meaning pots and soil are a no-go. Travellers carrying more than 12 plants have to drive to a Plant Inspection Station. There, the U.S. Animal and Plant Health Inspection Service agents will inspect the vegetation to see if it's safe to enter. If not, they must be left or destroyed at the border.
Answer: Yes. Well, sort of
According to U.S. Customs and Border Protection, Canadians have to follow the same regulations placed on U.S. citizens. This means a traveller coming from Canada can bring in 100 cigars or 200 cigarettes with a value of less than $800 U.S. dollars. Any more and travellers can expect that amount to be subjected to federal taxes. One exception to this rule is with bidis, a flavoured tobacco, which is prohibited from entering the United States.
Answer: Yes. But there's a catch
Canadians may want to do some research before packing a few cold ones. Basically, Canadians are allowed to bring in one litre of alcohol without having to pay federal taxes. However, that doesn't mean they'll be exempt from state taxes, according to U.S. Customs and Border Protection. Each state's Alcohol Beverage Control Board regulates the rules of taxation on booze. Any alcohol beyond the one-litre limit will be subject to federal and or state taxes. To see how to get in contact with each state's board for their rules, click here.
What experiences have you had travelling through the U.S. Canada border? Feel free to sound off in the comment section below or tell us on Twitter via @HPCaTravel.
CORRECTION: An early version of the story said all fruits were safe to bring across the border. The story and slideshow text has since been updated.