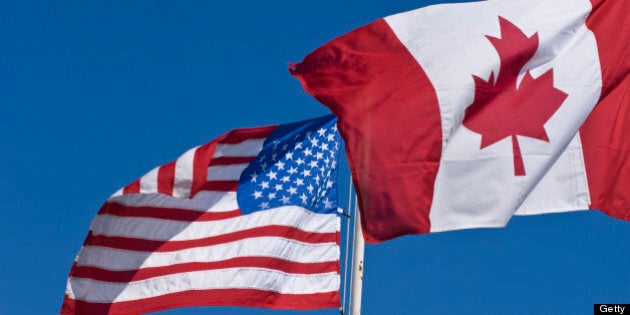 Canadians have spent a fair bit of time patting themselves on the back about the country's economic performance coming out of the Great Recession of 2008-2009, but did Canada really fare better than the U.S. on that count?
Maybe not. The U.S. recently revised its GDP figures, and a new comparison from BMO Capital Markets shows Canada actually performed only slightly better than the U.S. — and has been underperforming its southern neighbour for the past two years.
The notion is so shocking to some that BMO economist Douglas Porter, who compiled the data, is actually questioning the value of GDP as a measure of the economy.
The U.S. Commerce Department recently revised that country's GDP figures going back as far as 1929, and the new measure shows the U.S. economy's plunge during the financial crisis wasn't as sharp as previously thought. The peak-to-trough decline in the U.S. economy during the recession was 4.3 per cent, compared to a drop of 4.2 per cent in Canada.
And according to BMO's Porter, the numbers show Canada lagged U.S. economic growth for much of the past two and a half years, just managing to catch up to the U.S. growth rate in recent months.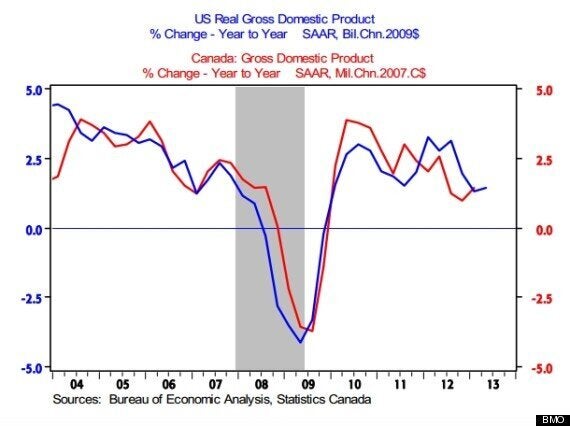 Porter doesn't put too much stock in the numbers.
The Journal noted that earlier estimates had also placed Canada's economic decline on par with the U.S.'s, but the U.S. numbers were revised to show the U.S.'s recession was deeper. Now they've been revised back and "we're back to square one," Porter said.
"If that's an accurate picture, then what it leads me to conclude is real GDP is not necessarily a great measure," he added. Porter suggested looking at the numbers in a broader context.
So let's do that. If the idea that Canada's recession was as bad as the U.S.'s doesn't ring true to Canadians, it may be because Canada's job situation has been considerably better than the U.S. over these years.
Despite an apparent economic recovery, the U.S. has yet to recover the jobs lost in the Great Recession. Canada recovered the lost jobs more than two years ago, and is now well above the nominal levels seen before the Great Recession. But adjusted for population growth, Canada actually has fewer jobs than it did before the recession.
While the U.S.'s housing market suffered a long, slow collapse from which it is only now beginning to emerge, low interest rates north of the border created a super-heated housing market that continues to boom, despite a slowdown in sales over the past 12 months.
So it may be that Canada's economic performance only looks good when compared with that of the U.S. — and maybe not even then, so much, anymore.