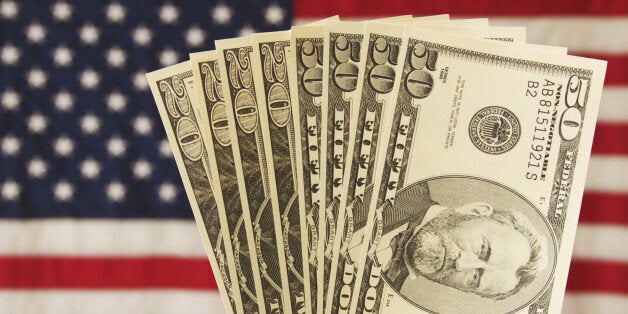 Canadians, get ready to be jealous of America's job market once again.
After a half-decade of lower unemployment rates and greater job growth in Canada than in the U.S., the tables are beginning to turn.
Meanwhile, in the U.S., initial jobless claims were down to 322,000 in the latest read, using the four-week average, a number that BMO economist Doug Porter describes as "near pre-recession levels."
Porter put out a chart comparing initial claims in the U.S. and Canada. You can see the spike in U.S. unemployment claims was much larger during the recession than it was in Canada. The two job markets track each other through the recovery, until just the past half year, when they diverge as Canada's jobless claims spike: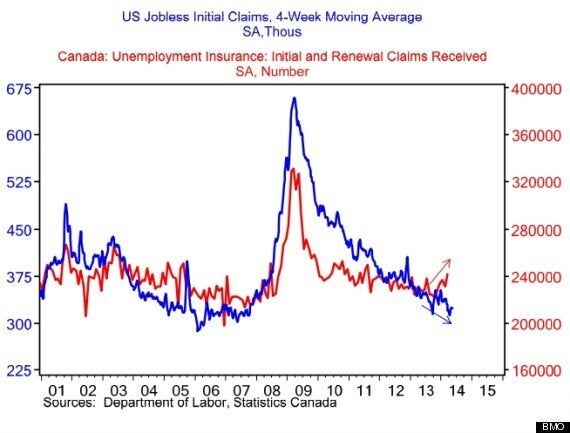 Perhaps because of the attention this fact has been receiving, StatsCan has started adding a note to its jobs report explaining that unemployment rates in Canada and the U.S. aren't directly comparable, because different methodologies are used.
If Canada used the same method as the U.S., our unemployment rate would be 6 per cent, still below the U.S.'s.
Good news, right? Not exactly. Looking at the raw numbers on jobs created, Canada isn't creating enough jobs to keep up with population growth. The total number of jobs has grown 0.8 per cent over the past year, BMO's Porter notes, while U.S. job growth has nearly doubled that pace, at 1.4 per cent.
And a National Bank of Canada report earlier this week noted that there was effectively no net job growth in Canada at all in the six months to April.
That's a nasty enough trend to make some economists nervous, if not yet worried.
Analysts had chalked up the weakness in Canada to a brutal winter and to what Porter describes as the U.S. "playing catch-up," but these latest jobless claims numbers "suggest that there may be something more fundamental at play," he writes.
What that "something more fundamental" may be, Porter isn't saying. But everyone will be watching future employment reports very closely, lest this trend become a serious problem.