A new survey from Angus Reid finds 70 per cent of respondents want Ottawa to play hardball with the Trump administration in the growing trade dispute between our two countries. Only 30 per cent would like to take a "soft" approach in the hopes of placating the temperamental U.S. leader.
The survey — taken before, during and after the G7 summit that ended with a Trump Twitter tirade against Prime Minister Justin Trudeau — finds Trudeau's approval rating has spiked higher amid the trade conflict, with 52 per cent giving thumbs-up to the prime minister's performance, up from 40 per cent in March.
So we're on board for a gloves-off fight with the orange-tinted occupant of the White House. But do we really know what we're getting ourselves into?
The simple reality is that Canada's economy is far more dependent on trade with the U.S. than the other way around. Far, far more. To illustrate that point, analysts at National Bank of Canada published a map this week highlighting how much each province and U.S. state depends on trade across the 49th parallel.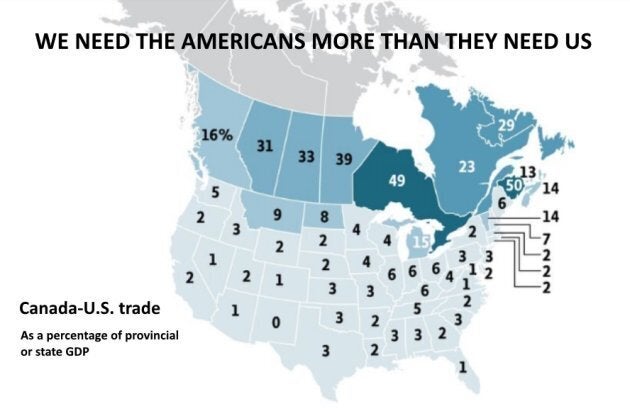 No U.S. state comes close to being as dependent on cross-border trade as the Canadian provinces of Ontario, where 49 per cent of economic output is linked to U.S. trade, and New Brunswick, where it's 50 per cent.
In an economic fight with the U.S., we would inevitably be bringing a knife to a gunfight.
National Bank Financial Markets geopolitical analyst Angelo Katsoras, who put together the map, says there's something that could hurt Canada more than Trump's trade tariffs, and that's the uncertainty that seemingly endless NAFTA negotiations are creating.
Companies don't want to invest into uncertain climates, and when business investment stalls, so does job creation.
"The bad news is that the longer negotiations drag on, the riskier investing in Canada and Mexico could become for companies looking for guaranteed access to the U.S. market," Katsoras wrote in a client note.
With NAFTA in place, Canada is an option when globally oriented firms considered their North American strategies; without it, Canada is a smallish market that probably can be served from the U.S. or elsewhere.
Ouch. That certainly puts things in perspective.
"In their view, a flawed deal should be preferred to the risk of seeing certain companies choosing not to invest in Canada."
U.S. also exposed to risks of a trade war
That's not to say the U.S. could walk away from a trade war unscathed. As we reported last year, the majority of U.S. states have Canada as their largest export market: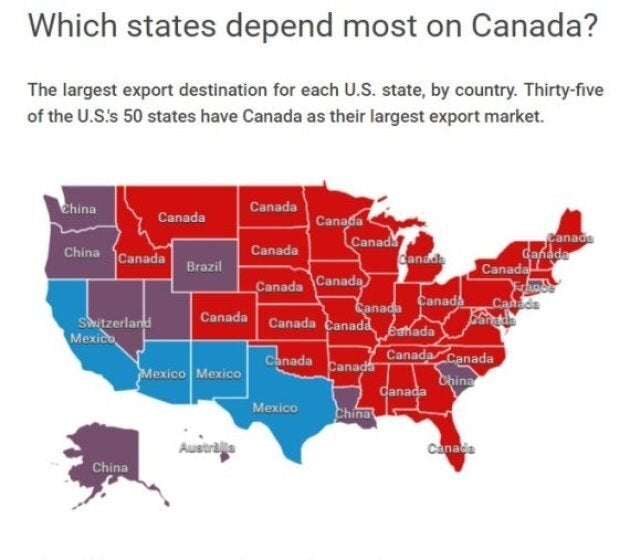 What's more, Trump is likely to pay a higher political price than Trudeau if a trade war leads to economic pain domestically. As the survey above shows, Canadians are likely willing to give Trudeau a lot of leeway fighting Trump's protectionism.
But "the political blowback from states (including those that voted for him), businesses and Congress could overwhelm (Trump's) administration," Katsoras wrote.
"Going beyond threats would also seriously risk one of Trump's main talking points: the strong performance of the economy and the financial markets under his watch."
For that reason, Katsoras still believes that Trump won't pull the trigger and cancel NAFTA.
But can we really count on Trump to do the rational thing? With steel and aluminium tariffs in place, and Trump already talking about expanding tariffs to include auto imports, it hardly seems like the U.S. president is about to turn friendly towards Canada.
The experts have been telling us for years that Canada needs to diversify its trading partners; we can't simply rely on the U.S. forever. Those words ring more true than ever today, but it seems we may have waited too long, and there's precious little we can do but fight a trade war in defense of our economic interests.
We have to ask ourselves, just how much wealth are we willing to risk fighting Trump? And how much choice do we actually have?