It was a point of pride for Canada that it came out of the 2008 financial crisis in such good shape.
The country benefited from strong banking regulations, as well as solid prices for commodities such as oil, coal and iron ore, the Toronto Star reported last year.
But Canada's luck has essentially run out. The Great White North is no longer positioned to weather a crisis like that one, says an HSBC report released last week.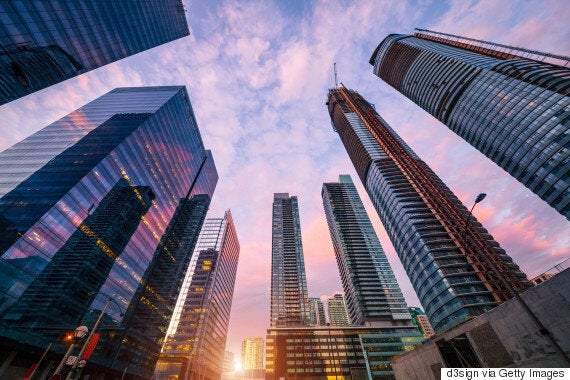 A number of factors put Canada at risk of a global financial crisis, chief economist David Watt said in a report published on Oct. 7.
Canada's household debt now exceeds the country's nominal gross product, and is the highest in the G7.
The level of debt means that consumers, normally an "important source of support for the economy," are likely to pull back their spending, and be more "accident prone" in the event of a global financial crisis.
Private sector debt-to-GDP outside financial firms has also ballooned to a ratio of 215 per cent. Watt goes so far as to say the private sector has been "essentially tapped out."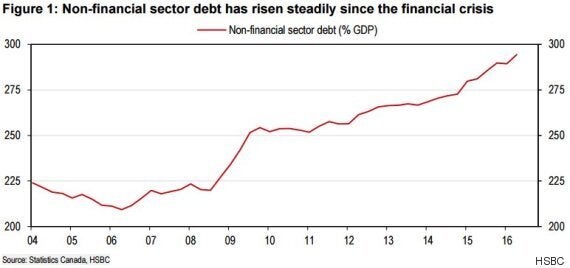 Canada is further imperiled by the gap between its first-quarter credit-to-GDP ratio and its long term trend. The gap is currently 12.1 per cent, the highest among industrialized countries.
Meanwhile, Canada's current account, which measures savings relative to investment, has a deficit equal to three per cent of its economy. This account had a surplus leading up to the 2008 financial crisis.
Making up this deficit would require foreign capital inflows equal to four per cent of Canada's economy, the report said.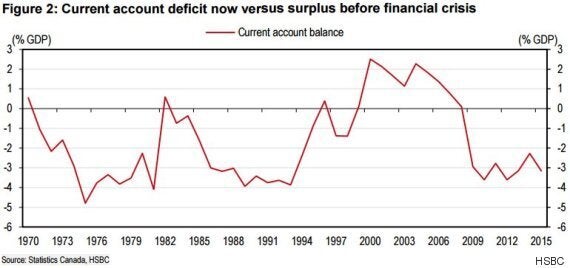 Put them all together, and you have a country that "might not be spared the serious fallout that was avoided in 2007-08."
But those aren't the only factors that make Canada vulnerable to another crisis.
The country's housing sector is over-leveraged and business investment has been declining for the past two years.
Much of this is due to a slump in oilsands investment. But investment is also falling in non-manufacturing sectors, with a slide of 18.3 per cent expected this year.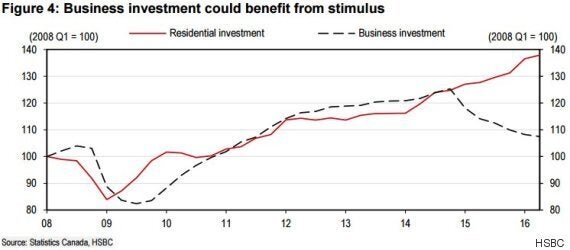 But it's not all bad news for Canada. At 38 per cent, it has the G7's lowest government debt-to-GDP ratio, meaning it has room to borrow for stimulus programs, Watt said.
Nevertheless, the federal government should be careful about how it spends, he added.
Stephen Harper's government initiated stimulus spending amid the Great Recession, and much of that money went to the household sector in the form of policies like the home renovation tax credit.
That spending helped to lift Canada's economy out of recession, but it also elevated Canadians' household debt, which now poses a "downside risk to financial stability," Watt said.
Stimulus spending today should be used to boost productivity (meaning economic growth generated per hours worked or capital invested), build infrastructure and boost the private sector, he added.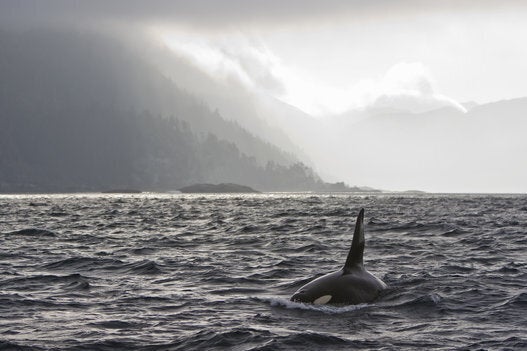 Canadian Provincial Economic Growth, 2015-2017
Popular in the Community