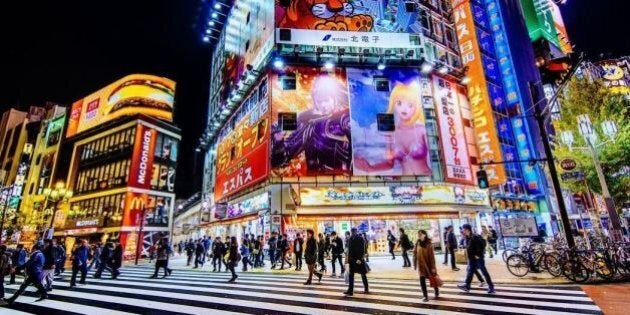 This week we meet Michael from Montreal, a photographer who loves exploring cities around the world. Here he is in his own words:
Hi, my name is Michael Vesia. I'm a freelance photographer from Montreal, where I was born and raised. On Instagram, I mainly post my urban photography and cityscape images, but I'm also an experienced food and restaurant photographer. I'm excited to be sharing some of my photos with you this week! — @Vesia514
I love photographing cities. Urban settings are a huge inspiration for me. I'm especially interested in capturing cityscapes at certain times of day when the lighting is just perfect, usually at dawn or dusk. I recently got back from Japan, where I spent lots of time in Tokyo and other cities exploring the streets with my camera. I'm also an avid nighttime photographer and I'm really attracted to how cities look at night. It's amazing how you can visit the same street corner in the daytime and it'll look completely different, especially in major cities. I also get lots of inspiration from studying the work of other photographers. I look at images on-line, go to photo exhibitions at museums, and collect photo books by my favourite photographers. — @Vesia514
The most useful photo tip I can offer is, do your research and follow the light. Your picture is where the light is. I'll often spend time looking into what time of day would be best to take a photo from a specific vantage point in the city. I'll also try to know the direction in the sky where the sun will be setting or rising at specific times of the year. And I keep track of the weather. In Montreal, the winter season can get quite brutal, but it also offers some amazing and unique photo opportunities. I especially love going out when it's extremely cold. The cityscape looks very different when it's -35 Celsius outside! I'll often try to use bad weather to my advantage. — @Vesia514
I actually got started with photography when I was studying cinema. I have an Master's degree in film studies, so when I was in college I took a few photography classes. And I loved it. Back then I was working with black and white film, and doing lots of street photography. I was developing the film negatives myself and working in the dark room. It was great. I was working with film until 2007, when I made the switch to digital and got my first DSLR. I've been doing lots of colour work since switching to digital, but I still love using B&W when shooting street scenes. — @Vesia514
This is a photo I took last summer along the banks of Montreal's St. Lawerence river. It's a 7-minute long exposure, and it's the longest exposure I've done so far. With an exposure this long, you're never sure how the final image will look once the shutter closes. The clouds are moving, the light is changing, so it tends to give the images a surreal and ephemeral look. I'm really interested in long exposure photography and using ND filters to create interesting effects. It's amazing how you have several minutes or seconds of time condensed and captured into just one still image. Long exposures essentially give me the ability to play with notions of time and space, and to enhance my experience of what's unfolding in front of the camera. It's definitely something I'd like to experiment with a lot more. — @Vesia514
There are quite a few favourite Instagrammers who I take inspiration from. One of the great things about Instagram is that there's a huge variety of styles and genres of photography being posted here. Some of my favourites include:
@matdupuisphoto: A great travel photographer from Quebec.
@danielkrieger: Amazing food photographer based in New York City.
@jondeboer: A talented B&W urban photographer from Detroit.
@joel_meyerowitz: The legendary NYC street photographer.
@danielcheongdubai: Great cityscape photographer from Dubai.
@paulzizkaphoto: Landscape photographer from Canada with some stunning images.
As a Montreal native, I've been very interested in using photography to create images that highlight the unique qualities of my city. And I would like to expand that concept to other cities across Canada. So I hope to do some travelling across the country and create a series of Canadian urban landscape photos for an exhibition and eventually a book. The collection of images would essentially be part of a photography project that aims to capture a distinct perspective on Canada specifically through images of it's cities and urban landscapes. — @Vesia514