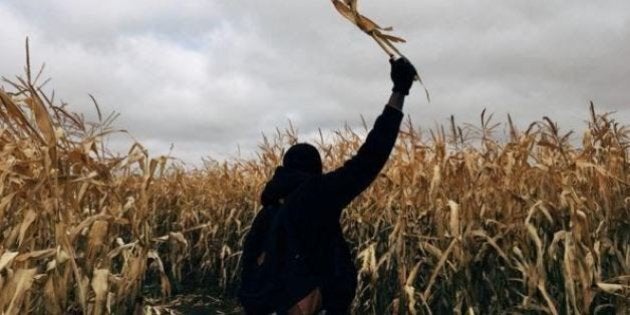 This week we head to Calgary and meet a photographer building the Instagram community in one of Canada's most vibrant cities:
Hey! I'm Morgan; urban explorer, lover of: word play, and supporting local businesses, and events. I'm also the founder of @yycinstameets, and love showing out of town instagrammers around my home city of Calgary. — @worth_y
I love taking pictures of urban scenes, street portraits, and moments, or scenes that are often overlooked. I'm inspired by everyday things in the city, as well as how an outfit, hairstyle, or tattoo looks on a person.
An overcast sky, with a side of fog are my absolute favorite shooting conditions. Go out, and shoot when the weather conditions may not be ideal, it's worth it. A rainy or snowy weekend often turns downtown Calgary into a bit of a ghost town, I took this one on exactly that sort of Saturday to commemorate the day my fourth nephew was born in March.
About five or six years ago I was really into shooting medium format film, on my Diana F+, I loved the square format of the prints, but it cost a fair amount. Switching to Instagram gave me the ease of shooting on my phone, and still having the square format that I find so appealing.
This is one of those shots that I had been wanting to check off my "to do list". I was out shooting with a few friends one night, and got the guys to stand on the platform for the C-Train's arrival. I was so excited that it turned out so well, there may have been a little victory dance involved. This was taken with my iPhone 4s. — @worth_y
Oh my gosh, there are so many to choose from! I'll keep my suggestions to Canadians IGers that I love: @neldyg for his photos of his gorgeous family, peppered with Star Wars themed shots, and his love of baked goods, @gummyting for her sweet street stylings, colourful finds, strong pun game, and her love of baked goods, her photography delights me like no other, @missyjena for her calming, reflective ways, with a side of humor, ad her love of baked goods, and @ldl_jr who I shoot with on a regular basis, and tease that he neglects shooting the city for prolonged periods of time in favor of shooting in the mountains, and his love of crème brûlée. — @worth_y
I've recently branched out to food photography, it's been an excellent way to challenge myself creatively, and there's still so much to learn, which helps keep things fresh. (pun intended) Find something slightly outside of your comfort zone, and go for it! This is a photo of @burnt_to_order's The Milkman (cereal milk) crème brûlée. — @worth_y