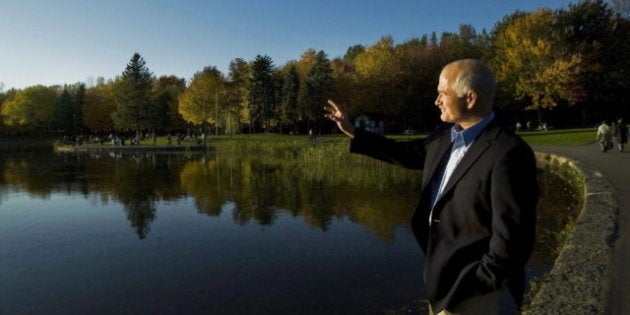 Editor's Note: On May 26, the day The Huffington Post Canada launched, Jack Layton announced the NDP's shadow cabinet. We placed the story at the top of our home page with an image of Layton, back to the camera, facing his delighted caucus (see bottom of this story). You can see in the faces of those newly elected and re-elected MPs their hope and excitement for the party's future. Everything had changed with Layton's election victory: the Liberals were diminished; the Bloc Quebecois vanquished. Everything changed again upon his death, which left an enormous vacuum on Parliament Hill and the party rudderless. For these reasons, we readily agree with our readers, who told us time and time again, that Layton was Canada's story of the year.
The late NDP leader not only fought an election campaign on the heels of a hip replacement surgery and treatment for prostate cancer but delivered an 'orange wave' no one predicted.
The party's huge breakthrough in Quebec, 59 MPs, crushed the Bloc Quebecois down to four seats and handed Layton the title of 'Leader of Her Majesty's Loyal Opposition.'
The celebration didn't last long. Within a few weeks of Parliament's return, Layton was diagnosed with a new cancer, one Canadians saw eat away at him. Then in August, Layton died.
Vancouver NDP MP Libby Davies said at the time that Layton had given "his life for his country."
Toronto MP Olivia Chow said no one tried to stop her husband from pushing himself so hard because "no one believed they would have much impact."
"He had a message to deliver to Canadians and by gosh he was going to deliver that message, come hell or high water," she said.
Under Layton's leadership, the NDP became a better-articulated and pragmatic opposition. Its support grew steadily.
In 2004, Layton's first election, he nearly doubled the party's support by taking 15.7 per cent of the vote, bringing six more MPs to Parliament Hill for a total of 19. In 2006, the NDP won 29 seats and in 2008, 37 seats. This spring, the party won a whopping 103 seats with 30.6 per cent of votes cast.
Layton always intended to win, his long-time chief-of-staff Anne McGrath told The Huffington Post.
STORY CONTINUES UNDER SLIDESHOW

"He was motivated to win and he understood that we were in this to win," she said. "He was a very pragmatic politician. He was in political life to make a difference and he knew that the way you make a difference is by winning and having the power to make change."
The party was not in great shape when Layton, then a Toronto city councillor, decided to join the NDP leadership race, McGrath recalls. He won on the first ballot at the party's leadership convention in Toronto in early 2003.
"We didn't have a lot of members of Parliament and we didn't have a great popular vote," she said. "He knew that we were going to transform the party so that it could become an electoral machine, that we were organizing, fundraising, building membership, putting forward practical proposals," she said.
The key ingredient to the NDP's success would turn out to be Layton himself.
"We knew that he was very popular … and that he kind of connected with people," McGrath said of focus groups and internal and external polling that put him ahead of all other party leaders.
The NDP's focus on Layton during the 2008 campaign helped solidify their gains and he was placed centre stage again during the 2011 campaign.
"Even though he was the focus for a lot of it, (Layton) had the ability to also see why he was important to us in terms of what he represented," said McGrath, a past president.
"He always used to talk of the importance of bringing the party numbers up and basically, taking advantage of the fact that he was so popular so that people could see what he was all about."
Chow, his spouse, takes every opportunity to tie Layton's popularity to his message.
"He is a very hopeful, optimistic and loving guy and people recognized that," she said. "And the campaign is built around Jack Layton but it is really about the qualities that Jack Layton had that I think that people are celebrating."
Whether Canadians were celebrating Layton's values, his approachable nature or his contribution to public life, the outpouring of affection from people all over the country cemented the man's reputation as one of Canada's most popular politicians.
People from all walks of life, including supporters of other political parties, lined up for hours at his laying-in-states. Thousands more watched his state funeral in Toronto. A letter penned on his deathbed with his closest advisers was repeated by new NDP converts:
"My friends, love is better than anger. Hope is better than fear. Optimism is better than despair. So let us be loving, hopeful and optimistic. And we'll change the world."
"It was a very loving response and incredibly supportive," Chow said, noting that she is "really, really grateful" for all the kind words and thoughts sent to her and her family during Layton's illness and after he passed away.
Life without Layton is difficult, she added.
"He is always positive, he sees the good in everyone, so hanging around him was easy," Chow said of their relationship. "He was always happy and joyous and it makes for a very happy relationship. So that's why we never argued … There was never anything to argue about."
"I do miss him," she said. "But there is a lot of work that needs to be done, so I'll just keep doing it."
As for the party, Layton's close-knit team acknowledges the road ahead will be full of challenges.
"We've had a period of upheaval," says McGrath, citing the leadership race to replace their "incredibly popular, incredibly loved leader."
"You don't get over something like that in a short period of time."